More injuries, more bye weeks. If there's one positive thing I can say about the 2017-18 NFL season, it's that it's unpredictable. Every game is seemingly a coin flip. At this point in the season, we're usually talking about which of the remaining unbeaten teams will lose first. This season, there's only one team left that has only one loss. This team, surprisingly, is the Eagles! I was optimistic about this team heading into the season because of my love for Carson Wentz, but I didn't even pick them to win the division. I picked the Giants, which…is looking unlikely. The first place team in the NFL will have the entire country watching as they play the division rival Redskins on Monday Night Football! We could easily be looking at the top team in the league, heading to week eight, having two losses. This will be a fun second half to the season.
This unpredictability has trickled into fantasy football. Rookies are dominating the league, but will they hit that infamous wall in the second half of the season? The reigning MVP, Matt Ryan, is one of the top plays across the fantasy world this week in a revenge game, but can we trust him? He has averaged only 13.4 fantasy points per game, which ranks him as QB14. Some trust him against the worst Patriot defense in recent history, but I am iffy.
There are very few players each week to have confidence in, and they are usually priced up because of it. Because of that, you need a bit of salary relief elsewhere. That is what I'm going to help you with in this article.
These are players who could be valuable and help you with roster construction. They are NOT players you're necessarily targeting, but rather the players that allow you to target the best plays on the board. They are also the ones that may provide low ownership, thus making them good tournament plays. Let's reach into the bargain bin and see what we have for this week!
Quarterbacks
There isn't much value at quarterback this week, but if you're looking for a cheap option with upside, these two could do the trick.
Tyrod Taylor, vs. TB
DraftKings: $5,100 | FanDuel: $7,000
Tyrod is coming off his bye to play a defense that surrenders the second-most points to quarterbacks. He will still be without Charles Clay, but it is looking like Jordan Matthews may be making his return. I'm thinking this may be the week rookie Zay Jones gets involved as a passing target too, so this with the threat of Tyrod's legs makes him a possible bargain this week.
Brett Hundley, vs. NO
DraftKings: $5,100 | FanDuel: $6,500
Hundley is will be making the start for the injured Aaron Rodgers at home against the Saints. The matchup is nice. The game flow should be nice. His weapons are great, so it comes down to Hundley and McCarthy. After watching McCarthy's terrible playcalling for too many years, I can tell you there will be some really bad calls in this one. I also wouldn't be surprised to see the Packers try to become a run-heavy offense in this kind of matchup, but the quarterback throwing to Nelson, Adams, Cobb, Bennett, and Montgomery is too valuable to completely fade.
Running Backs
Chris Ivory, at IND
DraftKings: $4,800 | FanDuel: $5,900
Fournette is questionable, so that is a story to keep your eyes on. If he's out, Ivory is an obvious play. Even if Fournette is active, Ivory has had a clear role on this squad, and it should be a bit larger in this game with Fournette hobbled. Ivory has somehow become a threat in the receiving game, so he should be able to find some value against the Colts no matter what.
Frank Gore, vs. JAC
DraftKings: $4,100 | FanDuel: $5,500
I am mentioning both Colts back-to-back. The Jaguars surrender the second-most rushing yards in the league, and despite what the Steelers think, running the ball is how you beat Jacksonville. Both Colts backs are similarly priced and both hold value. If I'm playing cash games, Frank Gore is my pick of the two.
Marlon Mack, vs. JAC
DraftKings: $4,100 | FanDuel: $5,300
Everything said about Gore's matchup is the same for the electric rookie. With Turbin now on IR, Mack should also see a few more snaps. While I'd likely go Gore in cash games, give me the rookie for tournaments.
Orleans Darkwa, vs. SEA
DraftKings: $3,700 | FanDuel: $5,200
Darkwa has been a stud the past two weeks, but his DraftKings price certainly doesn't reflect it. The matchup with the Seahawks coming off their bye does seem pretty scary, but they're mediocre, at best, against the run this season. They have surrendered the sixth-most rushing yards per game and are third-worst in YPC allowed. Remember, Darkwa tore up a superior Bronco defense on the road off of their bye. If he can do it against them, he is certainly capable of the same type of performance against Seattle.
James White, vs. ATL
DraftKings: $5,000 | FanDuel: $4,800
This one is for FanDuel for two reasons. First, his price is much better there. Second, DraftKings only includes the ATL-NE game in the Primetime slate. The former Wisconsin Badger should have been named the Super Bowl MVP last season in this matchup, and I wouldn't be surprised to see the Patriots use him again. This game has the highest projected point total of the week, so I expect to see plenty of Brady to White.
Wide Receivers
Eric Decker, at CLE 
DraftKings: $4,300 | FanDuel: $5,100
Decker produced his best performance as a Titan last week, totaling seven catches for 88 yards. With Murray banged up and the Browns defense aiming to stop the run first, Decker could easily produce the same type of numbers here. If he also finds the end zone, that's a solid day for this price.
Ted Ginn Jr., at GB
DraftKings: $4,100 | FanDuel: $5,500
Ginn has steadily produced throughout the season, and this is the type of game where he could break one. His longest reception of the year is only 40 yards, and I can guarantee Brees will look for Ginn on a downfield shot in this game. The Packer secondary is obviously exploitable, especially with these injuries, so look for Brees and the passing attack to have an efficient day.
Robert Woods, vs. ARI
DraftKings: $4,000 | FanDuel: $5,500
Woods has been really involved in this offense over the past four weeks. He has 6+ targets in all of these games, and he has totaled 60+ yards in three of them. With Watkins expected to see Patrick Peterson for most of the day, that means Woods gets matched up with the slower Tramon Williams.
Bennie Fowler, at LAC
DraftKings: $3,300 | FanDuel: $4,500
Emmanuel Sanders is out with an ankle injury, and Fowler seems to be the most likely candidate to absorb the majority of those vacant snaps. He received eight targets last game, has shown flashes of skill, and will be matched up with Desmond King quite a bit. For basically minimum, Fowler has the opportunity to be a tournament winner this week for you.
Tight Ends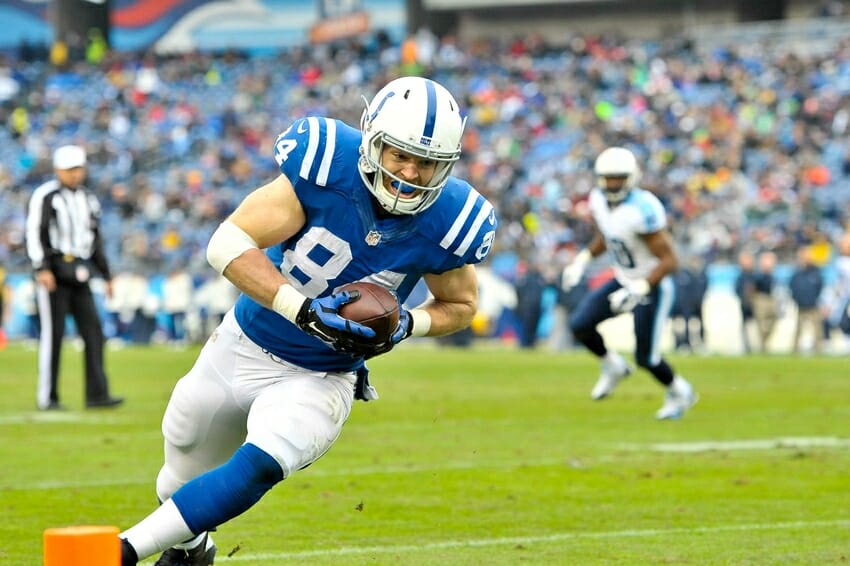 Kyle Rudolph, vs. BAL
DraftKings: $3,800 | FanDuel: $5,400
Diggs will be out for the Vikings again, so this means more targets for Rudolph. He has back-to-back weeks of nine targets and 45+ yards, and I'm expecting another here. There are very few tight end options you can feel solid about each week, so targets is one of the most important stats with this position. Essentially, you're hoping for a touchdown, and the Vikings love Rudolph in the red zone.
George Kittle, vs. DAL
DraftKings: $3,600 | FanDuel: $4,800
Kittle has come on in the past couple weeks for the 49ers. Like I said about Rudolph, targets are extremely important. Kittle has received nine and eight in his past two games. He also has a catch of 20+ yards in each of his past three games. This is a really well-coached defense for the Cowboys, but they're certainly not the most talented. The opportunity will be there for Kittle.
Jack Doyle, vs. JAC
DraftKings: $3,400 | FanDuel: $5,100
The Colts absolutely love to use their tight ends. This has been the case for a really long time, so it's no surprise that Doyle is involved every week for Indy. Coming off an injury last week, Doyle caught 7-of-11 targets for 50 yards and a touchdown. I said in my running back section that the way to beat the Jags is to run the ball. While this is true, the tight end is another tool to exploit this defense. They are ranked 23rd against tight ends so far this season. After having some success running the ball, a Brissett play action to Doyle could be deadly in this game.
Are you looking for another way to play NFL DFS every week? Join the highest-rated fantasy football app, DRAFT! Drafts start every couple minutes, so you can enter one right now for week 7! If you click the picture or this link to sign up and use the promo code "FlurrySports", you get a free entry into a $3 game after you deposit! There's not much better than free money, so sign up today! After you sign up, challenge me to a H2H!