As we turn the page to the month of February, we enter the "dog days" of the NBA and fantasy basketball seasons. Weeks 7-11 will span the coming month, and while it may have the feel of a mid-season lull, it's important to stay on point with your roster decisions. On the bright side, the league is probably about as mellow as it's been since the very start of the season in terms of the virus circus. The Memphis Grizzlies and Washington Wizards have both finally returned to action, as did Miami Heat superstar Jimmy Butler. All of these developments and more are considered in this Week 7 fantasy basketball start/sit advice column. Let's get February started off on a winning note!
*All stats are taken on the morning of Monday, Feb. 1*
*Fantasy points data based on standard FanDuel scoring settings*
Week 7 Fantasy Basketball Schedule Breakdown
Four games: ATL, BOS, CHA, CHI, CLE, DAL, DET, HOU, IND, LAC, MEM, MIA, MIL, MIN, NOP, NYK, OKC, PHX, POR, SAC, UTA, WAS
Three games: BRO, DEN, GSW, LAL, ORL, PHI, SAS, TOR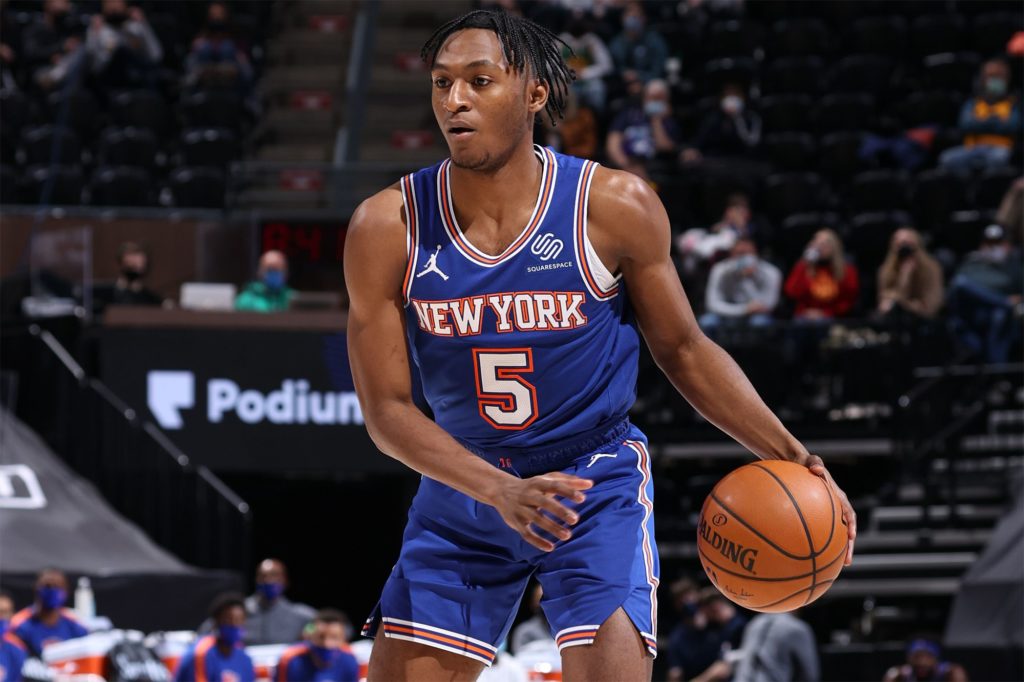 Week 7 Fantasy Basketball Start/Sit
Point Guards | Fantasy Basketball Start/Sit
Consider Starting: Immanuel Quickley, New York Knicks
Opponents: CHI (twice), POR, MIA
Perhaps the best part about this week's fantasy basketball start/sit call at point guard is that he's still widely available on waiver wires. Knicks rookie Immanuel Quickley is only owned in 28% of ESPN leagues. This despite being the 42nd ranked point guard in points leagues on the season. Quickley has played behind starter Elfird Payton in the majority of games this season, but he has clearly been the better of the two when on the floor. A 25-point outing against the Los Angeles Clippers on Sunday gave Quickley 25 or more points in three of New York's last four games. He also played 27 minutes to Payton's 21. Nothing is ever guaranteed in terms of playing time with Tom Thibodeau. With that said, Quickley and the Knicks face three bottom four defenses in fantasy points allowed to PGs this week. I'm willing to both roster and plug him in with a schedule like that.
Consider Sitting: Delon Wright/Derrick Rose, Detroit Pistons
Opponents: DEN, UTA, PHX, LAL
Perhaps the biggest fantasy basketball hindrance facing Delon Wright and Derrick Rose is each other. With Rose returning from injury, the minutes are relatively even split between the two, thus putting a pretty hard cap on their fantasy upside. In addition to the timeshare, this week Detroit faces four Western Conference foes, three of whom are in the upper echelon of the NBA in fantasy points allowed to opposing PGs. Split minutes and tough matchups while playing for a bad team are not a combination I recommend including in your starting lineup.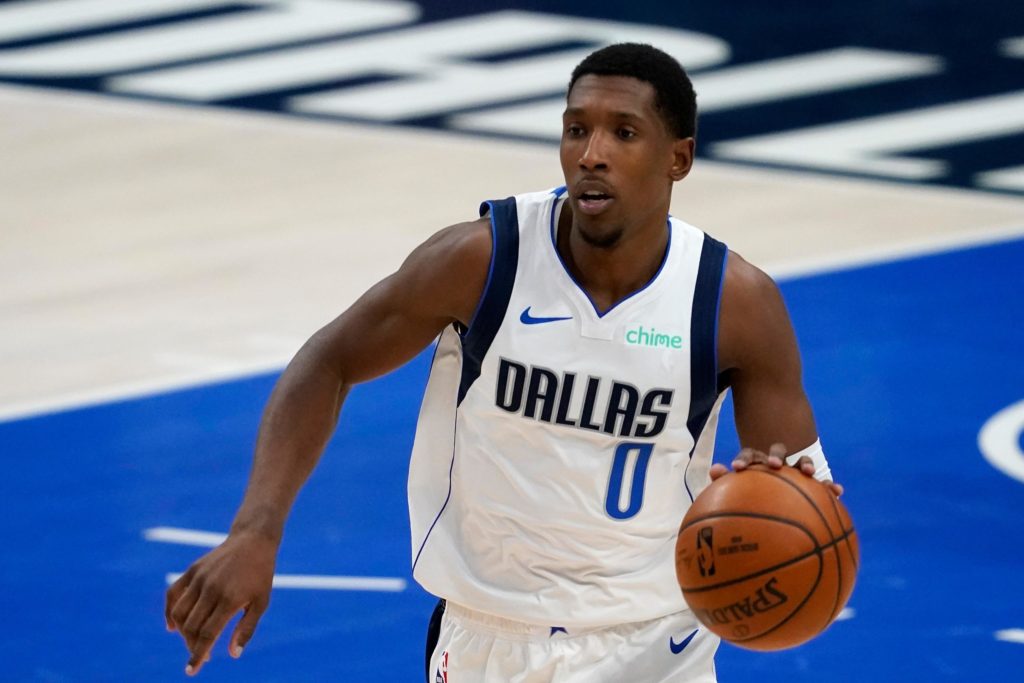 Shooting Guards | Fantasy Basketball Start/Sit
Consider Starting: Josh Richardson, SG, Dallas Mavericks
Opponents: PHX, ATL, GSW (twice)
It's been a tough go of it for Josh Richardson since he returned from a lengthy virus-related absence. It's also been a tough first month and change of the season for the Mavericks as a team. Dallas could benefit mightily from Richardson finding his stroke, and there may not be a better week for him to do so. The Mavs have four games on tap, with two straight against the Golden State Warriors at the end of the week being of particular intrigue. The warriors enter the week allowing the fourth-most fantasy points to SGs on a per-game basis. Look for Richardson to make good on the matchups and find his form in fantasy basketball start/sit this week.
Consider Sitting: Derrick White, San Antonio Spurs
Opponents: MEM, MIN, HOU
It was great to see Derrick White make his return over the weekend. He did so in style, scoring 18 points in 22 minutes, but I'm still pumping the breaks as far as fantasy basketball start/sit is concerned. White will likely split time fairly evenly with Lonnie Walker IV (27 minutes on Saturday) while working his way back into game shape. On top of this, Week 7 only offers White and the Spurs three games in which to earn stats. The data from the season as a whole would also suggest that it's unlikely White can repeat his 18-point return performance in the Spurs' game against the Memphis Grizzlies this week. Oddly enough, Memphis is the top defense against SGs in terms of fantasy points per game. White is definitely a player to roster if he's available in your league, but I'll wait one more week before putting him in my starting lineup.
Small Forwards | Fantasy Basketball Start/Sit
Consider Starting: Victor Oladipo, Houston Rockets
Opponents: OKC (twice), MEM, SAS
In terms of matchups, you'd be hard-pressed to find a small forward with a better Week 7 slate than Victor Oladipo. The Rockets have four games this week. All are against teams ranked in the top four in fantasy points allowed to SFs. Oladipo has been brilliant since arriving in Houston via the James Harden blockbuster trade. He is a set-it-and-forget-it starter this week. Curiously, while Oladipo is SF eligible on Yahoo, he is only listed as a shooting guard in ESPN leagues. For those playing on ESPN that would still like to take advantage of the Rockets' terrific schedule for fantasy basketball start/sit purposes this week, Danuel House is the name to grab.
Consider Sitting: Bojan Bogdanovic, Utah Jazz
Opponents: DET, ATL, CHA, IND
One thing we do know for certain entering Week 7 is that Bojan Bogdanovic is unlikely to exceed his two most recent performances. After a slow start to the season, Bogdanovic dropped 32 and 29 points respectively in Utah's last two games. He combined to hit 12 3-pointers over the two games. The Jazz have four games this week, but the matchups aren't favorable to Bogdanovic at the small forward position. He will go up against three top-nine defenses in terms of fantasy points allowed to SFs while the fourth opponent is also in the upper half of the NBA when it comes to defending the position. Four games and recent hot form make him an interesting play, but managers might be wise to consider other fantasy basketball start/sit options this week.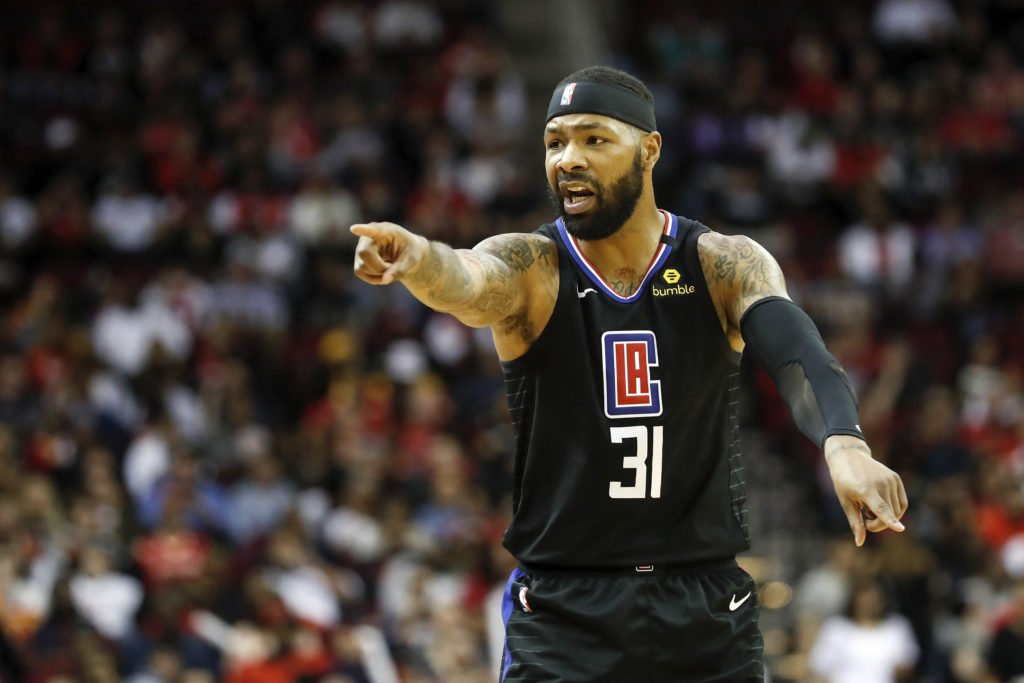 Power Forwards | Fantasy Basketball Start/Sit
Consider Starting: Marcus Morris Sr., Los Angeles Clippers
Opponents: BRO, CLE, BOS, SAC
The Clippers lineup has been a revolving door of injuries and virus issues as of late. While fantasy basketball start/sit managers were likely hoping for a little more when they scooped up Marcus Morris Sr. early last week, he hasn't exactly been a letdown in points leagues either. Even with Kawhi Leonard and Paul George back in the mix, Morris still has plenty of intrigue in Week 7 thanks to a Nicolas Batum injury. What's more, the Clippers have four games this week. Three of their opponents are among the eight worst teams in the NBA at defending opposing power forwards. Perhaps it isn't meant to be, but I'm not bailing on Morris just yet.
Consider Sitting: Lauri Markkanen, PF, Chicago Bulls
Opponents: NYK (twice), ORL (twice)
For the second straight week, matchups suggest fading one of the Bulls' best players. Lauri Markkanen has been tremendous since making his return to the court a little over two weeks ago. On the season, the 23-year-old is now averaging 19.8 points and 6.5 rebounds. The Bulls have four games this week but face just two opponents in the New York Knicks and Orlando Magic. Both teams rank in the top five in fantasy points allowed to opposing PFs at 40.23 and 40.35 respectively. It's hard to step in front of such a talented young player, but it could be a rough fantasy basketball start/sit week for Markkanen.
Centers | Fantasy Basketball Start/Sit
Consider Starting: Al Horford, Oklahoma City Thunder
Opponents: HOU (twice), MIN (twice)
Al Horford is back, and not a moment too soon! The veteran center posted a pair of solid stat lines in his first two games back after missing time for the birth of his child. Fresh off 16 points, six rebounds, four assists, and two blocks in the Thunder's game last Friday, Horford will look to carry the momentum into a favorable Week 7 schedule. OKC will play four games this week but only see two opponents in the process. One of those (Minnesota) is allowing the most fantasy points to opposing centers on a per-game basis at 61.34. Horford has proven to still be capable of getting it done at age 34. Look for a big fantasy basketball start/sit showing from him this week.
Consider Sitting: DeAndre Jordan, Brooklyn Nets
Opponents: LAC, TOR, PHI
There is literally nothing to suggest that DeAndre Jordan should be on the favorable side of your Week 7 fantasy basketball start/sit decisions. The Nets only have three games this week, putting the veteran at an immediate disadvantage. Two of those three games come against the second and third-ranked defenses in fantasy points allowed to opposing centers. On top of all that, Jordan just isn't good. He is not getting the minutes to contribute meaningful fantasy stats. That's a telling sign given that Brooklyn no longer has Jarrett Allen in the fold. Jeff Green has looked better than Jordan on a nightly basis. There's no need for Jordan to be in your lineup or on your roster.