Week 6 Fantasy football is almost in the books, with even more upsets, high-scoring games and elite fantasy performances. There were some monster Week 6 fantasy football stats performances, with some new and unfamiliar names appearing at the top. 
Let's check out the top NFL Week 6 fantasy football stats leaders from Sunday across all positions. This week's notable performers include Joe Burrow, Ja'Marr Chase and even players like Deon Jackson and Mike Gesicki.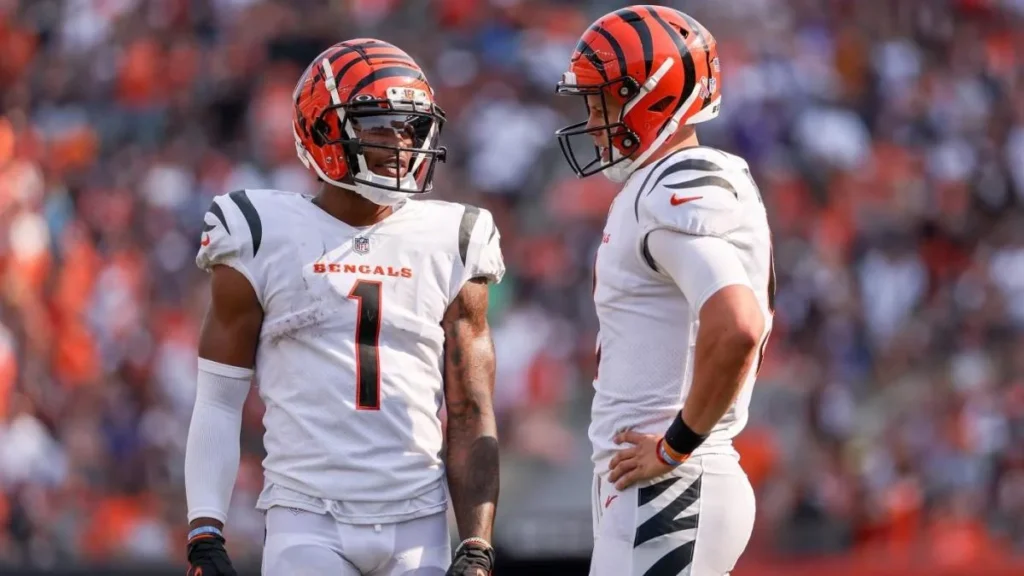 Week 6 Fantasy Football Stats Leaders | QBs
Joe Burrow Fantasy Stats
Stats: 325 total yards, 4 total TDs
Fantasy Points: 32.5 (QB1)
The Joe Burrow we saw last season arrived this week, totaling four touchdowns in the win over the Saints. The Cincinnati Bengals offense is loaded with talent, so these 30+ fantasy football stats performances should be normal, but that hasn't necessarily been the case thus far. Burrow and company do have some favorable matchups coming up, however, so the chances of more fantasy explosions like this are high. 
Matt Ryan Fantasy Stats
Stats: 389 yards, 3 TDs
Fantasy Points: 27.16 (QB2)
After multiple awful fantasy performances, many fantasy managers likely moved on from Matt Ryan. For those that didn't, congratulations. The Jacksonville Jaguars defense couldn't stop Michael Pittman Jr. whatsoever, as he caught 13 receptions for over 130 yards. Ryan won't post these types of performances on a regular basis, but he has the ability to, especially once Jonathan Taylor returns. Enjoy the QB2 finish, because it probably won't happen again. 
Week 6 Fantasy Football Stats Leaders | RBs
Deon Jackson Fantasy Stats
Stats: 121 total yards, 10 receptions, 1 TD
Fantasy Points: 28.1 (RB1)
With both Jonathan Taylor and Nyheim Hines ruled out, Deon Jackson found himself in a sizable role in the Colts offense. Matt Ryan looked good this week, which made the rest of the offense look good, including Jackson. Some fantasy managers likely started Jackson after hearing the news, which turned out to be some elite value. He'll fly off the waiver wire this week as one of the top options, but once Taylor is back, his value is obviously gone. 
Rhamondre Stevenson Fantasy Stats
Stats: 91 total yards, 4 receptions, 2 TDs
Fantasy Points: 25.1 (RB2)
The Rhamondre Stevenson fantasy football truthers enjoyed this week, watching him get all the carries and fantasy points. With Damien Harris sidelined for a while, Stevenson is in line for a workhorse role in a Patriots offense led by mediocre quarterback play. He'll get the bulk of rushing work, but he should also provide receiving value if Bailey Zappe or Mac Jones need a security blanket. The Patriots have always stuck to establishing the run game and Stevenson's situation can't get any better for fantasy football stats.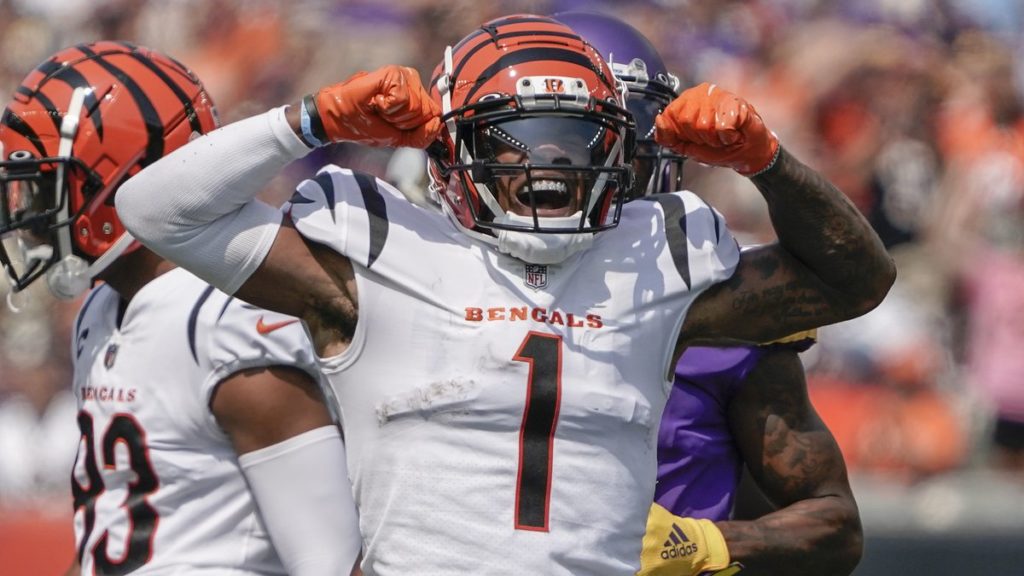 Week 6 Fantasy Football Stats Leaders | WRs
Ja'Marr Chase Fantasy Stats
Stats: 7 receptions, 132 yards, 2 TDs
Fantasy Points: 32.2 (WR1)
Since Joe Burrow played well, with three passing touchdowns, it's no surprise Ja'Marr Chase was on the receiving end of at least one. Chase will make this weekly article quite a bit throughout the course of the season, and this performance is just another reason fantasy managers used a first-round pick on him. Even when the Bengals seem to be struggling, Chase still finds value and his volume will never be low, unless he's injured. 
Stefon Diggs Fantasy Stats
Stats: 10 receptions, 148 yards, 1 TD
Fantasy Points: 30.8 (WR2)
The Bills-Chiefs game was just as good as advertised, and Stefon Diggs continued his strong start to the season. Diggs was unguardable and Josh Allen knew that, throwing his way 13 times. It's obvious Diggs is Allen's go-to target and as long as that offense is humming, he will get elite volume. This is his fourth game over 24 fantasy points and the upcoming opposing secondaries will have a tough time slowing him down. 
Week 6 Fantasy Football Stats Leaders | TEs
Mike Gesicki Fantasy Stats
Stats: 6 receptions, 69 yards, 2 TDs
Fantasy Points: 24.9 (TE1)
Mike Gesicki used to be a solid fantasy option in previous years, but he has been invisible this season. With the Dolphins dealing with quarterback injuries, Gesicki saw some volume this week and posted the best tight end performance of NFL Week 6. Half of his points came from two touchdowns, so it's obvious he gets his fantasy value from scoring, but his six receptions were promising.
Mark Andrews Fantasy Stats
Stats: 7 receptions, 106 yards, 1 TD
Fantasy Points: 23.6 (TE2)
No surprise here, but Mark Andrews had yet another dominant outing with a bunch of fantasy football stats. Travis Kelce and Andrews are simply so much farther ahead in terms of fantasy value at the tight end position, but Andrews has been extremely impressive thus far. This is the fourth game he's caught a touchdown and second straight game with 10+ targets. It will be quite the battle between Kelce and Andrews to see who comes out on top at the end of the season. 
Week 6 Fantasy Football Stats Leaders | D/ST and K 
Seattle Seahawks DEF Fantasy Stats
Stats: 1 INT, 1 FUM REC, 6 sacks 
Fantasy Points: 18.0
Ryan Succop Fantasy Stats
Stats: 4 FG Made
Fantasy Points: 10.0