Yet another week of basketball with more names added to the injury report, such as Portland Trail Blazers big man Jusuf Nurkic, who fractured his wrist against the Indiana Pacers on Thursday and will be sidelined for at least eight weeks, meaning you can drop him in almost every redraft league. Injuries happen, and that's why you must stay active on the fantasy basketball waiver wire!
Here are the top fantasy basketball waiver wire pickups for Week 5 of the NBA season. In order to be included in the weekly waiver article, players must be rostered in less than 60 percent of ESPN fantasy basketball leagues.
All stats are gathered on the morning of Jan. 17 and do not take into account Sunday night's results.
Fantasy Basketball Waiver Wire Pickups
Enes Kanter, Portland Trail Blazers (43.2%)
With Nurkic sidelined for the rest of the regular season, Enes Kanter will likely retain the starting role for Portland. Even as a bench option playing less than 20 minutes per contest, Kanter was surprisingly consistent and a dependable fantasy option. In his first game as a starter, he posted 12 points, 15 rebounds, five blocks, three assists and two steals across just 29 minutes of play. The Trail Blazers depend on their backcourt, featuring Damian Lillard and CJ McCollum, to do most of the scoring. Still, Kanter has a chance to carve out a consistent 25+ minutes of play each game, leaving the door wide open for him to post solid fantasy numbers.
Justin Holiday, Indiana Pacers (19.7%)
Justin Holiday hasn't exactly been a dependable fantasy option this season, averaging just 10.7 ppg, 3.6 rpg and 1.2 apg across 29.3 minutes per contest, but a door has opened for him. With Victor Oladipo sent off to Houston and newly-acquired guard Caris LeVert sidelined indefinitely with his kidney injury, Holiday now should be in the starting five. Both Aaron Holiday and Doug McDermott will likely eat into some of his minutes, but with Oladipo out of the rotation, the opportunity is there. It'd be smart to monitor the situation in Indiana on whether or not Justin Holiday continues to start or not. Stash him for a few games, but his upside is as high it's going to get. 
Shake Milton, Philadelphia 76ers (48.7%)
Starting Philadelphia 76ers guard Seth Curry has been sidelined for a few games due to testing positive for COVID-19. Shake Milton has filled in nicely. Over the 76ers past two games, he has scored at least 25 points and has been extremely efficient shooting the ball. Once Curry returns to the lineup, Milton will likely return to a more limited role, but his production shouldn't go overlooked. He is a solid points option for 8-cat and 9-cat leagues and, if you need some more consistency in a deeper league, he is a great option.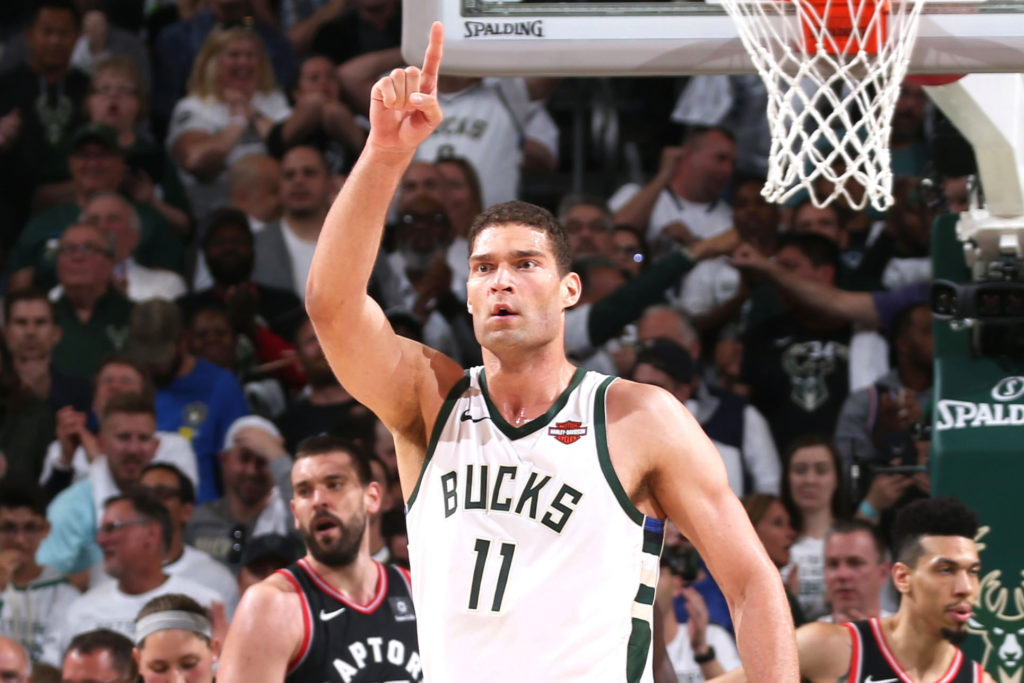 Brook Lopez, Milwaukee Bucks (53.9%)
Brook Lopez has been declining offensively every season for the past few years now. However, in 8-cat and 9-cat leagues, he's a huge fantasy basketball waiver wire target. Despite averaging just 9.3 ppg, the lowest in his career, he is also averaging 5.3 rpg and 1.6 bpg across 26.7 minutes per contest. If you need some extra three-point shooters and/or elite shot blockers, grab Lopez before he crosses that 60 percent threshold. A positive sign is that across the last seven games, he's averaging over 30 minutes per game.  
Duncan Robinson, Miami Heat (52.2%)
Another player that's high in ownership, but is worth a roster spot on any team, is Duncan Robinson. You can always depend on Robinson for his consistent minutes and three-point shooting. But recently, with the troubles of COVID-19, his production has been off the charts. He's played at least 34 minutes in four straight games and has scored at least 20 points in three of those four. It's almost guaranteed he's taken in all 8-cat and 9-cat leagues for his three-pointers. As for points-based leagues, there's a solid chance he's available. He can be frustrating in point-based scoring because of his occasional shooting woes or lack of other categories in general, but he's a clear member of their go-to rotation. So, the volume will be there. 
Other considerations for all league-types: Patrick Williams, CHI (18.9%); Hamidou Diallo, OKC (15.9%); Gary Harris, DEN (10.3%); Norman Powell, TOR (7.7%); Precious Achiuwa, MIA (5.8%)