Three weeks down, many more to go! Hopefully, your fantasy basketball team(s) are off to a good start early on in the season. A lot has happened around the NBA this week, with several notable headlines, injuries and performances set to impact the fantasy basketball stock of numerous players going forward. Let's take a look at a few players who are trending in either direction as Week 3 comes to a close.
Check out our Week 3 fantasy basketball category analysis!
Week 3 Fantasy Basketball Stock Market Watch | Rising Stock
James Wiseman, C, Golden State Warriors
Through three weeks of play, rookie No. 2 overall pick James Wiseman looks to be a star in the making for the Warriors. As far as fantasy basketball stocks are concerned, Wiseman's is only going to continue to rise from here on out. The 19-year-old has been extremely productive despite a modest average of 21.2 minutes per game, and one could certainly argue that Week 3 was his best yet.
Wiseman got the week started with his first career double-double in Monday's win over Portland when he totaled 12 points and 11 rebounds. Despite playing fewer than 20 minutes in each of Golden State's other games this week, the Memphis product still managed to score 10 points in both contests while adding four boards. Wiseman has secured five blocks across the three games this week, running his season per-game average to 1.6. As a young rookie only eight games into his NBA career, the sky is the limit for both Wiseman and those who own him in fantasy basketball.
Dillon Brooks, SG/SF, Memphis Grizzlies
For the second straight week, we feature a Grizzly in our fantasy basketball stock market watch. The major knock on Dillon Brooks throughout his NBA career thus far has been consistency. One night he might drop 25 points, the next he will be abysmal shooting the basketball in a 5-point effort. Steady playing time through the first three weeks has led to Brooks actually having a relatively stable fantasy floor on a nightly basis. With that said, he could undoubtedly be doing far more with those minutes.
Injuries throughout the Memphis lineup, namely to star point guard Ja Morant and forward Jaren Jackson Jr., have afforded players like Brooks regular playing time. On a per-game basis, Brooks is averaging 30.2 minutes. He has translated the playing time into impressive numbers of 16.1 points, 4.0 rebounds, 3.4 assists, and 1.9 steals. Despite an unimpressive shooting percentage, Brooks' fantasy basketball stock continues to rise as Week 3 comes to an end.
Cole Anthony, PG, Orlando Magic
Just like in fantasy football, injuries have a way of opening the doors of opportunity for fantasy basketball players as well. When starting Magic point guard Markelle Fultz suffered a season-ending ACL tear this week, rookie first-round pick Cole Anthony became the next man up. His statistical averages through the first three weeks won't blow anyone away. But the sharp uptick in minutes that Anthony is set to receive with Fultz going down has him set up for a stock explosion. For more on the Magic point guard situation and how it will impact fantasy basketball going forward, CLICK HERE!
Week 3 Fantasy Basketball Stock Market Watch | Falling Stock
Blake Griffin, PF, Detroit Pistons
Not only is Blake Griffin still struggling to avoid injuries and be available on a nightly basis, but he's also relatively ineffective when he is on the court. Whether you want to chalk his early-season struggles up to being on the north side of age 30 or playing on a bad Pistons team, there's no denying that Griffin's fantasy basketball stock is headed in the wrong direction.
Monday's game against Milwaukee was the third that Griffin has missed on the season. He hasn't surpassed 30 minutes in a single game since the first week of the season, and the reduced playing time has not been kind to his statistical production. Griffin got back in the lineup and played 26 minutes on Wednesday, only mustering nine points and five assists. Fantasy basketball owners should look to trade the veteran as soon as possible before his present form completely overpowers his name value.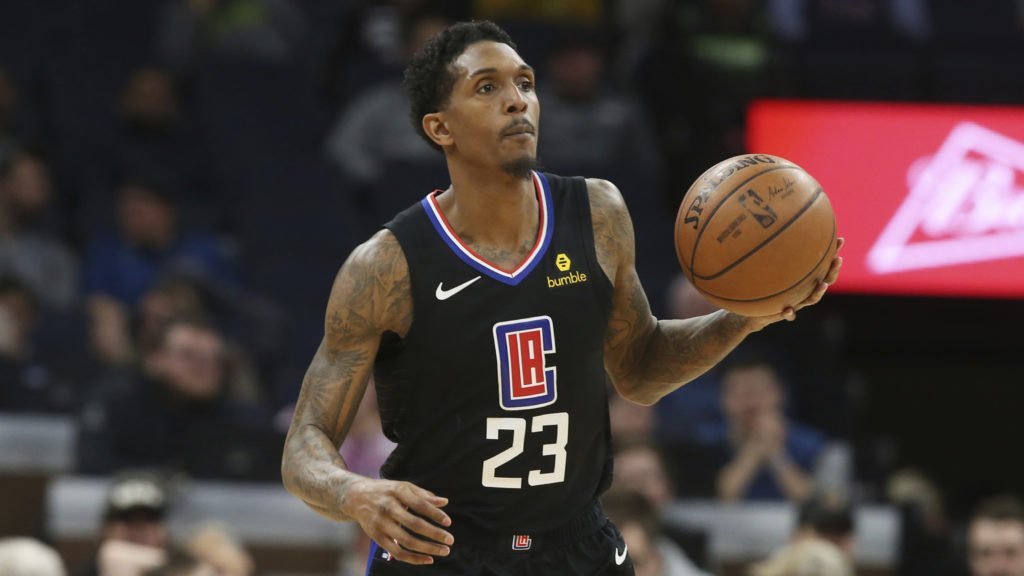 Lou Williams, SG, Los Angeles Clippers
From one aging veteran with deteriorating production in Detroit to another in L.A. It's sad to say it, but Lou Williams, one of the best bench scorers in NBA history, simply isn't what he once was. His minutes are significantly down, and so is his production.
Week 3 saw Williams play right at his season average of 20.8 minutes per game and do very little in all statistical categories. His 15 points against San Antonio on Tuesday was the only consolation Williams gave fantasy basketball managers this week. It was just his third game in double figures scoring on the season. At age 34, it certainly seems as if Father Time has started to reign in the three-time Sixth Man of the Year Award winner.
Miles Bridges, SF/PF, Charlotte Hornets
The surge of optimism that Miles Bridges offered fantasy basketball managers in a 20-point, 16-rebound game against Dallas has long since dissipated. Bridges has failed to score more than eight points in any game since the calendar turned to 2021. His shooting has been horrendous, and his minutes far from encouraging. Outside of a fairly steady presence on the boards which may be of use in category leagues, Bridges' fantasy stock and appeal are far from what they were coming into the season.