We are just two weeks out from the 2021 NBA All-Star festivities. The league is also set to release its planned schedule for the second half of the season this week. These two occurrences should serve as firm reminders for fantasy basketball managers everywhere. We are indeed at the halfway point of this shortened NBA season. Fantasy basketball start/sit decisions will matter more than ever in the coming weeks as the push for the playoffs heats up.
We have a wide range in terms of the number of games teams will play this week. Unfortunately, the team playing five games is the Washington Wizards. A lack of talent combined with the highly questionable rotation decisions of Scott Brooks leaves Washington as a team that doesn't offer a ton of reliable value outside of Russell Westbrook and Bradley Beal. Perhaps Mortiz Wagner can finally breakthrough with some stable frontcourt minutes? Don't we wish?
At any rate, let's take a look at the full schedule breakdown and some notable fantasy basketball start/sit leans for Week 10 of the NBA season.
*All stats are taken on the morning of Monday, Feb. 22*
*Fantasy points data based on standard FanDuel scoring settings*
Week 10 Fantasy Basketball Schedule Breakdown
Five games: WAS
Four games: ATL, BOS, CHA, CHI, DAL, DET, GSW, HOU, LAC, LAL, MEM, MIA, MIN, NYK, OKC, PHX, SAC, TOR, UTA
Three games: BKN, CLE, DEN, IND, MIL, NOP, ORL, PHI, POR
Two Games: SAS
Week 10 Fantasy Basketball Start/Sit
Point Guards | Fantasy Basketball Start/Sit
Consider Starting: Patrick Beverley, Los Angeles Clippers
Opponents: WAS, MEM (twice), MIL
Patrick Beverley is back from injury and back to his usual hard-nosed playing style. A forceful screen sent Brooklyn Nets' big man Jeff Green to the locker room in Sunday's game with a shoulder contusion. When it comes to fantasy basketball start/sit, Beverley doesn't provide his production in the most traditional of forms. Rather, it's his entire body of work in the defensive categories that combine with his scoring. A Week 10 schedule featuring three favorable matchups against Washington and Memphis has Beverley on the start list.
Consider Sitting: All Heat Point Guards
Opponents: OKC, TOR, UTA, ATL
With Goran Dragic continuing to be sidelined by injury, the PG position for the Heat remains a wasteland in terms of fantasy basketball start/sit. Heck, Jimmy Butler and Bam Adebayo have been bringing the ball up court more often than any of Miami's "point guards". Even if Dragic returns, the schedule this week is far from encouraging. He, Kendrick Nunn and Tyler Herro are all players to avoid in Week 10.
Shooting Guards | Fantasy Basketball Start/Sit
Consider Starting: Terry Rozier, SG, Charlotte Hornets
Opponents: UTA, PHX, GSW, SAC
Terry Rozier is a fantasy basketball stud no matter who he and the Hornets are matched up against these days. He enters Week 10 on a scoring tear, eclipsing 30 points in each of the last four games with a 41-point effort highlighting the run. Charlotte is on a west coast road trip this week which will provide Rozier with a pair of extremely favorable opponents in Golden State and Sacramento. Fire him up for Week 10.
Consider Sitting: Gary Trent Jr., Portland Trail Blazers
Opponents: PHX, DEN, LAL
Gary Trent Jr. has performed very well for the Trail Blazers as they continue to win despite being without C.J. McCollum. Unfortunately, the fantasy basketball start/sit deck is stacked again Trent in Week 10. Portland opens the week with a back-to-back against the first and third toughest defenses for shooting guards in Phoenix and Denver. After that, the Blazers only play one more game the rest of the week. That matchup comes against the second toughest SG matchup in the L.A. Lakers. Trent is a sit this week.
Small Forwards | Fantasy Basketball Start/Sit
Consider Starting: Lugentz Dort, Oklahoma City Thunder
Opponents: MIA, SAS, ATL, DEN
Lugentz Dort has been far from consistent in terms of fantasy basketball production this season. Perhaps Week 10 will give him a stretch of games in which he can counteract this narrative. Dort and the Thunder have a four-game slate that includes three opponents ranked in the bottom 12 in fantasy points allowed to small forwards. Two (San Antonio, Denver) are in the bottom three. I'm willing to trust Dort this week.
Consider Sitting: All Kings Small Forwards
Opponents: BRO, NYK, DET, CHA
The small forward position is an injury-riddled mess in Sacramento at the moment. Harrison Barnes and Glenn Robinson are both banged up. This led to DaQuan Jeffries dropping a career-high 18 points in Sunday's game against Milwaukee. With so much uncertainty surrounding who will be available and for how many minutes on any given night, I'm steering clear of all Kings SFs in Week 10 fantasy basketball start/sit. A difficult matchup schedule with road matchups against Brooklyn and New York only solidifies this decision.
Power Forwards | Fantasy Basketball Start/Sit
Consider Starting: John Collins, Atlanta Hawks
Opponents: CLE, BOS, OKC, MIA
It's been far from the type of production that many John Collins fantasy owners envisioned when they drafted him before the season. Barely a top-50 player in category leagues, Collins doesn't quite have the same appeal as he did a couple of months ago. With that said, this week might be a good one to capitalize on the schedule and injury situation in Atlanta. Collins and the Hawks will face three of the worst defenses in fantasy points surrendered to power forwards this week in Cleveland, Oklahoma City and Miami. With De'Andre Hunter remaining out of the lineup, Collins still has a stable minutes floor in which to produce.
Can Robert Williams III become another fantasy basketball option at the power forward position? Check out our analysis on the Celtics' big man and why he deserves more playing time!
Consider Sitting: Keldon Johnson, San Antonio Spurs
Opponents: OKC, NOP
Really no Spurs players should really be finding their way into your Week 10 fantasy basketball start/.sit lineups given that the team only plays two games. San Antonio will finally return to action on Wednesday after their virus pause. Even with relatively favorable matchups against Oklahoma City and New Orleans, I'm not expecting Keldon Johnson to put up starter-worthy production given the reduced number of games. Outside of perhaps DeMar DeRozan depending on one's situation, all Spurs are sits this week.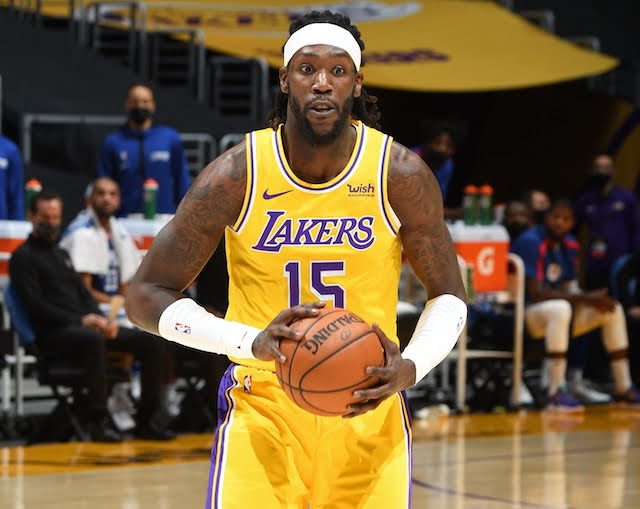 Centers | Fantasy Basketball Start/Sit
Consider Starting: Montrezl Harrell, Los Angeles Lakers
Opponents: WAS, UTA, POR, GSW
The absence of Anthony Davis through the All-Star break will continue to lead to more opportunities for other Lakers frontcourt players. Marc Gasol has led the charge in terms of a usage bump, but I'm still going to roll with Montrezl Harrell as my preferred fantasy basketball start/sit option this week. In terms of scoring and rebounding, Harrell is the far better option over Gasol. With a schedule that features a trio of healthy matchups against Washington, Portland and Golden State, one could make the case that both big men are starter options in deeper leagues this week.
Consider Sitting: All Pelicans Centers
Opponents: DET, MIl, SAS
Starting center Steven Adams remained sidelined for the Pelican's thrilling comeback win on Sunday with an ankle injury. In his absence, the center position has been rendered useless for fantasy basketball start/sit thanks to the crazy rotations that Stan Van Gundy has toyed with. On Sunday, it was Nicolo Melli picking up the big minutes down the stretch while Willy Hernangomez and Jaxson Hayes sat and watched from the bench. With the minutes completely game-to-game, it's impossible to start any New Orleans centers this week. Add in the fact that the Pelicans only play three games in Week 10 and there are bound to be better options elsewhere. Hopefully, Scott Brooks will let Mortiz Wagner have the chance to be one of them.