After getting off to a slow start, the Seattle Seahawks offseason continues to look better and better. I voiced my frustration when they passed on top linemen Corey Linsley and Joe Thuney, but in retrospect the Gabe Jackson trade and his subsequent extension looks like a much better value. Seattle managed to bring back Carlos Dunlap at a discount of $5.6 million after letting him test the market. Chris Carson's new contract could be one of the best bargains of the entire NFL Free Agency period. Seattle kept the ball rolling Wednesday, as Adam Schefter reports they've signed star wideout Tyler Lockett to a massive contract extension.
That's a ton of money, but Lockett is worth every penny. He quickly took over as Russell Wilson's favorite target after Doug Baldwin's retirement in 2018. Over the past three seasons, he's delivered WR1 production without cracking the top 20 in salaries at the position. With this contract, Tyler Lockett gets a well-deserved raise and the Seahawks alleviate some of their current salary cap burden.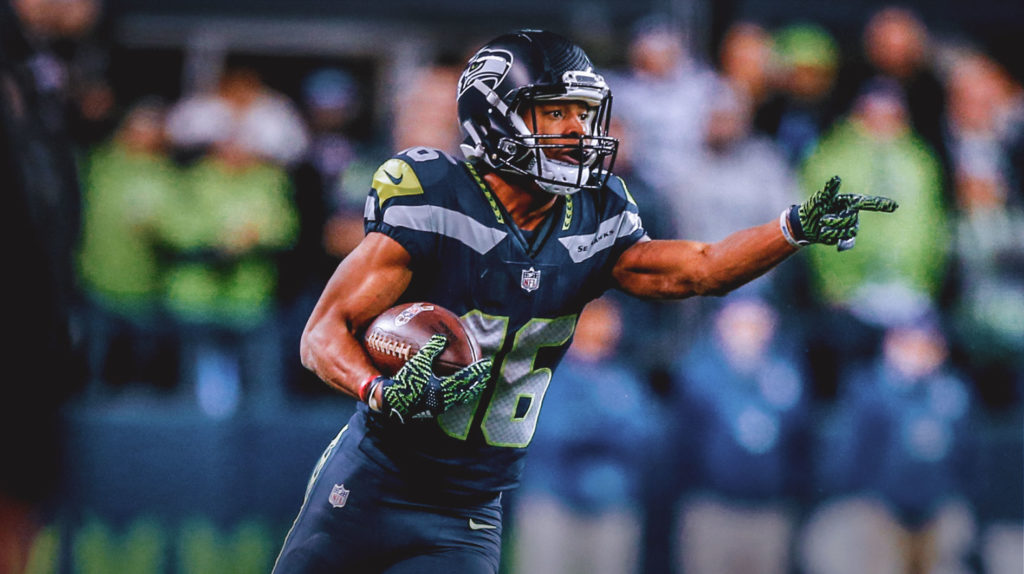 How Tyler Lockett's New Contract Impacts the Seahawks
On the field
After Seattle took him with the 69th overall pick in 2015, Lockett immediately made a difference on special teams. He returned a punt to the house in his first game and added a kick return touchdown two weeks later. He impressed as a receiver as well, posting 51 catches for 664 yards and six touchdowns on the year. While he came close, Lockett couldn't quite match those numbers the next two seasons, as he finished fourth on the team in targets both years.
In 2018, Lockett graduated from a dependable secondary option to a bona fide weapon. He took over the #2 receiver role after Paul Richardson's departure, racking up 965 yards and 10 touchdowns despite receiving just 70 targets. His league-leading 13.8 yards per target was a full two yards more than the next-closest player. Russell Wilson also famously posted a perfect passer rating when targeting Lockett that year.
All he's done in the two years since is rank top-10 in catches (182) and touchdowns (18) and top-20 in yards (2,111). With D.K. Metcalf's emergence across from him, Seattle will enter 2021 with arguably the league's best pair of receivers.
On the team's finances
Lockett's last contract, signed before the 2018 season, made him just the league's 22nd-highest paid receiver at the time. While specifics have yet to be released, his new deal's average value of $17.3 million clocks in at 10th-highest. That's a sizeable price tag, but as I've mentioned previously, it's not a huge increase from the $14.975 million he was set to make this year. Extending Lockett keeps that receiver tandem intact for at least the next two years, when Metcalf's rookie deal expires.
It also allows the team to convert up to $10 million of Lockett's base salary into a signing bonus. We won't know exactly how much cap room that creates until more details emerge, but it should be between $6-8 million. That would be just enough to get Seattle back under the salary cap (estimated using Over The Cap's cap calculator). The roster could still use some depth, but the bulk of the team's free agent spending should be over. Seattle can still open up more space with another extension or by restructuring Wilson's contract.
The danger in this investment is Lockett's age, as he'll be 33 years old by the end of the contract. As durable as he's been, missing only one game in six seasons, it's rare that a receiver sustains a $17 million-per-year level of play at that age. But as has been the theme for many teams this offseason, the expected salary cap rise to $256 million by 2024 means pushing more money down the road to open up short-term space isn't as bad an idea as it normally would be.
What's also important to note is the amount of guaranteed money in this deal. It's likely most if not all of that $37 million figure lands in the first two seasons of his extension. That would make it easy for the team to move on from him after the 2023 season if they choose. If Lockett performs anywhere near how he did on his last contract, that won't be necessary.
---
Follow us on all of our social channels! Check out our Twitter, Facebook and YouTube for more great FlurrySports content.