When news broke last Tuesday that the Seahawks had an offer on the table for Leonard Fournette, it appeared Chris Carson's time in Seattle was coming to an end. As one of the best running backs available, Carson seemed destined to receive more in NFL Free Agency than Seattle could afford. Fournette, on the other hand, looked like a cost-effective replacement with plenty of upside. The former fourth overall pick has had a turbulent career so far, but he has topped 1,000 rushing yards twice and is coming off one of the best playoff stretches for a running back in recent memory.
That all changed on Friday, when Carson re-signed with Seattle following a strong recruiting push from Russell Wilson. Despite being selected 245 picks after Fournette in the 2017 draft, Carson has been the more consistent contributor. His contract initially looked like an overpay, but after breaking down the details it's very friendly towards the Seahawks. Chris Carson will easily provide more value playing on this contract than Leonard Fournette could have on a prove-it deal.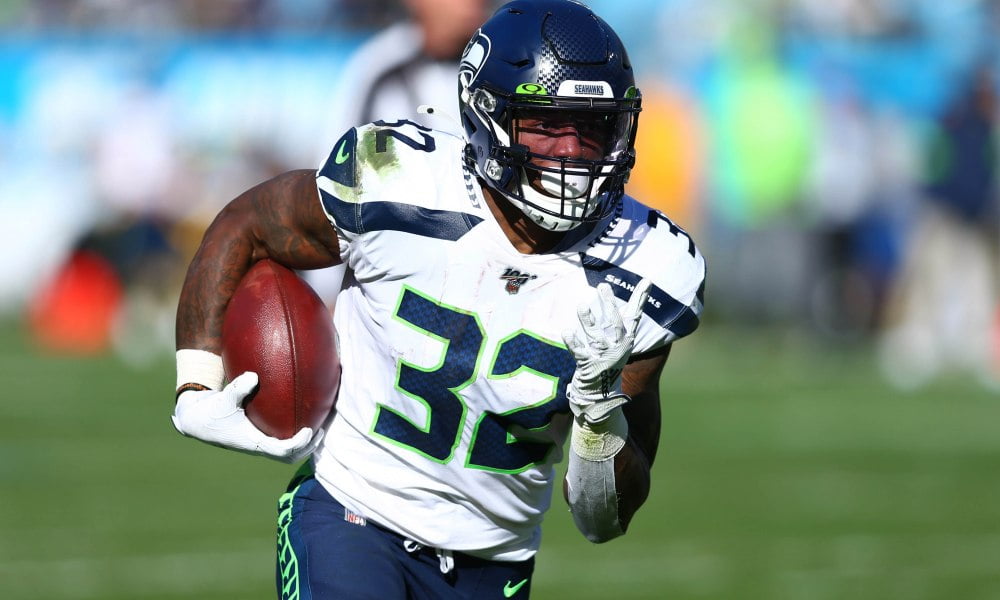 What Gives Chris Carson the Edge Over Leonard Fournette?
In the run game
"Pete Carroll wants to pound the rock more and Leonard Fournette is a big, bruising back with plenty of speed. What's not to like?"
Sure, at 228 pounds, Fournette may seem like the ideal back to satisfy Carroll's desire for an improved power run game. His recent play doesn't support that notion, however. While he finished third-best in the league with 3.0 average yards after contact in 2019, that number dropped by a full yard last season. That tied him for 27th among players with as many or more than his 97 carries. His teammate Ronald Jones led all backs, so that nosedive can't be blamed on tougher opponents or Tampa Bay's scheme.
What it can be blamed on is Fournette's decreased ability to break tackles. Per PlayerProfiler, he finished the year with just 21 missed tackles across his 133 total touches. The resulting juke rate of 15.8% clocked in at 53rd in the league. If even Adrian Peterson can avoid more contact on his 35-year-old knees, maybe it's not really his strong suit.
Chris Carson's stats took a dip last season as well, but not nearly to the same degree. He averaged just 2.2 yards after contact, down from 2.6 the year prior, but Seattle's improved run blocking contributed as much to that as Carson. His average yards before contact rose from 1.7 to 2.7 (Fournette's rose as well, but only from 1.4 to 1.7). That put him closer to the defensive backfield before meeting any resistance, giving him less room to work with afterwards. His juke rate also fell from 27.0% to 22.5%, but he played through MCL and foot sprains that limited his cutting ability when active. Even so, he managed a career-best 4.8 yards per carry, while Fournette's lackluster 3.8-yard average still wasn't even his worst.
In the passing game
"Okay, but Fournette's the better receiver! He had more than double Carson's receptions in 2019!"
True, but Fournette's addition to the Seahawks' passing game would've ultimately hurt more than it helped. His 112 catches over the past two years are impressive, but has turned those into just 6.7 yards per reception. Even for a running back, that's a miniscule figure: only three other backs with at least 25 receptions in each season averaged less yardage over the same span.
While Carson hasn't had the same volume, he's been much more efficient on a per-touch basis with a 7.5-yard average. He also has more reliable hands, as he boasts a higher career catch percentage and just six drops to Fournette's thirteen over the past two seasons. His four receiving touchdowns in 2020 set a career high, while Fournette has just three touchdown receptions in four years.
Carson also brings more to the table than Fournette in pass protection, though it'd be hard for him not to. Despite his size and strength, Fournette offers no more resistance against opposing pass rushers than John Schneider can resist trading away first-round picks. His 28.4 pass-blocking grade from PFF last season ranked 41st out of 42 qualified running backs. He's never graded higher than the 38.0 he received as a rookie, with that number declining in every season. Whether or not you believe PFF's grading system is the final word on such matters, that correlation can't be ignored. There's no logical way anyone can build a case for Fournette as even a mediocre pass blocker.
Contract value
"Fine, I concede that Carson's the better fit, but he's still not worth $7 million a year! Fournette would've cost $4 million at most."
Time to look a little closer at Carson's contract. Its total value checks in at $14.625 million over two years, but that total includes $4.2 million in incentives. He'll be able to earn $1.4 million in each season, and his base salary increases by another $1.4 million in 2022 if he meets his incentives this year. His 2022 cap hit could therefore be as low as $6.425 million or as high as $9.225 million. Either figure would be manageable with the salary cap expected to rise significantly next year. He'll also carry a dead cap hit of just $3 million in 2022, so it'll be fairly painless for the team to move on from him if he gets hurt again or underperforms.
Fournette's salary ceiling may be lower than Carson's average value, but most of Carson's earnings will come in year 2. Seattle wouldn't have signed Fournette for anything longer than one year, making it impossible to spread out his cap hit. In order to save money over Carson in 2021, they would've had to convince Fournette to take an offer below Carson's miniscule $2.5 million cap hit. Considering that's less than what players like Devontae Booker and Jamaal Williams signed for, it's highly doubtful he would've accepted. And as we've already established, Carson is still the better value at an equal price tag.
---
Follow us on all of our social channels! Check out our Twitter, Facebook and YouTube for more great FlurrySports content.