NFL Commissioner Roger Goodell blessed the Miami Dolphins when he announced they were on the clock with the fifth overall pick and Alabama quarterback Tua Tagovailoa was still available. While he didn't jump out to the fast start Dolphins fans hoped for, there's reason to still believe Tua will be the best quarterback to come out of the 2020 NFL Draft.
Tua Tagovailoa Injury Hurt Draft Stock
Entering the 2020 NFL Draft, Tagovailoa was joined by Justin Herbert and Joe Burrow as the top quarterbacks coming out of college. Analysts disagreed about the order in which they'd be chosen, but when it became official, Burrow was drafted first, selected by the Cincinnati Bengals. As great as Tagovailoa's career had been so far, teams were having trouble mapping out his future after he suffered a near career-ending injury in his junior season with the Crimson Tide.
In the final minutes of the first half, leading Mississippi State 35-7, the lefty quarterback scrambled outside the pocket looking to extend the play and was met by two Bulldog defenders, who forcefully knocked him to the ground. Tua's hip looked as if it had come out of the socket. Doctors later announced it as a posterior wall fracture, a similar injury that ended Bo Jackson's professional career.
Leading up to the injury in 2019, Tagovailoa was completing 71% of his passes and had a 206.9 passer rating, the highest in college football. Burrow and Herbert trailed in almost every statistical category, besides attempts and completions due to playing the entire 13 game regular season.
Tagovailoa's College Success
When comparing the three, analysts often overlook in what years each quarterback had the most success.
Joining Alabama in 2017, Tagovailoa was a year younger than Herbert and two years younger than Burrow. Unlike the other two, the lefty quarterback appeared in eight games his freshman year including the national championship game, when he threw a walk-off touchdown in overtime to beat Georgia.
From the night he sent the Bulldogs packing, Tagovailoa took little time to break school records as well as national records.
In less than two years, he ranks in the top five of eight different Alabama records, including career passing yards, career touchdowns and consecutive passes without an interception. Expanding his legacy to the national level, Tagovailoa owns the NCAA career records for passing efficiency rating (199.4), passing yards per attempt (10.9) and total yards per play (9.8).
Tagovailoa's accuracy is what makes him such a promising quarterback. Whether it is at the professional level or collegiate level, finding a young quarterback who limits turnovers as much as he does is impossible to come by in today's game.
"He is one of the most accurate passers I have ever worked behind," said Reid Sinnett, the third-string quarterback of the Miami Dolphins. "Watching him squeeze throws into windows a normal quarterback wouldn't see with confidence is incredible."
If his precise passing can carry into this upcoming season as the starter, the gap between Tagovailoa and the rest of the 2020 quarterback class will grow quickly.
He is back to 100% for the first time since he committed to Alabama, after spending much of his rookie campaign with the Dolphins' medical staff.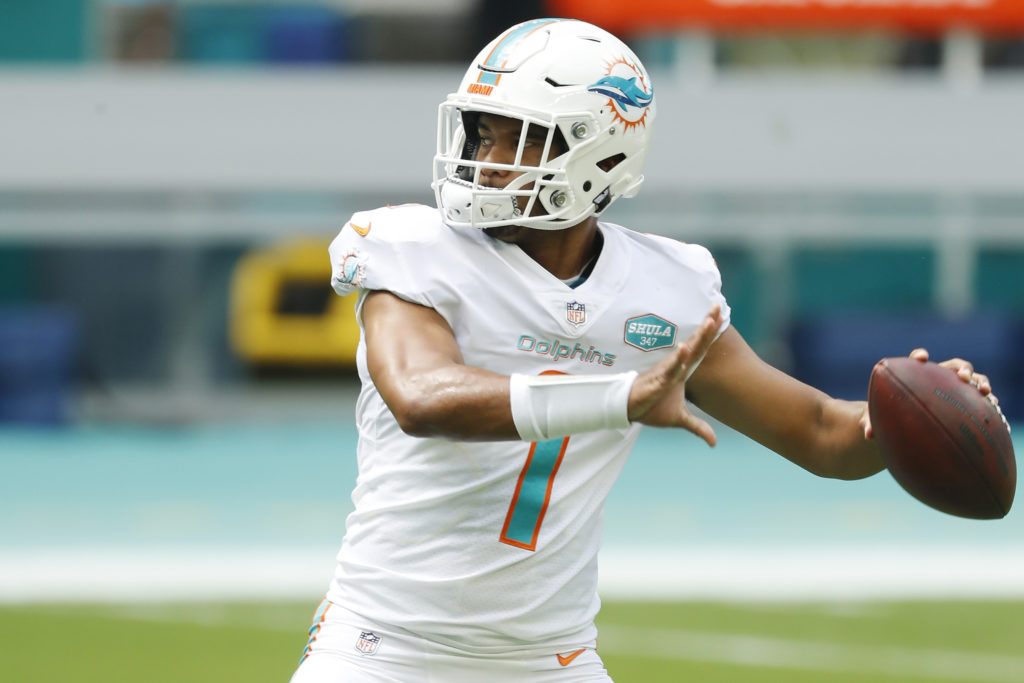 Tua Tagovailoa in Miami
Head coach Brian Flores was cautious with his franchise quarterback when he arrived in Miami.
To start his rookie season, Tagovailoa was listed as Fitzpatrick's backup, then slowly made his way into games, appearing and starting in nine of the last 10. In those games, the below-average offensive line the Dolphins put together did not allow the 22-year-old newcomer to get as comfortable as he was used to. Tagovailoa was sacked 20 times and was hit over double that.
Miami will need to look at using one of its first five selections in day one and two of the NFL Draft on offensive linemen, or quickly find someone in NFL Free Agency to help solidify Tagovailoa's protection. An injury history like Tua's is something Miami does not want to play around with, especially when fans have already given him the title of "the next great Dolphins quarterback since Dan Marino."
"We have a rock star here in Tua," Dolphins' color commentator and radio host, Joe Rose told ESPN. "This team has been in mediocrity for so long. It's lacked the Dan Marino star power, the Ricky Williams star power. Tua's the next guy in that group."
Even if Tagovailoa does not meet those expectations, he will still have a chance to leave a lasting legacy and become the face of the 2020 NFL Draft class.
Joe Burrow and Justin Herbert will be right there competing alongside him, but will also be dealing with problems that analysts see as more significant than Miami's.
In Week 11 of the 2020 season, Burrow went down with an ACL and MCL tear, including structural damage. Most athletes who suffer these kinds of injuries are put on a one-year timetable, but due to the severity of Burrow's injury, Cincinnati has planned to sit its 24-year-old quarterback for the entire offseason and beginning of the 2021 season.
If Burrow's knee does not heal correctly, his name could join current and former quarterbacks Teddy Bridgewater, Robert Griffin III and Dante Culpepper on the list of NFL players who were never the same after their injury.
2020 Rookie of the Year Justin Herbert's problem has grown into more of a situational problem than a personal one. By looking at who joins the Los Angeles Chargers in the AFC West, it is no question that they play in one of the toughest divisions in the NFL. An annual Super Bowl contender in the Kansas City Chiefs, one of the top defenses in the league with the Denver Broncos and a physical and competitive team like the Las Vegas Raiders make it hard for a young quarterback to develop.
Last year, Herbert started in 15 games and went 6-9 overall. Seven of those nine losses were decided by a touchdown or less. Having a rookie quarterback lose in those types of games compared to blowouts can be demoralizing. The only way a franchise can become successful is if you build around a handful of young stars. Herbert is one of those young stars and is surrounded by a defense ranked 23rd in the NFL and an offensive line that analysts consider to be the worst in the league.
No 2020 rookie quarterback has had an easy introduction to the NFL, but if you are looking for the one that has the fewest steps to reach greatness, it is Tua Tagovailoa.
---
Follow us on all of our social channels! Check out our Twitter, Facebook and YouTube for more great FlurrySports content.