In an NFL season that has been filled with upsets, surprising performances and complete chaos, Week 13 was largely dominated by name-brand fantasy football superstars. Many of the early-round draftees from the preseason stepped up in a big way for managers on Sunday. Given that we are just two weeks away from the Fantasy Football Playoffs, the stars couldn't have picked a better week to shine. With all of that said, we did have a few atypical names once again show up among the week's top performers. It was a fun week of football and one that certainly deserves to be recapped in detail.
Let's take a look at the top fantasy football performances from Week 13 of the NFL season across each position. This week's notable top fantasy performers include Javonte Williams, David Montgomery, Justin Jefferson and George Kittle.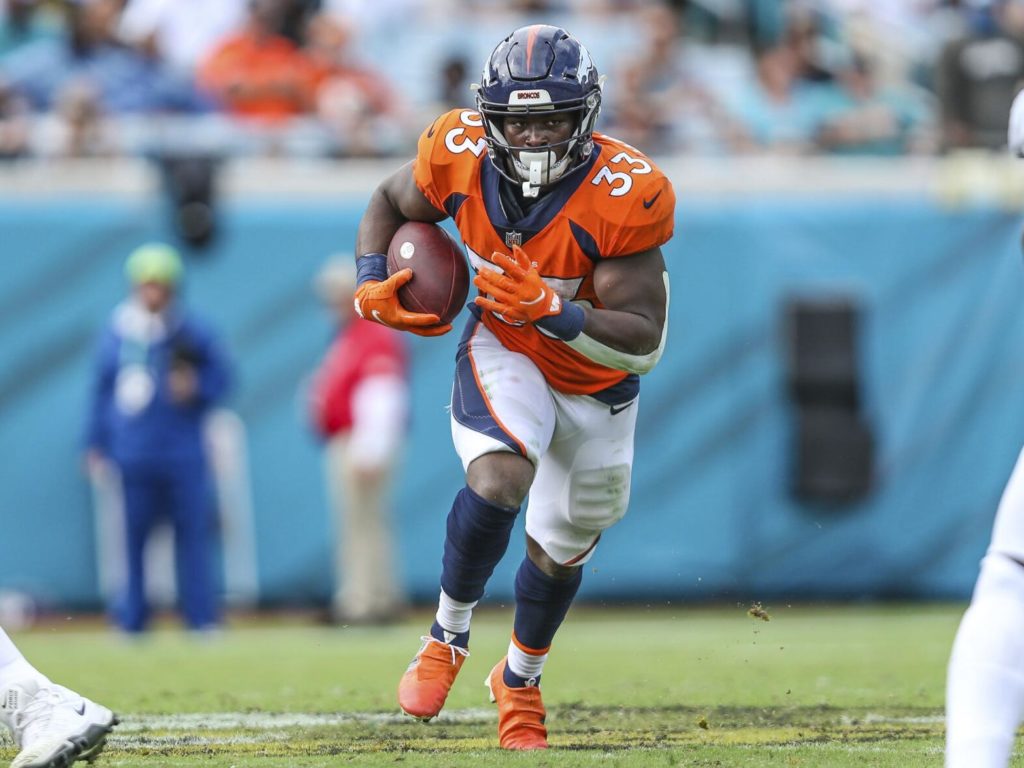 Top Week 13 Fantasy Football Performances | RB
Javonte Williams | Denver Broncos
Stat Line: 23 carries, 102 yards; 6 receptions, 76 yards, 1 touchdown
PPR Fantasy Points: 29.8 (RB1)
While rookie running back Javonte Williams is not a fantasy football star yet, he very well might be one day soon. With fellow Broncos backfield mate Melvin Gordon sidelined by injury this week, Williams made the most of his first true opportunity to carry the lead role. In an otherwise listless performance by the Broncos offense on Sunday night, the former North Carolina star eclipsed the century mark on the ground and added a late receiving touchdown for good measure. We have seen Williams produce both as a runner and pass-catcher and Week 13 was no different. His 29.8 PPR fantasy points earned him RB1 honors on the week. Even though he has been in a split with Gordon all season, Williams is still the RB19 on the year.
David Montgomery | Chicago Bears
Stat Line: 21 carries, 90 yards, 1 touchdown; 8 receptions, 51 yards
PPR Fantasy Points: 28.1 (RB2)
A quick flashback to last season and fantasy football managers might recall Bears RB David Montgomery being a virtual league-winner. Aided by a favorable schedule down the stretch, Montgomery went off in the fantasy playoffs and helped many owners capture their league championships. The schedule is not near as pretty this year, but Montgomery still managed to post what was easily his best stat line of the year on Sunday against the Arizona Cardinals. Along with 90 yards rushing and a score, Chicago's best offensive playmakers also caught eight of nine targets. The 28.1 PPR points were welcomed by owners chasing down a playoff spot. That said, it won't be easy to replicate those numbers moving forward.
Josh Jacobs | Las Vegas Raiders
Stat Line: 13 carries, 52 yards, 1 touchdown; 9 receptions, 38 yards
PPR Fantasy Points: 24.0 (RB4)
Jumping from the RB2 to RB4 on the week is by no means a slight to Indianapolis Colts' stud Jonathan Taylor. It's just that Taylor is essentially a top-three fantasy football running back on a weekly basis. Meanwhile, Sunday's performance from Josh Jacobs was his best showing of the entire season to date. While a rushing score boosted his overall line, the majority of Jacobs' PPR production came via the passing game. He caught all nine of his targets for 38 yards to score a season-high 24.0 fantasy points in a narrow Raiders loss.
On top of this strong showing, the future is presumably even brighter for Jacobs in terms of volume. Sunday's game also saw Kenyan Drake be carted off the field with what turned out to be a broken ankle. That leaves just Peyton Barber and Jalen Richard along with Jacobs in the Las Vegas backfield. Given that Drake had been his top competition for snaps in recent weeks, Jacobs should see at least a slight uptick in workload moving forward into the fantasy playoffs.
Top Week 13 Fantasy Football Performances | WR
Justin Jefferson | Minnesota Vikings
Stat Line: 11 receptions, 182 yards, 1 touchdown; 1 carry, 4 yards
PPR Fantasy Points: 35.6 (WR1)
The Vikings suffered a heartbreaking loss to Dan Campbell and the Detroit Lions on Sunday. At least Justin Jefferson was able to propel his fantasy football owners to near-certain victory in the process. It's honestly hard to believe that he is only 22 years old and playing in just his second NFL season. Jefferson torched the Lions' secondary for 182 yards and a touchdown on 11 receptions to easily lead all wide receivers with 35.6 PPR points. Given that fellow wideout, Adam Thielen got knocked out of the game with an ankle injury, Jefferson could be in line for another massive target share again in Week 14.
Diontae Johnson | Pittsburgh Steelers
Stat Line: 8 receptions, 105 yards, 2 touchdowns
PPR Fantasy Points: 30.5 (WR2)
Less than 24 hours after Ben Roethlisberger announced that this would likely be his final season playing quarterback for the Steelers, he and Diontae Johnson went out and lit up the Baltimore Ravens' secondary. Johnson is quite clearly the preferred target for Big Ben this season. He reeled in eight of 11 passes thrown his way on Sunday for 105 yards and two touchdowns. The 30.5 PPR points marked the former Toledo wideout's highest scoring total of the season. That said, it has been a year of incredible consistency for Johnson. He has scored double-digit PPR points in every game played to date.
Chris Godwin | Tampa Bay Buccaneers
Stat Line: 15 receptions, 143 yards; 1 carry, 9 yards
PPR Fantasy Points: 30.2 (WR3)
Apparently, Chris Godwin wasn't a big fan of being featured in last week's fantasy football busts column. The Buccaneers put together an aerial onslaught for the ages on Sunday in a win over the Atlanta Falcons. After being held under five PPR fantasy points a week ago, Godwin rounded out the three receivers to eclipse the 30-point threshold in Week 13. Making the 30.2 fantasy points all the more impressive was the fact that Godwin never scored a touchdown. Instead, he hauled in 15 of a whopping 17 targets for 143 yards. This was the third time that Godwin finished with more than 25 points this season. He is now the WR6 overall in PPR.
While fellow Bucs wideout Mike Evans didn't have quite the fantasy football impact that Godwin did on Sunday, he too had a nice rebound after a disappointing Week 12. Evans finished with seven receptions for 99 yards in Tampa Bay's win. Had tight end Rob Gronkowski (21.8 PPR points) not caught two of Brady's touchdown passes, one of these two receivers likely would've had an even bigger fantasy day.
Top Week 13 Fantasy Football Performances | TE
George Kittle | San Francisco 49ers
Stat Line: 9 receptions, 181 yards, 2 touchdowns; 1 carry, 5 yards
PPR Fantasy Points: 39.6 (TE1)
Sitting atop the fantasy football Week 13 tight end scorers is yet another superstar who must've been annoyed about being a fantasy bust last week. As predicted by multiple FlurrySports fantasy analysts last week, George Kittle, not Brandon Aiyuk, became the go-to target for Jimmy Garoppolo in the absence of injured wideout Deebo Samuel. Kittle more than made up for his dud last week by hauling in nine of 12 targets for 181 yards and two touchdowns. The resulting 39.6 PPR points not only led all TEs this week but topped all fantasy football scorers period.
Since coming off IR, Kittle has now scored double-digit fantasy points in four of five games. With Samuel's status still uncertain ahead of Week 14, Kittle could be in line for another monster outing next Sunday.
Dallas Goedert | Philadelphia Eagles
Stat Line: 6 receptions, 105 yards, 2 touchdowns
PPR Fantasy Points: 28.5 (TE2)
Thanks to the incompetent quarterback play of Jalen hurts, the fantasy upside of Eagles pass-catchers has been limited all season. Such was not the case with Gardner Minshew II under center on Sunday. Of course, an extremely favorable matchup against the awful New York Jets defense certainly helped as well. Tight end Dallas Goedert took full advantage, catching all six of the passes thrown his way for 105 yards and two touchdowns. The 28.5 PPR points were by far his best output on the season to date. Will Minshew continue to start for Philadelphia moving forward? Goedert owners should certainly be rooting for that to be the case.
Top Week 13 Fantasy Football Performances | QB
Kyler Murray | Arizona Cardinals
Stat Line: 11/15 passing, 123 yards, 2 touchdowns; 10 carries, 59 yards, 2 touchdowns
PPR Fantasy Points: 30.82 (QB1)
Welcome back, Kyler Murray! After missing three consecutive games prior to the Cardinals' Week 12 bye, Murray was back in action on Sunday. Although his yardage totals were very modest on a cold, rainy day in the Windy City, Murray came through big-time for fantasy football managers by accounting for four total touchdowns. Two of his 11 total completions on the day went for scores, including one to fellow injury returnee, DeAndre Hopkins. Murray also totaled 59 yards and two scores on the ground to finish with 30.82 fantasy points. Despite his three-game absence, Murray is still the QB12 in fantasy on the season overall.
Zach Wilson | New York Jets
Stat Line: 23/38 passing, 227 yards, 2 touchdowns, 1 interception; 1 touchdown run
PPR Fantasy Points: 21.04 (QB5)
We already hashed out the details of QB2 Tom Brady's big performance when discussing his receivers above. So we'll pivot from the usual stars again here for our second quarterback write-up to focus on the most unlikely of this week's top-five fantasy QBs, Zach Wilson. The rookie Jets signal-caller set new career-highs for both pass attempts and total touchdowns scored on Sunday. Although he wasn't the most efficient passer after halftime, Wilson used a big first half to finish with 21.04 fantasy points. Along with a pair of passing touchdowns, the No. 2 overall draft pick ran in for six down at the goalline in New York's loss to the Eagles.
While this wasn't quite Mike White territory, Jets fans at least have to be encouraged by the fact that Wilson seems to be making progress since returning from injury. His TD:INT ratio since rejoining the lineup is a positive 5:2. Baby steps, folks, baby steps!
Top Week 13 Fantasy Football Performances | D/ST
Los Angeles Chargers
Stat Line: 6 sacks, 2 interceptions, 2 fumble recoveries, 1 touchdown scored; 356 yards allowed, 22 points allowed
PPR Fantasy Points: 21.0 (D/ST1)
What even was that game between the Chargers and Cincinnati Bengals yesterday? Los Angeles ultimately emerged victorious from the game that no one wanted to win. The defense proved to be a big reason why Brandon Staley's team was able to get the win. The Chargers destroyed a vulnerable Bengals offensive line for six sacks of Joe Burrow on Sunday. In addition, L.A. came up with four total takeaways and scored a defensive touchdown on a Tevaughn Campbell 61-yard fumble return. The 20.0 fantasy points were good enough for D/ST1 honors on the week.
Funny enough, the Chargers allowed 22 points and over 350 yards of offense. Yet, in fantasy football, they still outscored an Indianapolis Colts outfit that pitched a shutout.
Top Week 13 Fantasy Football Performances | K
Jake Elliott | Philadelphia Eagles
Stat Line: 3-3 PAT; 4-4 FG, 2 from 30-39, 2 from 40-49
PPR Fantasy Points: 15.0 (K1)
Thanks to a number of second-half Eagles possessions stalling out, kicker Jake Elliott was able to lead the position in fantasy production this week. Elliott was perfect on all seven of his kick attempts Sunday, converting three extra points and four field goals. That 100% accuracy combined with two kicks from the 40-49-yard range saw him score 15.0 fantasy points. Despite being one of the more sparsely owned kickers, this performance bumped Elliott up to the K7 ranking on the season overall. If Gardner Minshew does remain the Eagles' starting quarterback moving forward, Elliott could be a much more intriguing add ahead of the fantasy playoffs.