Compared to last week, this NFL Sunday was severely lacking in terms of upsets and results on the field. That being said, there were still a whole bunch of surprising fantasy football performances. The running back position in particular was led by a handful of unlikely players. While the thrill-a-minute luster from a week ago failed to replicate, Week 10 serves as a reminder that even predictable results can yield unexpected fantasy football stat lines.
Let's take a look at the top fantasy football performances from Week 10 of the NFL season across each position. This week's notable top fantasy performers include Rhamondre Stevenson, Stefon Diggs, Travis Kelce and A.J. Dillon.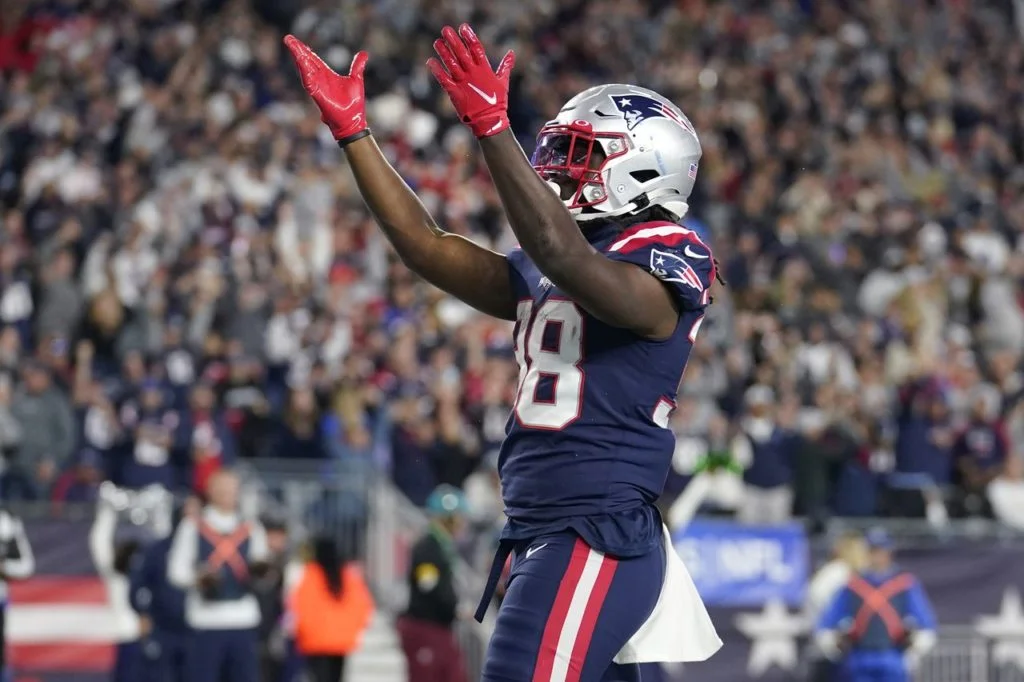 Top Week 10 Fantasy Football Performances | RB
Rhamondre Stevenson | New England Patriots
Stat Line: 20 carries, 100 yards, 2 touchdowns; 4 receptions, 14 yards
PPR Fantasy Points: 27.4 (RB2)
With top Patriots RB Damien Harris missing Sunday's game against the Cleveland Browns with a concussion, rookie Rhamondre Stevenson took full advantage. Not only did he post the best line of his young NFL career to date, but he finished out the week as RB2 in fantasy football. Stevenson averaged exactly 5.0 yards on his 20 carries to finish with 100 yards rushing in a blowout win for the Patriots. He added four receptions and further bolstered his fantasy line with a pair of rushing touchdowns.
The fact that Stevenson has surpassed both J.J. Taylor and Brandon Bolden on the depth chart is worth noting in fantasy. He appears to be the primary handcuff and will likely provide weekly FLEX value even with Harris in the lineup in the run-heavy New England offense.
Darrel Williams | Kansas City Chiefs
Stat Line: 11 carries, 43 yards; 9 receptions, 101 yards, 1 touchdown
PPR Fantasy Points: 29.4 (RB1)
Spoiler alert: this week's top fantasy football performances column is heavily dominated by Chiefs players. Running back Darrel Williams kick-off that list. In what may have been his final start filling in for the injured Clyde Edwards-Helaire, Williams was a major part of a much-needed bounce-back game for the Chiefs' offense. While he only totaled 43 yards rushing, Williams was heavily involved as a pass-catcher. He finished with nine receptions for over 100 yards receiving and scored a touchdown to take home RB1 honors with 29.4 PPR fantasy points. Even with Edwards-Helaire expected back sooner than later, Williams remains a valuable handcuff in fantasy after performing well in his absence.
A.J. Dillon | Green Bay Packers
Stat Line: 21 carries, 66 yards, 2 touchdowns; 2 receptions, 62 yards
PPR Fantasy Points: 26.8 (RB3)
Much like Rhamondre Stevenson, Packers' second-year RB A.J. Dillon jumped on an opportunity that came courtesy of a teammate's injury. After Aaron Jones was forced out of Green Bay's 17-0 win over the Seattle Seahawks with a knee injury, Dillon became the focal point of the backfield. He rumbled for two rushing touchdowns and finished with 128 total yards on the day. The effort resulted in 26.8 PPR fantasy points and an RB3 ranking. With Jones now set to miss the next 1-2 weeks with an MCL sprain, Dillon will have the chance to replicate his strong fantasy football line from Week 10.
Top Week 10 Fantasy Football Performances | WR
Stefon Diggs | Buffalo Bills
Stat Line: 8 receptions, 162 yards, 1 touchdown
PPR Fantasy Points: 30.2 (WR1)
Despite Stefon Diggs maintaining his status as a top-25 fantasy football wideout through the first half of the season, many managers were growing antsy waiting for one of the game-changing performances which came regularly a season ago. Diggs finally delivered that outing on Sunday as the Buffalo Bills routed the New York Jets. The star receiver hauled in eight catches for over 160 yards and a score to lead all WRs with 30.2 PPR points. It was a tremendous rebound game for the Bills and for Diggs. He remains a fantasy asset with an incredibly high floor on a weekly basis. Following Sunday's performance, Diggs is now the WR12 on the season overall.
CeeDee Lamb | Dallas Cowboys
Stat Line: 12 receptions, 104 yards
PPR Fantasy Points: 22.4 (WR3)
Like the Bills, the Dallas Cowboys also bounced back in a big way on Sunday from a surprising Week 9 loss. A big part of the team's 43-3 throttling of the Atlanta Falcons was second-year wideout CeeDee Lamb. He rewarded fantasy football managers in the process, totaling 94 yards and a pair of touchdowns on six receptions to pace a loaded Cowboys' receiving room. Lamb added 12 yards rushing to total 28.6 PPR fantasy points. In a season that has lacked week-to-week consistency, it was a welcome result for Lamb to finish as WR2 on Sunday.
Kendrick Bourne | New England Patriots
Stat Line: 4 receptions, 98 yards, 1 touchdown; 3 carries, 43 yards
PPR Fantasy Points: 24.1 (WR4)
One could argue that the top fantasy football performance by Rhamondre Stevenson was even more surprising given that the strength of the Cleveland Browns' defense is slowing the run. Several analysts felt that New England's passing offense had upside ahead of Sunday's game. They were proven right, and Kendrick Bourne turned in a top-five PPR stat line at the wide receiver position to boot. One of the many free agency acquisitions made by Bill Belichick in the offseason, Bourne tied with three teammates for the team lead in receptions on Sunday with four.
The plethora of pass-catchers in this offense has made it very difficult to trust one Patriots receiver over the others all season. In recent weeks, Bourne has been one of the most efficient with his touches. He turned those four catches into 98 yards and a score on Sunday. Along with 43 rushing yards, Bourne totaled 24.1 fantasy points. He is now the WR32 on the year and leads Jakobi Meyers by 0.2 fantasy points for the team lead in that category.
Top Week 10 Fantasy Football Performances | TE
Travis Kelce | Kansas City Chiefs
Stat Line: 8 receptions, 119 yards
PPR Fantasy Points: 19.9 (TE1)
Did we mention that the Chiefs' offense exploded yet? Well, they did, and tight end Travis Kelce reassumed his usual perch atop the fantasy football tight end world in the process. Kelce lit up the Las Vegas Raiders defense for 119 yards receiving on eight receptions. Despite not scoring a touchdown, he paced all TEs with 19.9 PPR points in Week 10. Of course, for as difficult as this season has been for Andy Reid's offense, Kelce has still been the best tight end in fantasy. This week's result increased his lead in the season-long points standings where he is now the TE1 by nearly 30 points.
It's also only fair that we shout out fellow Chiefs superstar Tyreek Hill. We surpassed Hill's stat line in the WR section above in favor of discussing the crowded Patriots pass-catching situation. Hill was phenomenal on Sunay night as well, finishing as the WR3 in PPR scoring with 83 yards receiving and a pair of touchdown grabs. Dare we say Kansas City's offense is back for real??
Hunter Henry | New England Patriots
Stat Line: 4 receptions, 37 yards, 2 touchdowns
PPR Fantasy Points: 19.7 (TE2)
Okay, this week's top performances column is literally turning into a Chiefs and Patriots showcase. Consider New England tight end Hunter Henry included. The former Charger hauled in four receptions for 37 yards in Sunday's blowout win. Most importantly, he buoyed his fantasy football point total by catching two of those balls for touchdowns. The 19.7 PPR points saw him finish just behind Travis Kelce as the fantasy TE2 on the week. For as difficult as it is to rely on Patriots pass-catchers, Henry has clearly emerged as the go-to red zone option for rookie QB Mac Jones. He has now caught a touchdown in six of the team's last seven games.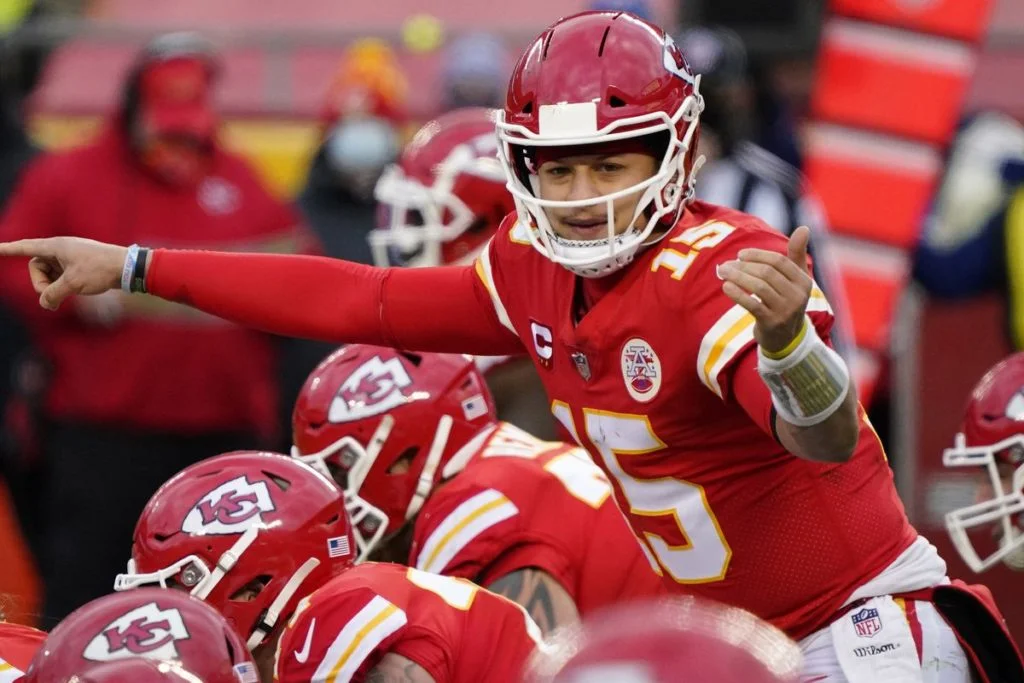 Top Week 10 Fantasy Football Performances | QB
Patrick Mahomes | Kansas City Chiefs
Stat Line: 33/50 passing, 406 yards, 5 touchdowns
PPR Fantasy Points: 36.24 (QB1)
To everyone suggesting that Patrick Mahomes had lost it, here's a 36-fantasy point night right in your eyehole! The Chiefs' signal-caller was back to his old self on Sunday Night Football against the banged-up and overmatched Las Vegas Raiders defense. Mahomes threw for over 400 yards and a whopping five touchdowns in the dominant Kansas City victory. Perhaps the most encouraging stat of all was that Mahomes did not commit a single turnover. An interception-plagued season has now seen the 26-year-old finish back-to-back games mistake-free.
Dak Prescott | Dallas Cowboys
Stat Line: 24/31 passing, 296 yards, 2 touchdowns; 2 carries, 5 yards, 1 touchdown
PPR Fantasy Points: 30.64 (QB2)
Dak Prescott's Week 10 line isn't mind-blowing by any stretch. That said, the crispness he displayed one week after his Cowboys were embarrassed at home by the Denver Broncos was worth noting. Prescott calmly put up 296 yards passing and a pair of touchdowns in a no-nonsense performance. A rushing touchdown boosted him to QB2 honors on the week with 26.34 fantasy points. On an NFL Sunday that mostly represented a return to normalcy following the shocking outcomes from a week ago, Prescott and the Cowboys' offense made it clear that they will be just fine moving forward.
Top Week 10 Fantasy Football Performances | D/ST
Dallas Cowboys
Stat Line: 1 sack, 3 interceptions, 6 points scored; 240 yards allowed, 6 points allowed
PPR Fantasy Points: 20.0 (D/ST1)
The "Dan Quinn Revenge Game" could not have gone better for the Cowboys' defense. Matched up against the team that their defensive coordinator used to lead, Dallas stymied an Atlanta Falcons offense that had been exceeding expectations in recent weeks. The Cowboys intercepted Matt Ryan three times and also sacked him twice en route to allowing just 214 total yards and three points. As if that wasn't good enough, Dallas also blocked a punt in the second quarter. Nahshon Wright fell on it in the end zone for a D/ST score. In the end, the Cowboys put up 21 fantasy points to lead the position in Week 10.
Top Week 10 Fantasy Football Performances | K
Jake Elliott | Philadelphia Eagles
Stat Line: 3-3 PAT; 3-3 FG, 1 from 20-29, 1 from 30-39, 1 from 50+
PPR Fantasy Points: 14.0 (K1)
For whatever reason, the Eagles seem to play better football away from Lincoln Financial Field this season. A matchup against a thinned-out Denver Broncos defense on Sunday at Mile High turned into a comfortable 30-13 win for Philadelphia. Kicker Jake Elliott supplied 12 of those 30 points, taking home K1 honors in fantasy football. While it has largely been a down year for the Eagles' kicker, the thin Denver air was kind to him on Sunday. He drilled all three of his field goal attempts, including a long from 52, to go with three extra points in a 14-fantasy point performance.
We will also quickly shout out Carolina Panthers kicker, Zane Gonzalez, who tied Elliott for the K1 spot in Week 10 with 14 fantasy points of his own. Gonzalez knocked home all four of his FG attempts, including three from the 40-49-yard range in an impressive victory for the Panthers.
---
Underdog Fantasy is a new type of DFS that combines the fun of season-long drafts with daily fantasy sports. Aside from their fun, addictive draft mode, Underdog Fantasy also has pick'em player props for many different sports and athletes!
Click the image or RIGHT HERE to get signed up today, and don't forget to use the promo code FLURRY for a FREE $10 bonus on your first deposit!
---