Possibly the wildest year in WWE history still somehow managed to outshine its headlines with its in-ring value. To make matters easier, we look today at the top five matches in WWE only from their main roster premium live events, so no NXT or TV matches today. The matches that remain might make this the best WWE year of in-ring action in over a decade.
Honorable Mentions For Best WWE Matches 2022:
Stone Cold vs. Kevin Owens, WrestleMania
In terms of being a must-watch, this could have even topped the list. However, this ATV ride/interview brawl was so much more of a glorious moment than a match, so it just missed the list.
The Street Profits vs. The Usos, Money In the Bank
The only reason this match isn't going to be remembered as a top match this year was because of the redundancy of WWE's tag division in 2022. While these teams ran out of novelty against each other this year, this match should be watched again to see WWE's best tag encounter of the year.
Bianca Belair vs. Becky Lynch, WrestleMania
Best women's match of the year, and honestly it feels awful to leave this all-time classic off the list. I think some of the spectacle in the matches above outshine this example, which leaves it off the list, but for storytelling and in-ring work, Belair and Lynch put in some of the best work from any performers all year.
Top 5 WWE Matches of 2022
5. Men's War Games Match, Survivor Series: War Games
The Bloodline are the best wrestling act of 2022 and deserve to be on this list for that alone. However, this match more than earns its flowers. For those who want to relive the best storytelling of the year, this Shakespearean match is a must-watch. The Brawling Brutes and Drew McIntyre are worthy extras in this performance, but the Bloodline learning to trust Sami Zayn as he turns his back on forever-frenemy Kevin Owens is the main attraction.
There are plenty of dramatic spots to look back on, and a post-match hug that will bring a tear to your eye. If it had the carnage of a typical War Games match, it could have been even higher, but for being the biggest piece of the Bloodline puzzle so far, it lands at the last entry on our list.
4. Brock Lesnar vs. Roman Reigns, SummerSlam
Eight days earlier, Vince McMahon stepped down as the head of WWE. Two days earlier, Brock Lesnar threatened to quit the company before he could challenge for all the gold. Presumably, a tractor was enough to sweeten the pot for the Beast.
While Reigns and Lesnar faced each other about three times too many, don't take this sport too seriously. The Tribal Chief defended the biggest championship on the planet against a cowboy who picked up the ring using farm equipment. This is as must-watch as it gets. If this was in a vacuum, ignoring the staleness of these two on paper, it could've shined even brighter. You'll laugh, you'll cheer, and you'll tell your friends to tune in because Brock is having the time of his life.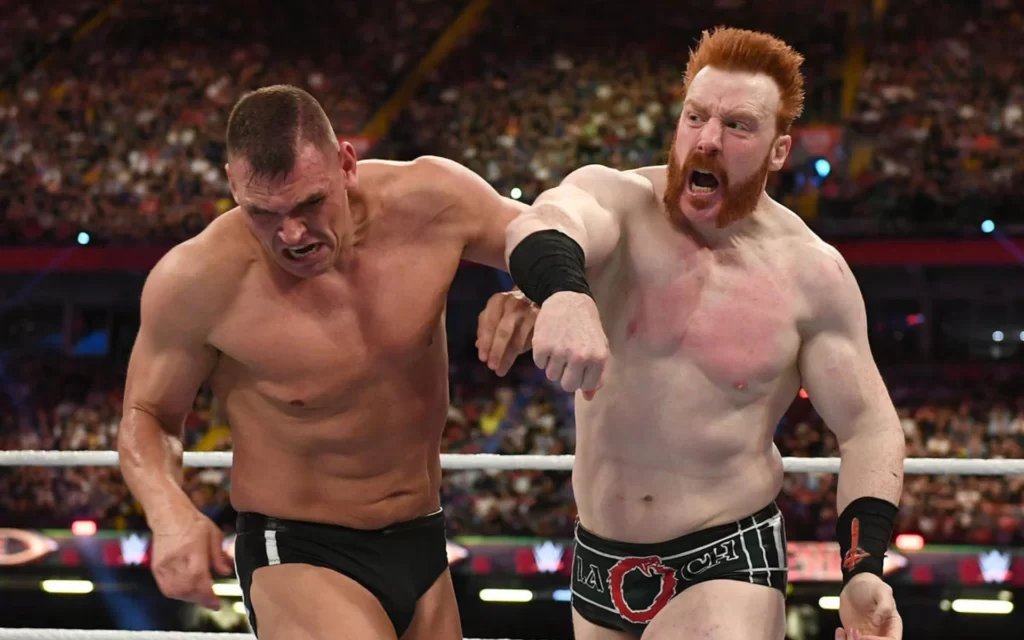 3. Sheamus vs. Gunther, Clash at the Castle
The artist formerly known as WALTER has become my favorite wrestler on the planet since he signed with NXT UK a few years back, but this year is the first time his yearly match-of-the-year contender was on a big stage. Gunther has been treated surprisingly well since arriving on the main roster, and Triple H gave him the stamp of stardom in this brutal encounter.
Of course, this particular match might be more about his dancing partner. Sheamus has never quite gotten the love he deserved for his consistent quality, but 2022 was a sort of celebration for the Irishman. This European War was brutal but still a blast to watch, and the best crowd of the year only adds to that.
Out of any match on this list, save our top entry, this is the one that has to be watched to be understood most fully. So, if you haven't, go watch the best work-rate match in WWE this year.
2. Cody Rhodes vs. Seth Rollins, Hell in a Cell
In hindsight, this match could be the perfect send-off to the Vince McMahon era of WWE. Cody Rhodes was a WWE nepotism baby who was surprisingly spurned by the same company that spurned his father and used that rejection to start a rival company built as the antithesis of Vince's WWE. But, only Vince had the shameless balls and endless cash to bring that same martyr back home, and to make him seem more prodigal than a former pariah. But not only that, but only Vince's WWE would give us a match that somehow makes "I'm uncomfortable watching this" become "I have to watch this."
A torn pectoral turned this match into the greatest Hell in a Cell match of all time. It was a once-in-a-lifetime match that somehow got the perfect casting, and it was held at the perfect time. If Vince McMahon's WWE had a running theme, it could be "exploitation for the greater good," and it may have found its perfect match here. An injured star carries on anyway, and instead of scorn, Vince once again hit a home run without planning to. Truly a masterpiece.
1. Sami Zayn vs. Johnny Knoxville, WrestleMania
If Cody vs. Seth is as real as it gets, then Sami Zayn vs. Jackass Johnny is wrestling at its fictional best. Wrestling is awesome, but it is "fake fighting." Sometimes a match gets so close to being real that it being scripted defies belief, like our previous entry. But, for my taste, WWE is at its best when they show us they are in on the joke.
Sami Zayn appeared on talk shows and red carpets while Mr. Knoxville appeared in a cape at the Royal Rumble. None of it was real, but no one cared. Part of the downside to some celebrity matches is that they're trying to look good at something they've never done. Johnny Knoxville didn't become a wrestler though.
Sami Zayn was trapped in an episode of Jackass. Bowling balls, mouse traps, and giant hands invaded WWE's biggest stage. And you know what? They looked like they belonged there, just like Johnny Knoxville. The best comedy and celebrity match of all time in WWE was also the most fun and must-watch experience this year. Grab some friends, don't be cynical, and relive one of the biggest smiles wrestling can ever give you in this match of the year.