The 2022 NFL Draft is complete and with it comes the start of dynasty fantasy football draft season. This article is here to help with the top 10 dynasty fantasy football rookie rankings PPR leagues.
When ranking the rookies for dynasty fantasy football, the two biggest things to consider are talent and opportunity. Many times, the best prospects prior to the NFL Draft are not always the highest-ranked for fantasy. This is due to the team they end up on or the situation they end up in. Here, we will look at the best players to target for immediate success and others who you might have to be more patient with.
Let's get started with our top 10 dynasty fantasy football rookie rankings!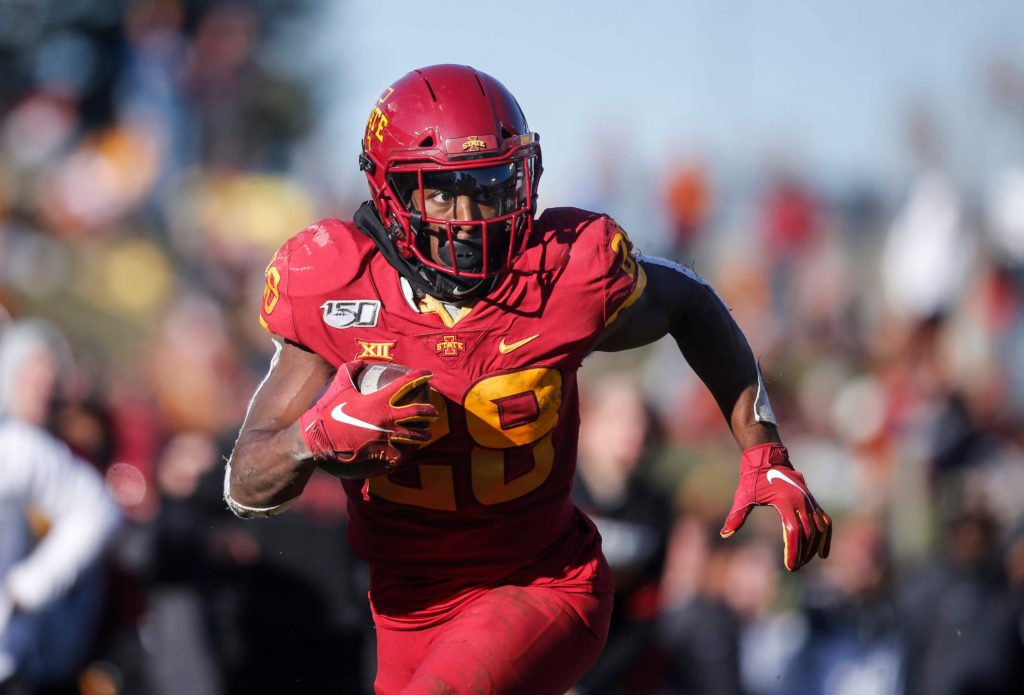 Dynasty Fantasy Football Rookie Rankings
1. RB Breece Hall, Jets
Right at the intersection of talent and opportunity sits Breece Hall. He is the top RB in this year's class, after being selected early in the second round. Hall is primed to be a locked-in RB1 right away. He is a bona fide three-down back who should garner 200+ touches this season. This is a workload that puts him right into the low-end RB1 conversation.
If you have the number one pick in your dynasty fantasy football league this season, Breece Hall is your guy.
2. WR Drake London, Falcons
The number eight overall pick in the draft, Drake London, will be the Falcons' new number one receiver with Calvin Ridley suspended through the 2022 season. London is a physically dominant WR who measures 6-4 and 219 pounds. He has an impressive catch radius and was having an incredible season at USC prior to breaking his ankle.
With the injury behind him, he is situated to become the new alpha in Atlanta starting this year. The only concern here is the QB room, led by Marcus Mariota or Desmond Ridder.
3. WR Treylon Burks, Titans
Shortly after trading away A.J. Brown to the Eagles with the 18th pick, the Titans drafted Treylon Burks, another big-bodied WR who is a 6-2, 225-pound specimen. With Titans trading for Robert Woods earlier in the offseason, Burks will likely slot in as the number two WR in this offense, at least initially. In Ryan Tannehill, he does have the best QB of any of the WRs drafted in the first round. And with his size and speed combination, he will make an impact from day one with the potential to emerge as the number one sooner rather than later.
4. WR Garrett Wilson, Jets
Garrett Wilson was the second WR drafted, taken with the Jets' second pick of the first round. He is another player with a chance to be special. Garrett Wilson has excellent body control, the ability to stop and start and change direction on a dime and, he also just happens to run a 4.38-second 40-yard dash as well. He is right alongside London and Burks in a tier of their own after Hall at pick one. The downside with Wilson is that his QB is an unproven Zach Wilson, and there are several other receivers in New York that could limit his opportunities this season, including Elijah Moore and Corey Davis.
In the long term, Wilson has as good a chance as any to emerge as the best WR in these dynasty fantasy football rookie rankings.
5. RB Kenneth Walker, Seahawks
In terms of sheer ball-carrying ability, Kenneth Walker III is the best in this draft class. He has the complete package of power, speed and the ability to shake defenders in the open field. All he needs is a crease to make a defense pay. However, he had very little involvement in the passing game at Michigan State last season,as he finished with 13 catches on the year. He also steps into a crowded backfield in Seattle, with Rashaad Penny and a healthy Chris Carson back in the fold. The Seahawks are planning on starting Drew Lock at QB this season. If you are in need of an RB and Hall is taken, Walker is your pick. He could be taken as high as two over London, Burks or Wilson.
6. WR Jameson Williams, Lions
The Detroit Lions traded up 20 spots to make Jameson Williams the fourth WR taken in the first 12 picks. Coming off a torn ACL, which happened in the national championship game, Williams is no sure thing to start training camp on time and could be on the PUP list to start the season. After Williams spent his first two collegiate seasons at Ohio State, he transferred to Alabama. There, he emerged as an electric deep threat capable of scoring on any play.
Jameson Williams is heading to a situation where he might not start the season strong, and he has some competition for targets. However, his potential is as high as any, especially when the Lions draft their franchise passer in 2023.
7. WR Chris Olave, Saints
Sandwiched between his former teammates Garrett Wilson and Jameson Williams, Chris Olave was the third WR drafted, after the Saints traded up for him. Olave is arguably the most polished WR in this draft class. He is a terrific route runner who is able to gain separation with his 4.39-second 40-yard dash time. When the ball is thrown his way, he is as sure-handed as they come. Olave provides a safe floor. However, his upside may not be as high as others, since he will be third in line for targets behind another former Buckeye Michael Thomas and Alvin Kamara.
8. WR Skyy Moore, Chiefs
Drafted in the second round, Skyy Moore was the 12th WR taken. He steps into a great situation, with Patrick Mahomes as his QB and Tyreek Hill having taken his talents to South Beach. Moore is only 5-9, but he is solidly built at 195 pounds and is made for the slot role, as he has incredible moves and stop-start ability. Unfortunately, JuJu Smith Schuster has also played primarily in the slot. So, this season, Moore does not have a clear pathway to targets like some of the guys ahead of him in these dynasty fantasy football rookie rankings. But when he does see the field, the "Skyy" is the limit. I couldn't help myself.
9. WR Christian Watson, Packers
Christian Watson is a physical specimen, measuring 6-4, 208 pounds while running a 4.36-second forty. He has incredible leaping ability as well, earning a 99 athleticism score from Next Gen Stats. The Packers traded up to help fill the huge void left behind after Davante Adams and Marquez Valdes-Scantling left (224 targets). Aaron Rodgers has historically had a great deal of success with second-round WRs, including Adams, Randall Cobb, Jordy Nelson and Greg Jennings. Watson steps into a great spot to succeed. While he is not quite as polished of a route-runner and has struggled with drops, there is plenty of potential here.
10. WR Jahan Dotson, Commanders
The fifth WR taken in the first round was Jahan Dotson. He measures 5-11 and 184 pounds, profiling as a prototypical slot receiver in the NFL due to his sharp route running and sure hands. He is a walking highlight reel and is as dangerous as they come with the ball in his hands. However, his pathway to production to start the season is tougher than the WRs ranked ahead of him. n Washington, he will have to compete for targets from Carson Wentz. He plays alongside Terry McLaurin, Curtis Samuel, Logan Thomas and J.D. McKissic. He has a bright future in the league, but it might take a while to get started.