Today in sports history (2012), the Louisville Cardinals defeated the Cincinnati Bearcats to automatically qualify for the NCAA Tournament. Louisville basketball entered the Big East Tournament as the seven seed. They beat Seton Hall and the ninth-ranked Marquette Golden Eagles to reach the championship.
The Cardinals were led by Russ Smith, Peyton Siva, Kyle Kuric and Gorgui Dieng. With legendary coach Rick Pitino at the helm, many had penciled Louisville in as a team looking for an upset in the NCAA Tournament. This championship, along with Louisville's 2013-14 and 2014-15 seasons, was vacated due to the sex scandal within the university.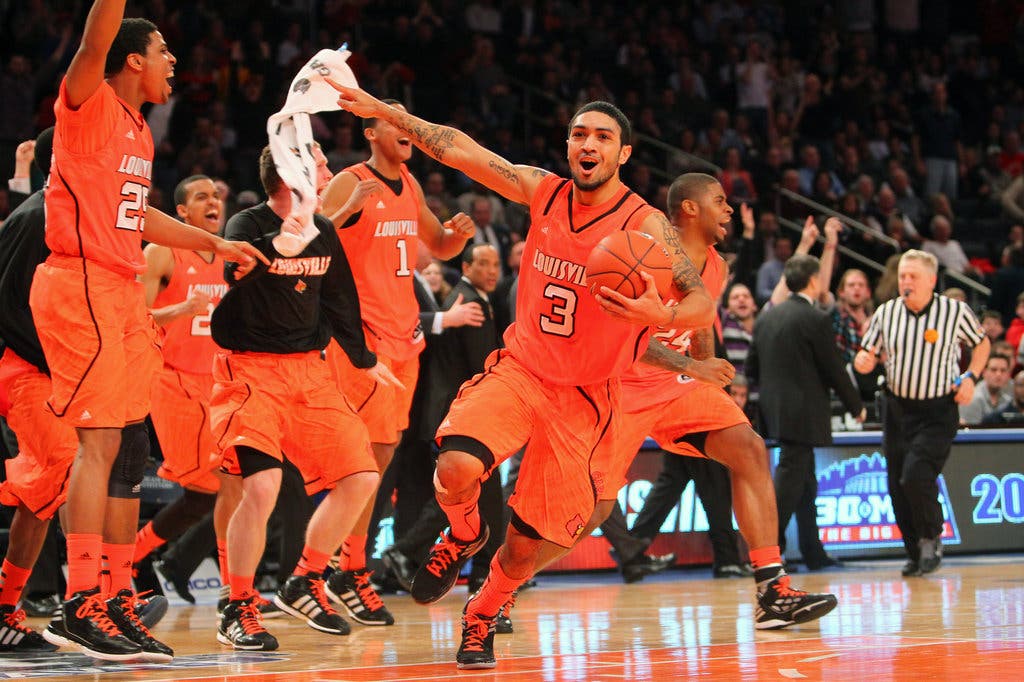 Louisville Punches Their Ticket After Big East Championship Win
Using the patented Pitino defense, the Louisville Cardinals were able to hold Cincinnati to only 44 points in the championship game. The Cardinals won the game, 50-44, culminating in the lowest-scoring Big East Championship game at the time, since the 1992 championship. This game was also the first Big East Championship game that did not feature one of the original seven teams.
Louisville's Chris Smith hit a three-point shot to go up 44-28 at the 8:27 mark in the game. Cincinnati's Cashmere Wright then almost single-handily responded, scoring nine points in a 16-4 Cincinnati run. This brought Louisville's lead down to 48-44 with 2:35 left to play. The last two points of the game came by the way of two Russ Smith free throws.
Siva was selected as the MVP of the tournament after he averaged 15 points, seven rebounds and six assists through the Cardinals' first three tournament games. In the championship game, Siva recorded 10 points, four rebounds and five assists.
The Louisville basketball win over the Bearcats gave Pitino a win over his one-time assistant Mick Cronin. This win also added to the Cardinals' 53-41 record over the Bearcats. This was the third conference that the two schools met in the conference tournament. Both schools have since left the Big East, with Louisville going to the ACC and Cincinnati going to the AAC.