If you are unaware of what NFL survivor picks are, the basic concept is you make NFL picks throughout the season, but you can only pick a team once. Once you lose, you're knocked out, so choose your Week 3 NFL Survivor Pool picks wisely.
If you are new to reading my survivor articles, what I do is outline my "lock of the week," my "value of the week" and my "high-risk, high-reward pick."
The lock of the week details what team I think has the best chance of winning their matchup. This would most likely be a good team that plays a bad team. The lock is also the official pick for NFL Survivor Pools, meaning we will not reuse a "lock." My value pick of the week details a mid-tier team that has a good matchup. And finally, my high-risk, high-reward pick details a bad team that has a good matchup. It may be worth it to look at the NFL betting odds for these games and place some bets as well.
Teams Used:
Baltimore Ravens
Buffalo Bills
Week 3 NFL Survivor Pool Picks
Lock of the Week | Best Pick for NFL Survivor Pool Week 3
Jacksonville Jaguars vs. Houston Texans
There are a couple of routes that you could go here. Dallas Cowboys, Kansas City Chiefs, or even Miami Dolphins. However, I like the Jacksonville Jaguars here. The decision to go with the Jags stems from future value. Outside of another division game against Houston, it is hard to look at the Jaguars' schedule and guarantee that they are going to win each game. They are a good team, but they do not have the most favorable schedule.
The Jaguars opened the week as 9.5-point favorites, and that makes sense. They played the Chiefs tough last week and the difference between the Chiefs and Texans is probably monumental. The Texans have had the Jags number in the last couple of matchups, but just looking at the rosters, the Jags have the upper hand at quarterback, running back, wide receiver and probably tight end. While I like what the Texans are doing, it feels like they are where the Jaguars were two years ago. While the Jaguars' offense has not been great to start the year, it feels this is a game where Travis Etienne can get going. So far this season, the Texans have given up 236 yards on the ground. If Etienne can get going that should set up the play-action and mid-deep route running for Lawrence, Christian Kirk and Calvin Ridley.
In regards to the Texans, they are a very young team with a rookie head coach. Going up against coaching veteran Doug Pederson, DeMeco Ryans will probably get out-coached. The strength of this Houston team is the offensive line, but Jacksonville has been stingy against the run this season, only giving up 166 yards so far. The pass defense was also able to hold Patrick Mahomes to 17 points last week. It is hard for me to believe that C.J. Stroud will have more success than Mahomes.
NFL Survivor Picks Lock of the Week: Jacksonville Jaguars
Value Pick of the Week | Week 3 NFL Survivor Pool Picks
Seattle Seahawks vs. Carolina Panthers
In order for Seattle to win this game, they need to make Carolina throw the ball. The Panthers rank dead last in passing yards this year, with Bryce Young throwing for only 299 yards. The Panthers looked bad last week against a bad New Orleans Saints team. The Seahawks are undoubtedly better than the Saints and that should show on Sunday. The Panthers are probably going to try to get after Geno Smith early this week and that screams a big Ken Walker game to me.
The Panthers have given up 264 yards on the ground this year, which ranks 25th in the NFL. Much like the Jaguars, the Seahawks offense has not been the greatest this year, but Ken Walker looks great, as does Tyler Lockett. If the Seahawks can get some sort of production out of D.K. Metcalf this week, the run game should be able to tear up Carolina. On Carolina's offense, nothing scares you. If Young does not play, Andy Dalton is set to start. We know what Andy Dalton is and if he starts, I like the Seahawks that much more.
Value of the Week: Seattle Seahawks
---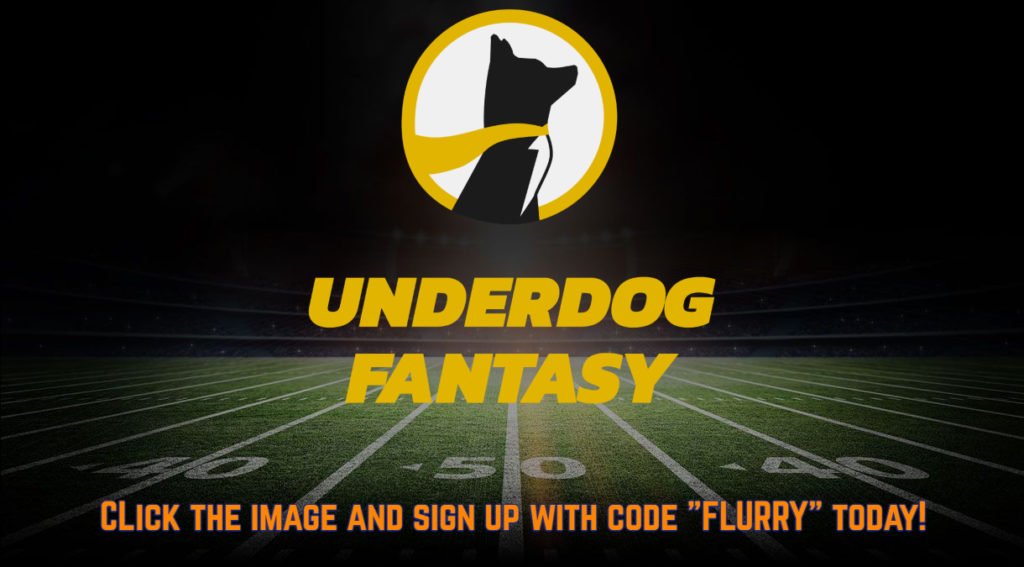 Underdog Fantasy is a new type of DFS that combines the fun of season-long drafts with daily fantasy sports. Aside from their fun, addictive draft mode, Underdog Fantasy also has pick'em player props for many different sports and athletes!
Click the image or RIGHT HERE to get signed up today, and don't forget to use the promo code FLURRY for a FREE $10 bonus on your first deposit!
---
High Risk, High Reward Pick of the Week | Week 3 NFL Survivor Pool Picks
New England Patriots vs. New York Jets
I have been a huge Bill Belichick critic since Tom Brady left, but it is still really hard for me to imagine that he starts a season 0-3. Especially against the Jets, which he has historically dominated. In fact, Belichick holds a 38-12 career record against the Jets. We know that Belichick's thing is to take away the best option on the opposing team. If that happens to be Garrett Wilson, the Jets will need to rely on the run game to win this game.
With the strength of New England's team being its defense, it is going to be hard for Zach Wilson to succeed in this game. In fact, it will probably be hard for Wilson to succeed all year until Aaron Rodgers comes back to inevitably call plays. In Wilson's last matchup against the Patriots, he threw for just 77 yards. There should be plenty of turnover opportunities to capitalize on and I think they do. With how bad both of these teams are, I would give the edge to the coach and the history surrounding this team. I would not advise taking this game for your Week 3 NFL Survivor picks through as points are certainly going to be at a premium.
High Risk, High Reward Pick of the Week: New England Patriots