What exactly is a sleeper?  You read articles about "sleepers" for the upcoming season, or for the upcoming week, but do you truly comprehend what it means?  Well yeah, you should, but we all know there's fantasy footballers out there who mistake the term for a "you should start" player.
So let's break it down, a "sleeper" is a player that is believed to have a breakout season, or week.  They do not include well-known, usually reliable, players that you start week-after-week.  That being said, a sleeper list does not include players like Antonio Brown and Aaron Rodgers, or even guys like Travis Kelce and Melvin Gordon – if you do not plant these players in your lineups, invite me to join your leagues.  No, seriously.
The players listed here are projected sleepers for the 2017 NFL season, and we'll start off with a sleeper for each position.  As we approach the NFL season, I will provide deeper analysis for you to crush your drafts!  Let's dig in.
QB Deshaun Watson – Texans
Let's be honest…he is facing Tom Savage to compete for the starting gig.  What Watson brings to the Texans offense is a dimension that is exciting for Texans fans – the ability to run the ball.  Not only did he rack up over 1,700 rushing yards and 21 TDs in the last two seasons at Clemson, let's face it…he can throw the ball – tossing over 8,700 yards and 86 TDs in that span.  With DeAndre Hopkins' insane ability to snag the ball out of the air and the deep-threat in Will Fuller, Watson will have plenty of room to run.  Seemingly, this will lead to more single-coverage plays, giving Watson a clearer path to connect with the receivers.  (Needless to say, Hopkins gets an instant upgrade with Watson in the huddle.)   I view Watson as a complete steal as a QB2 come draft time.
RB Mike Gillislee – Patriots
Yes, Gillislee is going to an offense led by the arm of Tom Brady.  Yes, the Patriots backfield is always one of the most difficult to predict.  So why would anyone want to touch Gillislee?  Let's focus on his recent stats… over the past two seasons in Buffalo, he averaged 5.7 YPR while carrying the ball 148 times for 844 yards and 9 TDs.  While he was hindered due to McCoy's ability to be a workhorse, McCoy's injury-prone style allowed Gillislee to showcase his potential.  He now finds himself in New England, who gave LeGarrette Blount the ball 299 times for over 1,100 yards and 18 TDs last season.  Gillislee is expected to have a similar role in the NE offense, but he also must prove that he can handle the volume of touches over a long season.  Draft him with the mindset of 850 yards and 8 TDs.
WR Corey Coleman – Browns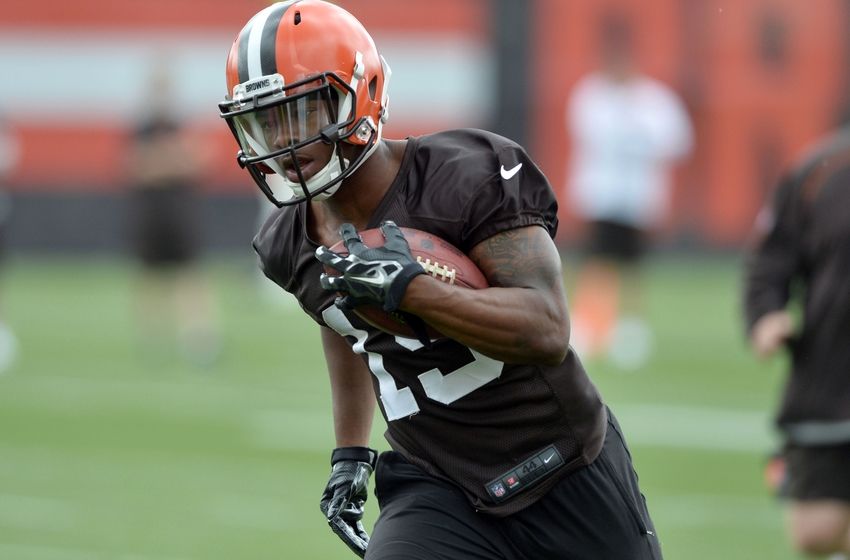 I know, let's start out by saying it's the Browns.  I am well aware.  With the QB trio of Kessler, Osweiler, and Kizer, how can Coleman be considered a sleeper?  Well…that is exactly why.  Who's going to draft him?!  You are…and here's why… Coleman is fast (4.4 speed) and has the leaping ability to help him win jump-ball situations.  Last season, his Week 2 game against the Ravens gave us a glimpse of what he can do – 5 catches for 104 yards and 2 TDs on 8 targets.  Drafting him in the late rounds last season, owners got excited that they stole a late-round gem….until a broken hand forced him to miss six games.  During the last eight games of the season, he didn't give us the wow-factor that owners were hoping he would come back to.  However, Coleman moves into the WR1 position in Cleveland, and adding his ability to make plays and catch the deep ball, I expect a 2016 Pryor-like season for Coleman.  Let's put him at the 60/950/7 mark for the 2017 season.
TE Jack Doyle – Colts
I like Doyle's chances to shine in his fifth-season, as he earned more starting snaps as the season progressed last year.  In the final seven games, he shared most snaps with Dwayne Allen.  While he finished the season with 59 catches for 584 yards and 5 TDs, he now has a possible huge opportunity.  The Colts threw upwards of 150 targets to TEs last season, and where is Allen?  Not in Indy (traded to NE along with a sixth round pick).  Using two TEs is common in Indy, and while this gives Doyle even more time on the field, it also can limit his targets.  I am predicting Doyle's path to be around 70/600/6 for the upcoming season (good enough to be considered a top-10 option, with a chance to be in top-5 consideration if given a higher percentage of chances).
Will you win your league with a starting lineup like this?  No, no you will not.  But what you will do is control a bench of potential break-outs that could earn a starting role in your lineup.  I mean, that is what we want from our bench, isn't it?  When approaching your 2017 fantasy football draft, keep these players in mind, and snag them in the mid-to-late rounds with confidence.