With four teams on bye both last week and this, the SEC football schedule has been on the lighter side. Even with only five games scheduled in the conference last weekend, there was still some tremendous action. Jayden Daniels and the LSU Tigers knocked the Ole Miss Rebels from the unbeaten ranks. Elsewhere, the Alabama Crimson Tide got back on track after their first loss of the season while the South Carolina Gamecocks continued their ascent in the SEC football standings.
In the following article, we will traverse the SEC football landscape to identify who's hot and who's cold after eight weeks of play. Keep watch on Saturday to see which of these trends continue across the five Week 9 SEC football matchups.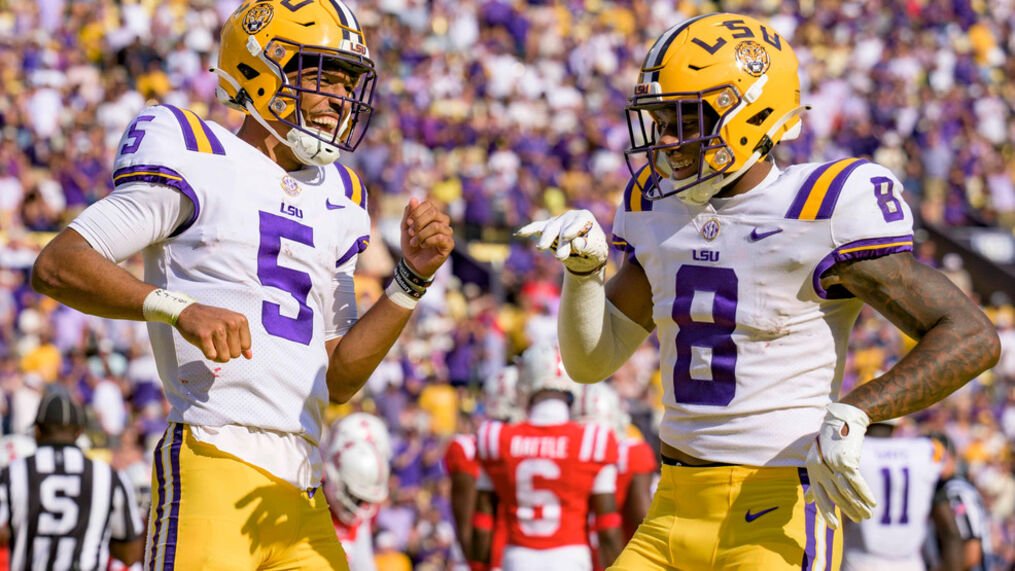 Week 9 SEC Football Heat Check: Who's Hot?
Jayden Daniels
By choosing to transfer from Arizona State to LSU this offseason, Jayden Daniels made a bet on himself. Before the season began, he was part of a three-man Tigers quarterback room and was hardly guaranteed to be the Week 1 starter. When Myles Brennan elected to step away from the program in August, Daniels seized the opportunity. Now that the rest of the LSU offense is rounding into form, the 21-year-old is really taking off.
In the last two weeks, Daniels has put the entire SEC football world on notice. He threw for a season-high 349 yards in LSU football's road win over Florida and accounted for six total touchdowns. As an encore to that performance, Daniels scored five more touchdowns in last week's win over Ole Miss. Three of those came on the ground, as Daniels gashed the Rebels for 121 yards rushing. The Tigers are idle in Week 9 but will call upon Daniels to deliver again next week when they welcome mighty Alabama to Death Valley.
South Carolina Gamecocks
To the surprise of many, South Carolina football has not lost once since enduring a 48-7 drubbing courtesy of Georgia. While two of the Gamecocks' four wins since that game came against lesser competition, no one can dispute their victories over two quality SEC football opponents. Carolina outscored Kentucky 17-7 after halftime to score an upset win on the road three weeks ago.
Last Saturday saw Shane Beamer's team put up 30 points on the uber-talented Texas A&M defense in yet another upset win. For the record, only one other team has scored more than 24 points against the Aggies all season. Despite being outgained by over 100 yards, South Carolina still managed to prevail. The win offered hope that the Gamecocks' rushing attack might be turning the corner. This would be huge going forward as Carolina tries to remove some of the offensive burden from QB Spencer Rattler.
---
---
Missouri Tigers' Defense
When Missouri got blown out by Kansas State back in Week 2, hardly anyone gave the Tigers a chance of being competitive in the SEC. To say that Eliah Drinkwitz's team has proven the doubters wrong would be an understatement. Despite having a young, inexperienced quarterback under center, all four of Missouri's SEC football matchups to date have been decided by seven points or less. Given how the defense has been playing, Mizzou will be anything but a pushover the rest of the way.
After holding Vanderbilt to just 14 points in last week's win, Missouri has now given up only 24.2 per game to FBS-level opponents. That mark is down nearly 10 points from last year's points allowed average. And yes, that figure does factor in the 40 points allowed to Kansas State back in Week 2. While the Tigers have only managed to win one of four SEC football games played thus far, the defense enabled them to go right down to the wire against Auburn, Florida and even top-ranked Georgia.
Week 9 SEC Football Heat Check: Who's Cold?
Jimbo Fisher
Preseason media expectations bestowed upon Texas A&M are partly to blame for sure. The Aggies may have landed the top recruiting class in the country last year, but it takes time for even the most talented of players to adjust to playing at the college level. This is especially true when playing a rugged SEC football schedule. With that being said, few could've foreseen things going so badly in College Station this season. As a result, many members of the 12th Man are quite upset with head coach, Jimbo Fisher.
This past week saw Texas A&M drop its third straight game on the road against South Carolina. The Aggies found themselves in a 17-3 hole after the first quarter of play, on the heels of a bye week, no less. Given how anemic the offense has been all season, A&M had little to no chance of recovering. While rational fans and analysts knew coming into the year that the Aggies' national title window wouldn't open until next season, no one envisioned Fisher's team sitting with a losing record after eight weeks of play.
Ole Miss Rebels
Initially, this section of our Week 9 SEC football heat check was going to focus solely on the Ole Miss defense. Upon further review, it's really the entire Rebels team that is pretty cold at present. There have been inconsistencies on both sides of the ball going back several weeks.
Offensively, the Rebels were so sloppy against Kentucky that Lane Kiffin could hardly be excited during his on-field interview after the game. After putting up 100 combined points in the next two games, Ole Miss got shut out completely in the second half of last week's defeat.
Then, there's the aforementioned defense. It was very concerning to see a sputtering Auburn offense put up 34 points on the Rebs two weeks ago. Indeed, that performance foreshadowed last week's abysmal effort against LSU. Ole Miss failed to make any sort of adjustments as Jayden Daniels and the Tigers put up 52 points and 500 yards of total offense.
Will Rogers on the Road
Through eight weeks, Mississippi State has a perfect 4-0 record at home compared to just 1-3 on the road. Perhaps the only thing with a greater level of disparity than that home-road record is the play of quarterback Will Rogers in Starkville compared to everywhere else. Losses at Kentucky and at Alabama in each of the last two weeks provided the latest examples. Some of the numbers that follow are truly mind-blowing.
Rogers has thrown for over 400 yards in three of the Bulldogs' four home games this season. On the road against SEC football opponents, he has yet to throw for more than 231 yards in a game. Rogers has averaged an 80.6 QBR in Mississippi State's four home games to date. Away from home, his average QBR comes in at an almost-unrecognizable 51.2. Three of Rogers' four interceptions and 11 of 13 sacks have also come on the road.