While this year's Australian Open Men's Semifinals are largely populated by fresh, young faces, one member of the "old guard" still stands among them. 2009 Aussie Open champ Rafael Nadal will attempt to move one step closer to becoming the first man ever to win 21 Grand Slam titles when he takes on Matteo Berrettini in the first men's semifinal matchup. Both players were pushed to the full five-set distance in their respective quarterfinal matchups. The current Australian Open betting odds list the established veteran as a rather large favorite ahead of this Rafael Nadal vs Matteo Berrettini semifinal match.
The following Australian Open tennis betting preview will provide you with the current odds, head-to-head trends and a prediction for the first men's semifinal match between Rafael Nadal and Matteo Berrettini.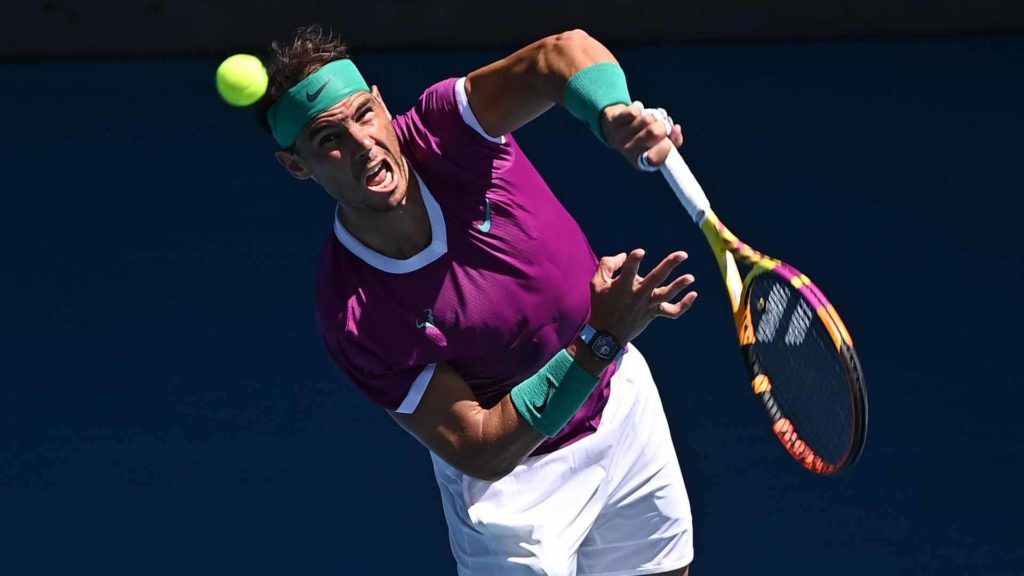 Australian Open Tennis Men's Semifinal Details
(6) Rafael Nadal vs. (7) Matteo Berrettini — Australian Open Men's Semifinal No. 1
Date: Thursday, Jan. 27, 2022
Venue: Rod Laver Arena — Melbourne, AU
Start Time: 10:30 p.m. EST
Coverage: ESPN
Rafael Nadal Background and Overview
The lone member of the "old guard" who was even a part of this year's Australian Open draw is now seeking to break free from the three-way tie atop the all-time Grand Slam titles leaderboard. Spain's Rafael Nadal has to believe that this is his best shot to win his second major title in Melbourne. While his first Aussie Open victory came all the way back in 2009, it still marked the last time any player in the 2022 draw won the event. The dominance of Novak Djokovic and Roger Federer over the last decade has made it next to impossible for others to have a chance at hoisting the Norman Brooks Challenge Cup. At age 35, Nadal finds himself just two matches away from his 21st Grand Slam title.
Of course, the bulk of Nadal's Grand Slam championships have come on the clay courts at the French Open. The Spaniard has been at his best on the slowest playing surface on tour throughout his career. The heavy topspin on his groundstrokes is a big reason why. Overall, Nadal's playing style blends the elements of aggressiveness and consistency. To this day, the veteran remains one of the best defenders and court coverers on the ATP Tour. Part of what makes Nadal so tough to overcome is his ability to turn defensive volleys into winning points. As the heavy topspin on his strokes often forces opponents to stay on the baseline, Nadal is also able to score points off of his pristine drop shots.
Matteo Berrettini Background and Overview
A decade younger than his Australian Open semifinals opponent, Matteo Berrettini is vying to win his first career Grand Slam title. This marks the third appearance in the semifinals at a major for the 25-year-old. Berrettini's best Grand Slam finish was a runner-up showing to Djokovic at Wimbledon last year. His first final four appearance at a major came at the 2019 U.S. Open. He lost that match in straight sets to none other than Rafael Nadal. While there are still holes in his game, the young Italian is proving quite capable of finding success on all three court surfaces. Since turning pro in 2015, Berrettini has a 64.5% winning percentage across all matches. He has captured five singles titles to date.
Berrettini brings an aggressive playing style and a nasty forehand to the table. The righthander packs a lethal combination of speed, spin and depth on his forehand groundstrokes. At 6'5", Berrettini will have a four-inch height advantage over Nadal in this Aussie Open semifinal. Thus, it probably comes as no surprise that he is also the more powerful server of the two. Berrettini's serves can reach up to 146 MPH on the gun. While his focus is to play short volleys and set up winners quickly, Berrettini struggles with consistency and has a tendency to make a number of unforced errors. While he has improved in this area over time, he still struggles when forced to play defense.
Australian Open Men's Semifinal Tennis Betting Odds
Australian Open Tennis betting odds taken from BetMGM Sportsbook.
Moneyline: Nadal: (-225) | Berrettini: (+180)
Games Spread: Nadal: -4.5 (+105) | Berrettini: +4.5 (-145)
Total Games: 39.5 — Over: (-125) | Under: (-110)
Rafael Nadal vs Matteo Berrettini Head-to-Head Trends
Nadal won his only previous head-to-head match against Berrettini.
The only prior match between the two came in the semifinals of the 2019 U.S. Open which is also played on a hard court surface.
After winning a first set tiebreak, Nadal cruised to a 7-6, 6-4, 6-1 victory in that match.
Rafael Nadal vs Matteo Berrettini Prediction | Australian Open Betting
Both Nadal and Berrettini had to exert a tremendous amount of effort in their respective quarterfinal matches. As Nadal's match against Denis Shapovalov came under the sun on Monday afternoon, it was reported that he lost over nine pounds in sweat during the five-set marathon. Fortunately, Nadal was able to avoid a repeat of last year when he coughed up a two-set lead to Stefanos Tsitsipas and dispatch Shapovalov in the decisive fifth set. Berrettini also had to withstand a rally from two sets down by Gael Monfils in his quarterfinal. A convincing 6-2 fifth set score ultimately propelled Berrettini into his first Australian Open final four.
Overall, Nadal has spent much less time on the court in Melbourne so far. Aside from his quarterfinal that went the distance, only one other match was extended beyond straight sets for the Spaniard. Meanwhile, Berrettini has only had one of his five wins thus far come in a straight-set fashion. He let a two-set lead slip away against Carlos Alcaraz in the Third Round and had to hang on to win in five. In many respects, Berrettini's inconsistency has been on display during this Aussie Open.
Needless to say, any sort of inconsistency won't cut it when playing against an opponent the caliber of Nadal. Consider that Berrettini faced 14 break points against Monfils in his quarterfinal match. While he was able to win all but three of them, the total number of break points he faced in that match alone was just five fewer than the 19 Nadal has faced all tournament long. In many ways, the defensive prowess of Nadal is the perfect counter to Berrattini's powerful, offensive approach. So long as Nadal gains the upper hand early, he should go on to a rather comfortable victory.
Rafael Nadal vs Matteo Berrettini Prediction: Rafael Nadal -4.5 Games (+105)
If you're not in a legal sports betting state, you can still place this Australian Open bet at Bovada Sportsbook. First-time depositors can also receive up to $750 free!