The 2023 NASCAR Cup Series officially kicks off with the Daytona 500 on Sunday afternoon. As the world of sports betting continues to grow, NASCAR betting is growing along with it! Of course, it can be a bit intimidating and too much work to study and pick who you think will win the Daytona 500. Instead, you can place something called NASCAR Squares for the Daytona 500!
NASCAR Squares is a spin-off from Super Bowl Squares, which is a staple on Super Bowl Sunday. If you are unsure how it works, no worries! Below, we will go over how NASCAR Squares works, and we will also link to a free printable NASCAR Daytona 500 Squares template for you to use with your co-workers, friends and family!
What is NASCAR Squares | How to Play
If you can write your name, you can play NASCAR Squares. Actually, it may even be more simple than that.
In NASCAR Squares, we have a 10×10 grid, with each of the 100 squares corresponding to a set of numbers. The columns represent the final digit in the winning driver's number. The rows represent the final digit of the runner-up's number.
So, if Denny Hamlin wins the 2023 Daytona 500 and Chase Elliott comes in second, the square that represents the numbers 1, 9 would win the pool! This is how you play in its most simplest form, but there are other ways you can play and win money.
Other Ways to Play Daytona 500 Squares
Numbering the Grid
Our printable NASCAR Squares template below doesn't have numbers because you get to decide how you play. You could simply label the grid 0-9 in numerical order and randomly assign names to the squares. Another way to play is to have participants bid for which square they want.
You could also have participants sign up for their square(s) first, then randomly assign the numbers for the rows or columns.
How to Win
In the most basic version of NASCAR Squares, there is one winner when we find out who won the Daytona 500. However, you could also have winners after 50 laps, 100 laps, etc. If you do this, then the leading and second-place drivers' numbers would be used. You can split the pot for each payout beforehand whichever way the group wants.
---
Get Daytona 500 Betting Bonuses Today!

---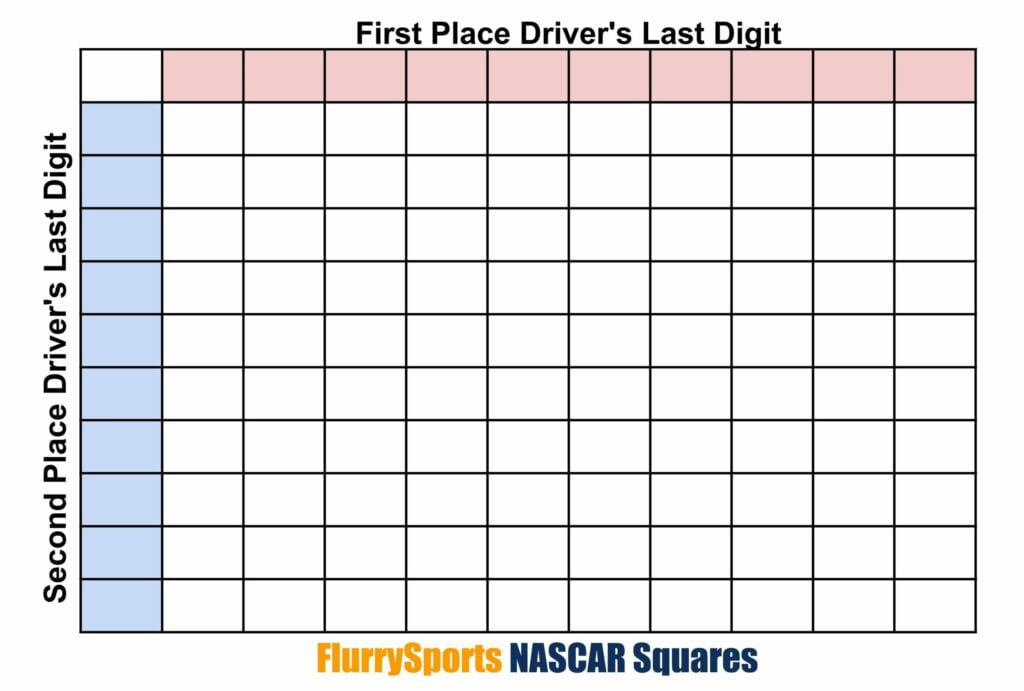 Printable NASCAR Daytona 500 Squares Template
You can click the image above or this link for your free printable NASCAR Daytona 500 Squares template! It will take you to a Google Sheets file where you will be able to print off this template for your Daytona 500 party.
Good luck and make that money!