The Philadelphia Eagles have made some late roster moves, most notably waiving former Georgia product Jamie Newman in a surprise move Wednesday. Newman was undrafted, but was seen as a low-risk, possibly high reward flier. In addition, all teams need a third QB and he seemed like a perfect one. No one would demand him to start, and he's a possible developmental piece (he excelled at Wake Forest and was supposed to be a starter at Georgia) unlike the main backup Joe Flacco.
Following the release of Newman, the Eagles opted to replace him with former San Francisco 49ers quarterback Nick Mullens.
Nick Mullens Signed to be Eagles QB3
Mullens is certainly a suitable third QB. The Eagles are just looking a guy that will never play, barring an emergency. He doesn't need to be a world-beater. Mullens won some games at the NFL leve,l so he's got some chops, but he's no threat to Hurts. He also may have learned a thing or two from Kyle Shanahan, which wouldn't be terrible to impart to a young Eagles offense.
It appears Mullens, like Flacco, is capable of stepping in if need be, but is not a threat to Jalen Hurts. It's possible Philadelphia is taking a consciously cautious approach to their starting QB this time around, after the downward spiral that was the Carson Wentz era in Philadelphia.
Other Eagles Roster Moves
Released
Along with QB Jamie Newman, wide receivers Khalil Tate and Trevon Grimes were also released. Tate was not likely to be retained, but Grimes was someone lots of people, including myself, were very excited for. Grimes does seem to have been a planned release however, as Grimes needed surgery. After clearing waivers was immediately returned to the Eagles IR. The knee surgery may explain why he was undrafted and why he cleared waivers, and there is still a lot of exciting potential for this kid. As much as an undrafted player can be exciting anyways. 
Signings
As for actual signings, the Eagles took on former Jaguars receiver Michael Walker and re-signed tight end Richard Rodgers. Rodgers filled in quite well with Zach Ertz and Dallas Goedert battling injury for the entire year. He only saw over 30% of the offensive snaps eight times in 2020, but in those eight games had 345 yards and two scores. Not too shabby for a backup tight end. With Ertz most likely on the way out, Rodgers will be called upon as the TE2 again, and if the Eagles continue to run two TE sets, Rodgers may be a key component on the team.
Walker was a 2019 special teamer for the Jags, returning a majority of their kicks and a few punts. He had a long return of 35 yards and failed to score any touchdowns in 18 tries, but his 22.8 average would've been top-10 in that year if he had qualified, and it is slightly better than Boston Scott's 2020 average of 21.1. It's not likely for Walker to stick around much, but if he can be a homerun guy at the return spot that would be a nice boon. Scott was a safe guy back there, but was never really going to break many long ones for you, while Jalen Reagor will hopefully be too important to risk on returns. If Walker can fill that void, why not give him a try?
---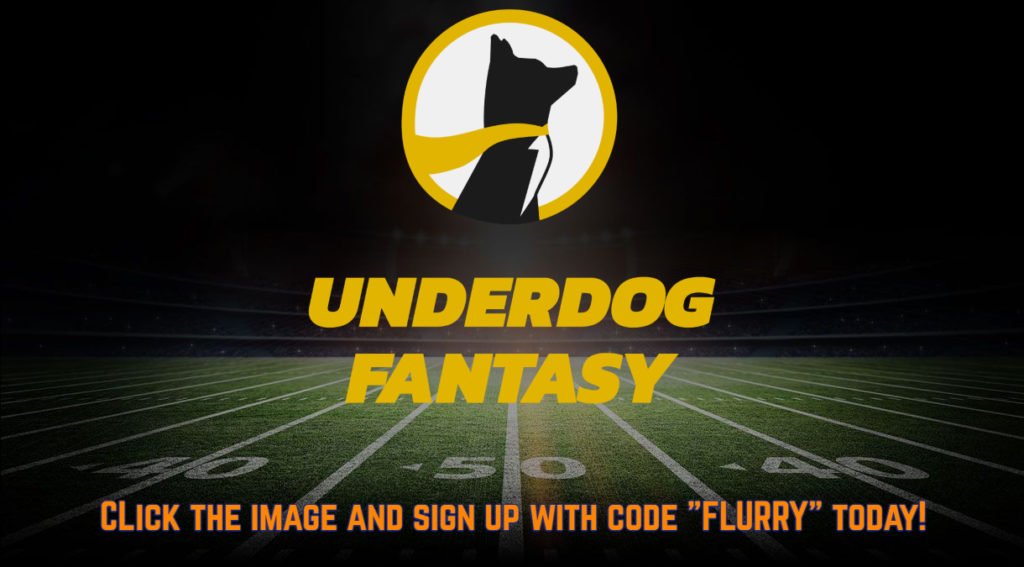 Underdog Fantasy is a new type of DFS that combines the fun of season-long drafts with daily fantasy sports. Aside from their fun, addictive draft mode, Underdog Fantasy also has pick'em player props for many different sports and athletes!
Click the image or RIGHT HERE to get signed up today, and don't forget to use the promo code FLURRY for a FREE $10 bonus on your first deposit!
---