The first round of the 2022 NFL Draft is in the books. Surprisingly, the Green Bay Packers stayed put, making their picks at No. 22 and 28. The Packers draft picks were met with mixed feelings and different Packers draft grades amongst the fanbase. The organization has made it three first-round Georgia Bulldogs in a row, with them selecting linebacker Quay Walker at No. 22 and defensive lineman Devonte Wyatt at No. 28.
While many fans were upset the Packers did not make a move at wide receiver, we previously discussed they wouldn't be drafting a receiver in the first. Once draft night came, it became clear the price to move up also became pricey solidifying Green Bay staying put.
So, what do we make of the first round? Let's dive a bit deeper into Quay Walker and Devonte Wyatt, giving our Green Bay Packers draft grades for the first round of the 2022 NFL Draft.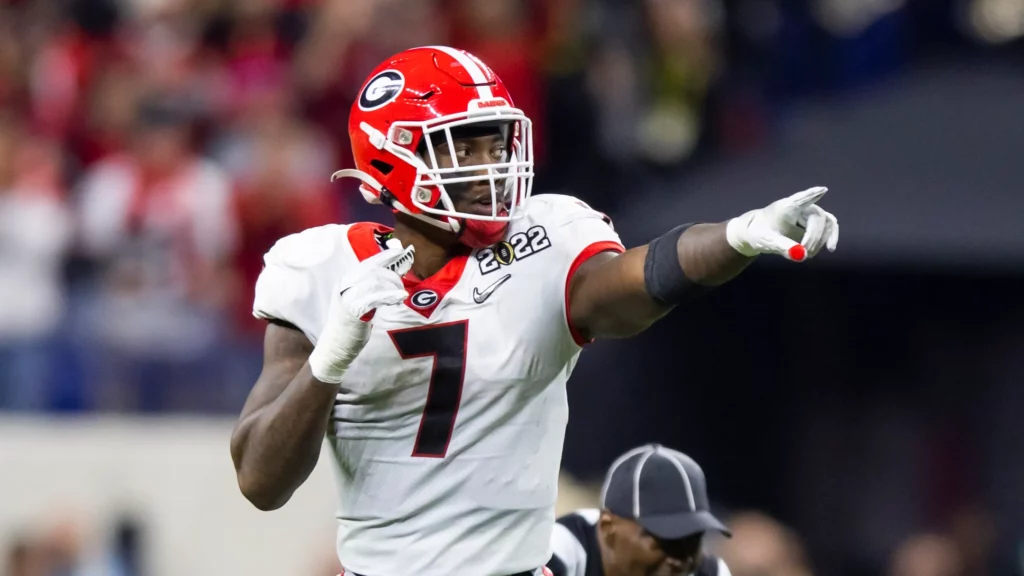 Green Bay Packers Draft Grades
Round 1, Pick 22 – Quay Walker, LB, Georgia
We don't need to pretend this pick was anything other than a reach. Yes, Quay Walker is an interesting prospect that brings a bunch of upside, but absolutely nobody thought he should be the first linebacker chosen in the 2022 NFL Draft.
Walker is a one-year starter out of Georgia that flies around. Don't let the previous paragraph make it sound like I think he is a bad player, because he's not. However, he's a second-round guy. He's a large linebacker who can move, which is why he is getting compared to De'Vondre Campbell by analysts who have zero idea what they're looking at.
The Georgia linebacker can be a useful asset in coverage once he learns the game of football, in all honesty. To me, he often looks lost and out of position. He needs to see the play before he reacts, when NFL linebackers need to anticipate. Possibly, this is due to the fact that he doesn't have the experience, since he's a one-year starter. This is a first-round project, though he has a bunch of upside.
Green Bay Packers Draft Grades: C
There are second-round linebackers who are just as NFL-ready that offer the same upside. This was a massive reach at a position that isn't a top need. Walker may not even be a starter in 2022, yet the Packers are going "all in."
Round 1, Pick 28 – Devonte Wyatt, DL, Georgia
Devonte Wyatt is actually a first-round talent, so we're already starting positively. Wyatt is extremely quick off the ball and can be an effective pass rusher on the interior. He's also aggressive when playing the run, but his recognition clearly needs work. There are times when he's aggressive, but he doesn't know where he's going, so he gets out of position. Wyatt also didn't have much production in terms of making plays.
We can sum up Wyatt pretty easily — he is a fast, athletic player on the inside. So, what does he bring to the Packers? Some have compared his game to Kenny Clark. If that's the case, you can also compare him to Jarran Reed. When you're building a team, it makes no sense to stack the deck with identical cards, though it seems like the Packers are taking this approach a bit.
Green Bay Packers Draft Grades: B
I like Devonte Wyatt as a player and think he should have been drafted in the first round, which I cannot say Quay Walker. However, I question the strategy and reasoning behind the pick. It, as always, was a future pick, with the Packers defensive line being a question mark for the 2023 season.
Why Did the Packers Draft These Players?
In his press conference afterward, Brian Gutekunst alluded to simplifying this defense. This is something he has alluded to all offseason. The Packers want defensive players that can perform various assignments. He talked about changing up the defensive package, essentially, without changing the personnel.
You may be asking why the Packers would want to build their defense this way. I don't have a good answer for you.
However, when it's all said and done, these two draft picks make the Packers defense faster and more aggressive. If you want players that are willing to fly around and hit, then they fit the bill. They are certainly Joe Barry guys. So, depending on your opinion of Joe Barry, you'll have a different opinion on these choices.
2022 Packers Draft Picks
| | | |
| --- | --- | --- |
| ROUND | OVERALL | Picks |
| 1 | 22 | Quay Walker, LB |
| 1 | 28 | Devonte Wyatt, DL |
| 2 | 53 | |
| 2 | 59 | |
| 3 | 92 | |
| 4 | 132 | |
| 4 | 140 | |
| 5 | 171 | |
| 7 | 228 | |
| 7 | 249 | |
| 7 | 258 | |