We are less than 24 hours away from the start of the 2021 NHL season, and the Vezina Trophy odds for the 2021 features an extremely tight race in the sportsbooks.
For those of you who might not know, the Vezina Trophy is awarded to the NHL's top goaltender in a given season.
Since there are only 56 games in this shortened NHL season, there is no time for luls, as these goalies will have to stand on their heads for five straight months if they want a chance at the Vezina Trophy.
Vezina Trophy Odds
Andrei Vasilevskiy (TB) +650
Connor Hellebuyck (WPG) +800
John Gibson (ANA) +1000
Carter Hart (PHI) +1000
Carey Price (MTL) +1100
Frederik Anderson (TOR) +1200
Tukka Rask (BOS) +1200
Robin Lehner (VGK) +1300
Mackenzie Blackwood (NJD) +1400
Jacob Markstrom (CGY) +1400
(For all longer odds – See Bovada)
Vezina Trophy odds taken from Bovada Sportsbook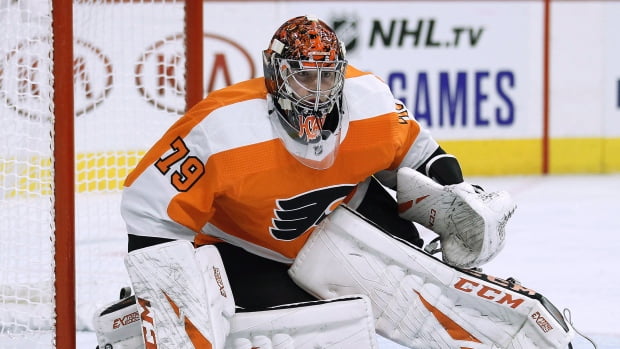 Keys to a Vezina Trophy Win in 2021
As stated earlier, this year really is totally up for grabs. Often times in a regular season the Vezina Trophy winner will take one of two paths. Either they play fantastic at the beginning of the season and then solidify their dominance down the stretch, even though they may have dipped or taken some games off mid season, or they will be someone who was under the radar at the beginning of the season, but came on strong during that mid season lul and never looked back.
If these goaltenders plan to win the Vezina Trophy this year, they are going to need to play 90%+ of available ice time, and avoid that mid season lul.
Picks for Vezina Trophy Winner
Andrei Vasilevskiy (TB) +650 – The 26-year-old Russian stud always has to be in consideration for this trophy. He won it in 2019, and was a finalist last season. Andrei Vasilevskiy also plays on the best team in the NHL.
He has never had a bad season. In six years with Tampa Bay he has averaged a .919 sv% with a 2.55 GAA. He has alno started no less than 50 games each of the last four seasons. That kind of efficiency and consistency is something many goalies could only dream of.
It would be foolish to completely overlook him when considering the bets you want to make. However, as the odds on favorite at just +650, I do not see enough value here. He very well could win it, but in a season like this I would give just as much of a chance to guys who are further down the board, and provide a better pay out.
I won't blame you if at least hedge win Vasilevskiy, but I will not be going all in on him.
Carter Hart (PHI) +1000 – Carter Hart is one of the youngest and most impressive starting goalies in the NHL today. He is also my top pick to take home the Vezina Trophy this year.
Hart is just 22 years old, and only has two NHL seasons under his belt, but they have been good ones. in 74 career games as a Flyer he has recorded a .915 sv% along with a 2.59 GAA.
His biggest weakness is in the shut out category. Hart has just one on his young career, which may hinder him in the eyes of the voters if he does not improve upon that this season. (Vasilevskiy for comparison has nine over that same time period.)
He also plays in a very tough division. However, I think the Philadelphia offense will be much better this year, which will help Hart tremendously. They are a young team, being led by a young fiery goaltender. I expect Philly to win their division this year, and do so on the back of Carter Hart, propelling him to a Vezina Trophy victory.
Tukka Rask (BOS) +1200 – Tukka Rask is coming off of not only a Vezina Trophy finalist type season in 2020, but also heavy amounts of critism from Boston Bruin fans and media alike.
Rast abruptly left the "NHL bubble" a few months back after the Bruins struggled in the opening games of the playoffs. It just recently came out that it was due to health concerns of his daughter, but plenty of disparaging things were said about him before that knowledge became public.
Rask is always at the top of the list in almost any goaltending statistic and category you look at. Now that the Bruins defensive leader and long time captain Zdeno Chara is no longer a part of the team, the Bruins will likely lean on Rask even more, and will need him to be excellent all season.
I believe Rask comes back with a fire in his gut, and makes a run at the 2021 Vezina Trophy.
LONG SHOT | Vezina Trophy Odds
Philipp Grubauer (COL) +1700 – This is strictly a value bet based on the fact I think the Avalanche are supremely talented and will make a deep run this season.
Of course, there are concerns with Grubauer. At times last year he would allow 5-6 goals seemingly out of nowhere. Then the following week he would post back to back shutout performances.
Along with the incostincency, there is always concerns of splitting time with Pavel Francouz. Last year Grubauer only played 36 games to Francouz's 34. If he can step up and solidify his starting role this year, there is an outside chance he makes a Veniza Trophy run.