Below, we have the NXT results from the Tuesday, October 19th show, along with highlights and headlines coming from tonight.
---
NXT Results, highlights and headlines from last week's show
---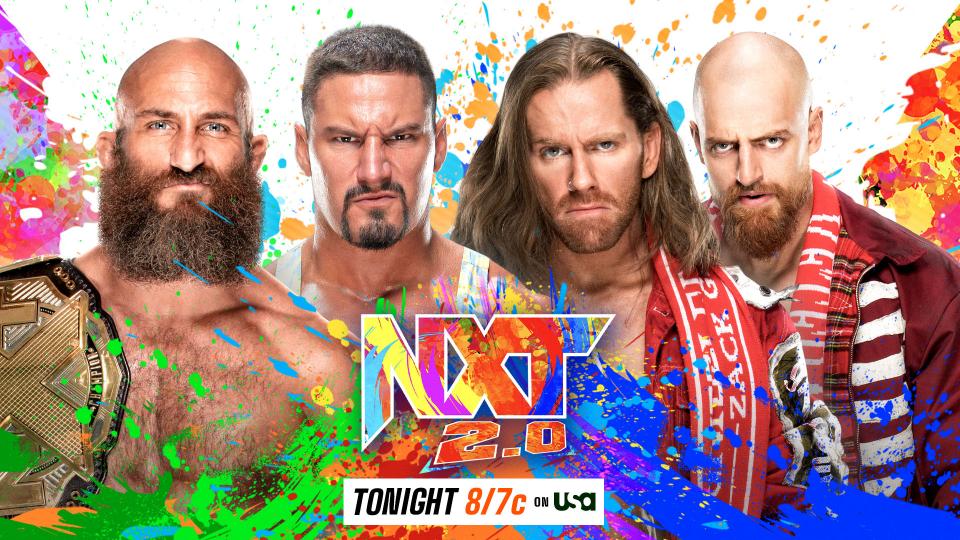 WWE NXT Results 10/19
Carmelo Hayes and Trick Williams Promo: Carmelo Hayes celebrates his North American Championship Victory, gets interrupted by Johnny Gargano
Odyssey Jones def. Andre Chase
Imperium def. The Creed Brothers (w/Diamond Mine), Kushida and Jiro & MSK come out after match
Von Wagoner and Kyle O'Reilly Promo: I guess they're doing tree-related workouts together now
Joe Gacy Promo: He officially recruits Harland to his side as muscle
Santos Escobar Promo: He's pissed that he didn't win the North American title, and he actually came across as scary here, NXT should push him to the moon soon
Cora Jade def. Elektra Lopez
Bron Breakker and Tommaso Ciampa Promo: Breakker and Ciampa taunt each other before they team up together in the main event
Io Shirai def. Persia Perrotta and Jacy Jayne to spin the stipulation wheel for their match next week
Ikemen Jiro and Kushida Promo: They will team up to face Diamond Mine in the future
Tony D'Angelo def. Local Competitor in squash match, when asked about putting a producer in a trunk a week ago he tells the interviewer to F'GET ABOUT IT
Duke Hudson Promo: He always wins at poker, so I guess that makes him good at wrestling?
Legado Del Phantasma Jump Jensen & Briggs before match, LDP def. Jensen & Briggs
Raquel Gonzalez and Mandy Rose Promo: Sets up their Women's Championship Match for Halloween Havoc
LA Knight def. Grayson Waller to be the host of Halloween Havoc
Carmelo Hayes and Trick Williams Promo: Dexter Lumis' haunted house next week
Tomasso Ciampa and Bron Breakker def. The Grizzled Young Veterans
NXT Highlights From 10/19
Johnny Gargano Remains Must Watch
Carmelo Hayes opened the show in a big way, celebrating his new North American belt. And while I think Melo showed once again that he is one of if not the most over and most complete characters out of NXT's new generation, an old face came out to show him how it's done. Johnny Gargano has felt a little lost at sea over the last year, with The Way being entertaining, but mostly slated as comic relief. Suddenly, he turned on the babyface charm and declared a new path, challenging Melo to a future title match. Not to mention he now has the back-up of Dexter Lumis as his son-in-law.
Gargano is too good in the ring, and on the mic as he demonstrated here, to be just a background character. So, hopefully, NXT realizes the value he can have in building new stars while still giving Johnny Wrestling his own chance to shine as well.
Odyssey Jones and Andre Chase Prove You Can Build Two Names at Once
Not every match needs to be five stars, or heck, even competitive, to be fun. Odyssey Jones is electric when he's beating people up. Andre Chase is great at being beaten up. It's a perfect match. WWE is on to something here with both characters. Give Odyssey more screen time and feuds because he's a natural babyface who makes every match he's in feel compelling and keeps Chase's student section. His character is focused on humor, and it doesn't feel forced while keeping up the heel heat. NXT 2.0 hasn't gotten all of its new stars figured out, but this is as close to a first feud as they've had and it shows that there are some real stars in the making on the rainbow brand.
The Tag Team Division Gets Some Much-Needed Love
If you've been watching NXT for a while, you may remember a time where tag team wrestling was it's claim to fame. Since the collapse of Undisputed Era, those days have seemed forgotten, but this week NXT seemed to give it's most neglected division some attention at last. Imperium is a great in-ring act and never fails to make their opponents look great, especially when those opponents are as up to the task as the newly minted Creed Brothers. Diamond Mine has been one of the most consistent parts of the rainbow brand, and the Creed Brothers should stay near the top of the tag division. Add in a run-in by champs MSK afterward and possible new team Kushida and Ikemen Jiro, and suddenly you have a very intriguing top of the card.
We even got LDP versus Jensen & Briggs later on with Grizzled Young Veterans to finally give us a taste of all the talent this group of teams has.
One small tweak though, NXT, the crowd hates MSK. They're just too smug and too dominant, and Imperium is better as a face act than you'd think. So, if they're smart, they'll pull off the double turn next week at Halloween Havoc.
Ciampa and Breakker Build Tension For Their Title Clash
Forced to tag together against the Grizzled Young Veterans, the main event match was understated, but I thought it delivered on a lot of accounts. It didn't totally bury GSV and still showed they're heat magnets who deserve a title run at some point. But the main story here was Ciampa getting beat up before his title defense against Breakker next week, while Breakker looked dominant throughout.
This match accomplished two main things: establishing that Breakker is both connecting with fans while looking pretty stellar in-ring, and making Ciampa seem more and more desperate as well. I'm hoping Ciampa retains next week, while showing us some of his old heelish tendencies, because these two could carry a feud a while, and it's just so good to see the Psycho Killer holding Goldie tight to end the show.
NXT Lowlights From 10/19
So Much to Show, So Little Time
One criticism that I haven't expressed since the launch of NXT 2.0 is how condensed the show feels at times. On one hand, with a two-hour show, I appreciate that they're using the time to get as many faces on TV as possible. But, I do think it's starting to get harmful to some of the show as well.
Most matches feature one entrance that cuts off the end of the previous segment, which sometimes works but also can add to the rushed sensation. Not to mention, it means that we saw a lot of roll-ups and squashes over the last few weeks. These aren't bad on their own, but these types of decisions are supposed to stand apart by design, so crowding them together like we did tonight with Cora Jade's match and the Imperium match for example lessen the impact of both.
Going forward, NXT 2.0 has to be okay with toning back how much they have on the card if it's going to mean nothing gets the time it could have otherwise.
Io Shirai versus Perrotta vs Jacy Jayne Just Didn't Work
This one wasn't anybody's fault really. While even from the onset it felt like Shirai was in a different league than her two foes, it had the potential to be a fun, chaotic triple threat. Then, unfortunately, Jayne was injured on a botched dive and had to leave the match. While Shirai and Perrotta did an admiral job trying to pick up the pieces, this match went on a long time while feeling mostly disjointed and just awkward. There's nothing the performers could really do here, but hopefully, Jayne is okay and the three are able to join with their partners next week for their triple threat tag team championship ladder match.
One more thing, getting to spin a wheel when you win to decide your stipulation isn't a prize. It's still random chance, so that was dumb too.
NXT Headlines
WWE's Saudi Arabia Pay Per View: Crown Jewel happens this Thursday, highlighted by Brock Lesnar versus Roman Reigns and the final of the King of the Ring tournament.
Meanwhile, this show did well in setting up the card for Halloween Havoc next Tuesday night. Matches to expect are possibly…
Tommaso Ciampa vs. Bron Breakker for the NXT Championship
Raquel Gonzalez vs. Mandy Rose for the NXT Women's Championship
MSK vs. Imperium for the Men's Tag Team Championships
Io Shirai & Zoey Stark vs. Toxic Attraction vs. Indi Hartwell & Persia Perrotta for the Women's Tag Team Championships
Carmelo Hayes and Johnny Gargano go to Dexter Lumis's haunted house
Ikomen Jiro & Kushida versus the Diamond Mine
The big question will be what stipulations are added to these matches with the stipulation wheel next week.