Below, we have the NXT results from the Tuesday, October 12th show, along with highlights and headlines coming from tonight.
---
NXT Results, highlights and headlines from last week's show
---
WWE NXT Results 10/12
Opening promo shows Legado Del Phantasma jumping Hit Row to hype up North American Championship Match
NXT Champion Tommaso Ciampa def. Joe Gacy
Toxic Attraction Promo: Mandy Rose will be challenging for the NXT Women's Championship, and Toxic Attraction will be challenging for the NXT Women's Tag Championships
Xyon Quinn def. Malik Blade
Tommaso Ciampa and Bron Breakker Promo: Bron backs up Tommaso Ciampa, says he wants him at his best for their match in two weeks
Swerve Scott Promo: Great promo where Swerve says the Legado left the wrong man standing, and that he would take the North American Belt with him to Smackdown no matter what
Ivy Nile (w/ Diamond Mine) def. Valetina Feroz
Malcom Bivens Promo: He puts over the whole of diamond mine, and continues to create legitimacy for this team, before being interrupted by Ikemen Jiro.
Julius Creed (w/ Diamond Mine) def. Ikemen Jiro, after the match Kushida runs in to help Jiro
Lashing Out w/ Lash Legend: Lash recapped what happened in WWE last week, and made fun of Tony D'Angelo
Von Wagoner & Kyle O' Reiley def. Pete Dunne & Ridge Holland
Chase University Promo: Chase teaches about ring awareness while bragging about his interference with Odyssey Jones's match last week
Tony D'Angelo Promo: D'Angelo sort of gives credit to Malik Blade for their match last week, and also sticks a guy in his trunk
Duke Hudson def. Grayson Waller
Imperium Promo: They want to dethrone MSK for the tag titles
Indi Hartwell & Persia Perotta def. Saray & Miller
Grayson Waller and Cameron Grimes Promo: Grimes gets a dating app
Isaiah "Swerve" Scott def. Santos Escobar to retain the North American Championship
Carmelo Hayes uses his Breakout Tourney Contract to win the North American Championship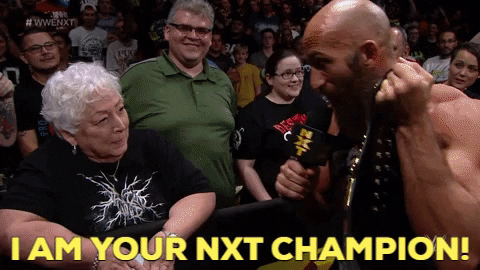 NXT Highlights From 10/12
Joe Gacy Holds His Own Against Champion Ciampa
Joe Gacy looked deserving of his prominence on NXT 2.0 so far. There are a handful of young stars who have seemed destined for big things on the rainbow brand, and Gacy has been at the top of the list with his pseudo-woke persona and hypocritical heel run. My one concern so far is that I haven't been able to see Gacy match his character work with his in-ring work, but tonight he had the right dance partner in Tommaso Ciampa to show he can really go. Gacy would've won a chance to enter the championship match at Halloween Havoc had he won, but even in a loss, Gacy didn't look out of place with Ciampa which is a feat of its own. Add in the fact that they seem to be setting up that he might be getting his own muscle soon, and we have the makings of a main event heel in NXT 2.0.
New Stars A Little Raw, But Still Prove Impressive
Both Xyon Quinn and Ivy Nile basically had squash matches tonight, but they both looked great in their dominance. Xyon is really raw in some facets, but tonight he had an exciting domination against Malik Blade, and the best parts of his style like his look and raw explosiveness are things that can't be taught. Ivy Nile had even more of a one-sided affair in her match, but the Diamond Mine allows her to have a great stable in addition to her unbelievable strength. I wanted to highlight that while both of these new stars are a little more on the undeveloped side in some ways, their potential is sky-high already. Heck, throw Ikemen Jiro in that same group. Sure, he's a weirdo, but boy oh boy does the crowd love him so far.
Chase University Teaches How to Do Comedy Right
I love Andre Chase. His Chase University segment is gold every time it comes on, with him swearing at the youth of today as they point out the flaws in his logic. Big ups for sending Steve to dumbass class, and the only thing we need now is more of this character. Much more. I honestly want to see his feud with Odyssey Jones continue, because I think the pair might be my two favorite young guns in NXT 2.0. Chase is still growing in the ring, but he should be seen as a top-tier comedy character, if not a top heel in the making.
A Wonderful Main-Event Ends with a Surprise
Isaiah "Swerve" Scott and Santos Escobar concluded their months-long feud with a tremendous match to close the show. Both men cut great promos earlier in the night, and Legado Del Phantasma made sure that Hit Row wasn't there to help Swerve. This match was honestly a match of the year contender, with a mix of high-flying daredevil maneuvers and genuine animosity. The crowd was on fire all night, and they came unglued throughout this showdown. It seemed like a no-brainer that Swerve would drop the belt to Escobar before leaving to Smackdown, but despite several great near falls, Swerve survived.
The best spot of the match came when Escobar somehow whistled louder than the whole crowd, nailed a hurricanrana off the top rope and a frog splash for the best near fall of the night. Then, Legado came out despite promising not to, only to be fought off by the suspicious Carmelo Hayes and Trick Williams. This allowed Swerve to hit his finish and retain.
However, Carmelo Hayes revealed his true intentions by jumping Swerve with Trick, and even though Swerve gave a good effort, he was too gassed to prevent Hayes from using his championship contract to win the North American Championship. Now with Hayes as champion, a new era begins for him and Trick, as Hit Row heads to Friday nights and LDP is left to figure out where they go next. What a main event.
NXT Lowlights From 10/12
Lashing Out Fizzles Out So Far
Lashing Out with Lash Legend is only in its infancy as a segment, but it isn't working so far. Lash has plenty of charisma, but her jokes are straight bad, and she seems to just be used as a recap for viewers. This week, she hyped up Hit Row, the Draft, and crapped on Tony D'Angelo. It just all feels very random currently. And when a show like this has no purpose, it comes across as a real waste of time.
What Are We Doing With Indi Hartwell And Saray?
The tag match featuring Indi Hartwell and Saray had a few glaring issues involved with it. First, what is the direction of Indi Hartwell and Dexter Lumis? Since their wedding, the pair have done nothing but make a couple of sex jokes. What's worse, while Indi at least is set on track for the Women's Tag Titles, Dexter has no direction at all. Also, SARAY IS NOT A JOBBER. Saray was one of the best wrestlers in the world while in Japan, and was the last big signing of NXT before the rebrand. And now she's losing in under five minutes in a tag match? C'mon NXT, we need to see Saray at least being set up for singles success down the road, even if she loses in the meantime.
Cameron Grimes Doesn't Need A Dating App
Grimes was suddenly approached by Grayson Waller backstage and was floored that Waller found a girl but he hadn't. Insert a body hair joke and an explanation of how dating apps work, and you've suddenly given two of the most likable faces on NXT a terrible moment. Grimes two weeks ago was the most over man on the roster, is already a hillbilly, astronaut, millionaire, and now you want to add more unnecessary baggage to that character? Not to mention that Waller got robbed tonight, then got over it five minutes later by staring at a woman's butt? And he's supposed to be a good guy! Just a terrible choice for NXT, and even though this segment was maybe two minutes long, they need to abandon this for the sake of everyone involved.
NXT Headlines
WWE has multiple PPV-level events coming up, with the controversial Crown Jewel taking place next Thursday, the 21st, in Saudi Arabia, and NXT Halloween Havoc happening on October 26th in place of NXT. The finales of King of the Ring and the inaugural Queen's Crown tournament are set to take place at Crown Jewel.
Tonight, the big stories are a triple threat set up for Halloween Havoc for the women's tag belts, while also being bookended by two great matches featuring champions. Joe Gacy more than held his own before losing to Tommaso Ciampa who will face Bron Breakker in two weeks for the NXT title. And most crucially, Carmelo Hayes ends up with the North American title after a wild main event.