If you are unaware what NFL survivor picks are, the basic concept is you make NFL picks throughout the season, but you can only pick a team once. Once you lose, you're knocked out, so choose your Week 5 NFL Survivor Pool picks wisely.
If you are new to reading my survivor articles, what I do is outline my "lock of the week," my "value of the week" and my "high risk, high reward pick." The lock of the week details what team I think has the best chance of winning their matchup. This would most likely be a good team that plays a bad team. The lock is also the official pick for NFL Survivor Pools, meaning we will not reuse a "lock." My value pick of the week details a mid-tier team that has a good matchup. And finally my high risk, high reward pick details a bad team that has a good matchup.
Last week, I went 1-2 on my picks. In the worst week that I have had in my time writing survivor articles, I lost my lock of the week. The New York Giants beat the New Orleans Saints in OT. This snapped my streak of 20 straight locks of the week being right. With that being said, we now have a little bit more of an idea of how teams will look in the future of this season.
Teams Used for "Lock of the Week"
San Francisco 49ers
Green Bay Packers
Arizona Cardinals
New Orleans Saints
Week 5 NFL Survivor Pool Picks
Lock of the Week | Week 5 Survivor Pool Picks
Chicago Bears vs. Las Vegas Raiders
The Chicago Bears are not a good football team. Justin Fields is starting this game, which is a plus for the Bears, but if they can't get him protection, then it makes no difference. Maxx Crosby has been rushing the passer very well this year. Outside of a hurt David Montgomery, the only real offensive weapon that Chicago has in Allen Robinson. If Fields is under pressure the whole game, he may not have time to find Robinson or Darnell Mooney deep. Damien Williams should get a ton of carries and pass receptions this game and, I think if this is the case, Las Vegas can win the football game.
On offense, Derek Carr has looked the best in his career this year. The Raiders offensive line is not great by any means, but Carr has one of the best safety valves in the NFL in Darren Waller. If the Bears can get pressure early, the Raiders may abandon the run and rely on Carr to win the game. If the Raiders score early, this may act as an insurmountable lead for the suspect Bears offense. Look for Las Vegas to come quick and early and beat the Bears in the first quarter.
NFL Survivor Pool Pick: Las Vegas Raiders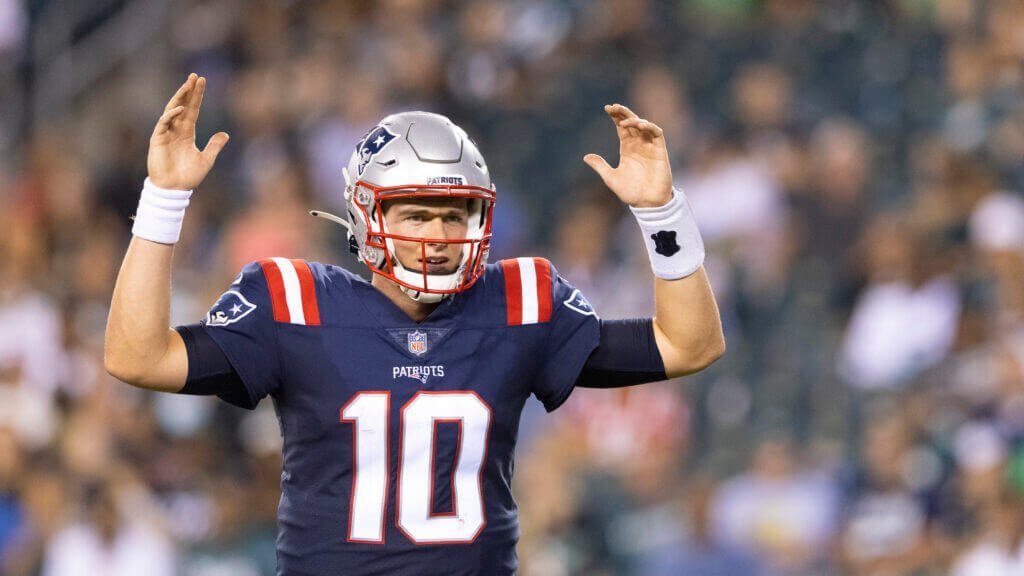 Value Pick of the Week | Week 5 Survivor Pool Picks
New England Patriots vs Houston Texans
The Houston Texans are a bad football team. The Bills beat them last week by 40 points. The Texans don't really have much on offense or defense. The Patriots are known for taking away a teams' best option, but in this game, the Texans don't really have a "best option." This means that the Patriots should probably take away Houston's run game. If this is the case, the Texans may get shut out once again.
Mac Jones outplayed Tom Brady last week. This was great to see as a Patriots fan, as it looks like Mac Jones is moving upwards in his development. I am still not a believer in this offense. They have two tight ends, and neither of them can run block. But with a matchup against the worst team in the NFL this week, I don't think any of this really matters. The Patriots should rely on their defense and their run game to move to two wins on the year.
NFL Picks Value: New England Patriots
High Risk, High Reward | Week 5 Survivor Pool Picks
New York Jets vs. Atlanta Falcons
The New York Jets won their first game of the regular season last week against the Tennessee Titans. They showed a lot as a developing team getting a win over a division leader. Even though the Titans didn't have their two best receivers, the Jets were still able to come away with a victory.
I don't think that the Falcons are that far away from an AJ Brown and Julio Jones-less Titans team. The Falcons are in contention for one of the worst teams in the NFL. Their offense is nothing special, with their best player coming in the realm of Cordarrelle Patterson. This should be a game that Kyle Pitts finally breaks out, but with Matt Ryan as his QB, will that really be the case? Zach Wilson has now gone three straight games cutting his interception total in half — four, two, then one. The trends dictate that he will now throw zero interceptions this week.
Once again, the Jets have nothing to lose here, so it makes sense that they will give Atlanta all they can handle, resulting in another Jets victory.
---
Follow us on all of our social channels! Check out our Twitter, Facebook and YouTube for more great FlurrySports content.