The countdown to Christmas has begun, and the countdown to the NFL Playoffs is also ongoing. Tonight's Thursday Night Football matchup between the San Francisco 49ers and Seattle Seahawks. To celebrate both, PrizePicks has promos every single day, and tonight's makes placing NFL DFS picks and 49ers vs Seahawks props much easier.
When you sign up with the PrizePicks Promo Code FLURRY today, you will receive a 100% deposit match, up to $100. On top of that, you will be given a $20 risk-free pick for 49ers vs Seahawks tonight. If you are unfamiliar with PrizePicks, let's show you how to make some money on NFL DFS picks tonight.

PrizePicks Payout Breakdown
At PrizePicks, users string together NFL DFS player props into a parlay up to five legs. These picks can be in a single stat or picking over/under fantasy football points using PPR scoring. After forming a parlay, users can select to play it using Flex Play or Power Play.
Flex Play Payout
For Flex Play, users can build a parlay up to five legs and still be paid out if one or more of their picks is incorrect. Of course, less risk means less reward, so the payout is lower:
3 Leg Parlay:

3 Correct = 2.25x, 2 Correct = 1.25x

4 Leg Parlay: 4 Correct = 5x, 3 Correct = 1.5x
5 Leg Parlay: 5 Correct = 10x, 4 Correct = 2x, 3 Correct = 0.4x
Power Play Payout
Power Play is much like a parlay at a sportsbook, where it is all or nothing. Since the risk is higher, the payout is as well.
2 Leg Parlay: 3x Entry Fee
3 Leg Parlay: 5x Entry Fee
4 Leg Parlay: 10x Entry Fee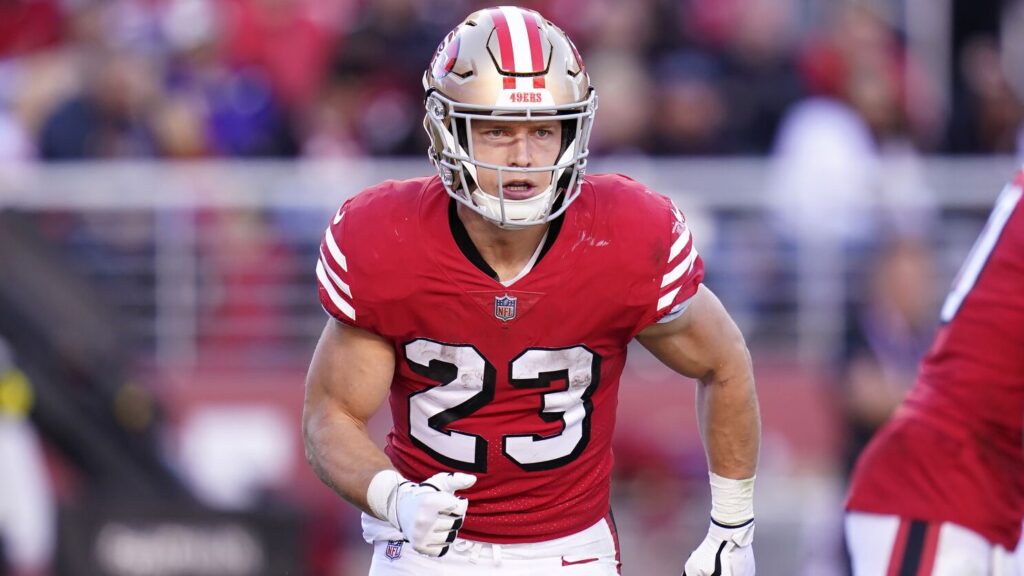 NFL DFS Picks and Props For 49ers vs Seahawks Predictions
The 49ers run scheme is so beautiful that anyone can succeed in it. However, they went and traded for one of the league's most talented runners, who also happens to be a major receiving threat as well. The result has been Christian McCaffrey totaling over 140 yards in back-to-back weeks.
We remember how Seattle let Josh Jacobs total over 300 yards a few weeks ago. Look for McCaffrey to be busy and successful tonight, leading to this being one of the best NFL DFS picks for 49ers vs Seahawks tonight.
While the 49ers have a good pass defense, they have an even better run defense. They are the top-ranked defense in yards per carry allowed (3.4) and their opponents average the second-fewest rushing attempts per game (22.3). Much like the first time they played, Geno Smith should be passing often.
Back in Week 2, Smith had a bad game against San Francisco. Still, he completed 24-of-30 passes. He has totaled 21 or more completions in six straight games, and this Geno Smith prop should go over once again tonight on Thursday Night Football.
Geno Smith's completions have to go somewhere, and Tyler Lockett is a likely candidate. Lockett has five or more receptions in five of his past seven games. In the Week 2 matchup, Lockett totaled nine receptions for 107 yards.
The 49ers don't want to get beat over the top by DK Metcalf, which should lead to some easy throws to Lockett.
Robbie Gould could be collecting social security, but instead, he continues to bomb balls in the NFL. Gould has totaled multiple made field goals in four of his past seven games. He made two of his three attempts against the Seahawks in Week 2.
While the 49ers should be able to move the ball, we could see Brock Purdy struggle a bit in his very first road start, which also happens to be in a hostile environment. Looks for some drives to stall, leading to Robbie Gould kicking for three points.
If you like these NFL DFS picks and player props on PrizePicks for 49ers vs Seahawks, you can string them together to win up to 10x your money!
With the PrizePicks Promo Code FLURRY, you will double your deposit and receive your wager amount back, up to $20, if it happens to lose. No risk, all of the reward.
Get Your Favre Grinch Gear Today!