After waiting over eight months for the NFL season to roll around, it's finally here in full gear. The Cleveland Browns made a couple of moves this offseason that turned some heads around the league. With a strong draft class and a flurry of NFL free agent signings, it was viewed as a great offseason by all accounts.
Now that we are two weeks into the NFL season, some of the new Browns players have been incredible and some of them have massively underwhelmed. Let's take a look at how all of the new guys in Cleveland have been playing.
New Cleveland Browns Progress Reports Through Week 2
Jadeveon Clowney, DE (1-Year $8 Million Deal)
Jadeveon Clowney has been teasing Browns fans for a little over a year now, so fans were very excited when he finally made it official. However, against the Chiefs, Clowney was a ghost. He only managed to record three tackles with no sacks or pressures. In Week 2, he stepped up his game a bit and had two QB hits and a tackle for loss against the Texans. Those numbers and his play have been nothing to laugh at this season, but you expect more from a former number one overall pick.
One issue for Clowney is that Myles Garrett isn't having the hot start he did last season, so there's a lot of room to improve. However, Clowney has played in 76% of the defensive snaps through two games. I still love the signing and, if he can stay healthy, he will end up paying dividends towards the end of the season.
Grade: C+
Anthony Walker, LB (1-Year $3 Million Deal)
Anthony Walker was brought in by Berry to lead an underachieving linebacker room. All signs were pointing to a breakout year for the man the Browns got from Indianapolis. He was all over the field in Week 1, recording 10 tackles. However, he picked up a hamstring injury and was sent to the injured reserve. His injury sucks because early on he really looked like a great leader and a tackling machine. Clearly, the Browns view him as a valuable piece in the organization, as they should. He played 95% of the defensive snaps in Week 1.
Grade: B
Troy Hill, CB (2-Year $9 Million Deal)
Troy Hill is more of a slot or nickel corner than an outside corner in today's NFL. Having good corners who can play in the slot with all the passing going on around the league are hot commodities. So, Berry jumped at the chance to sign Hill away from the Rams. Hill was born and raised in Youngstown, OH and it was great to see him on the field during Week 2 in Cleveland. We haven't heard his name called much this year, which is actually good for a defensive back. It means he's not getting burned every play and he's a solid man-to-man defender. Hill will likely end up with a couple of interceptions and passes defended, but for now, not hearing his name called is a good thing.
Grade B
John Johnson III, S (3-Year $33.75 Million Deal)
Outside of Clowney, John Johnson III's signing was probably the biggest move the front office made. He was the leader and captain of the Rams defense last year. That was a Rams defense that was the best in the NFL. Johnson over the course of two games has been solid, but not spectacular. In Week 1, he played in 100% of the defensive snaps for the Browns. It's safe to say that while Anthony Walker is on the injured reserve, Johnson will be able to step in and be a leader.
Grade: B-
Takk McKinley, EDGE (1-Year $4.25 Million Deal)
McKinley has really only what the Browns have asked him to do at this point. That would be to give Clowney or Garrett some time to rest. He had some personal issues over the summer, so hopefully that's in the past and he can bounce back and be better for it.
Grade: C+
Malik Jackson, DT (1-Year $3.75 Million Deal)
Malik Jackson has made little impact on the defensive side of the football. However, he is a versatile defender and that shows with his one pass defended on the year and one QB hit.
Grade: C-
Rookies (Or Players Who Didn't Play During There Rookie Year Due to Injury)
Greg Newsome II, CB (Rookie)
The young man out of Northwestern was tasked with a tough job in his first NFL game. He was named the starting corner opposite Denzel Ward against the Kansas City Chiefs. Kevin Stefanski clearly trusts the rookie, as he has seen 97% and 98% of the snaps this season. Greg Newsome has not looked bad in coverage once, which is a good thing. He also defended one pass this year. The future is bright for the former IMG Academy star.
Grade: B+
Jeremiah Owusu-Koramoah, S/LB(Rookie)
Jeremiah Owusu-Koramoah is an absolutely gifted athlete. He can stay step-in-step with a lot of wide receivers. However, Owusu-Koramoah is in an odd spot, considering in Week 1 he was only on the field for 38% of the defensive snaps. In Week 2, his numbers dropped, as he only saw 30% of the defensive snaps. I understand that JOK needs to get his footing on defense, but right now there's no reason he shouldn't be on the field for at least 50% of the defensive snaps. If anything, his athleticism would have given Travis Kelce some trouble. The Browns need to find ways to get him on the field more often. Overall, his play when on the field has been solid.
Grade: B
Anthony Schwartz, WR (Rookie)
Anthony Schwartz shocked a lot of people, exploding in Week 1 with three long catches. He finished the game with three catches for 69 yards and even rushed for 17 yards. With Jarvis Landry out, Schwartz should be seeing more of the field.
Grade: B
Grant Delpit, S (Missed Rookie Season With Achilles Injury)
Wow, talk about a guy who made a great impression against the Texans on Sunday. He recorded one tackle for loss and a huge sack that kind of put the game to bed. Overall, it's honestly just great to see him on the field again. With John Johnson III and Ronnie Harrison having slow starts, it's been great to have Delpit in the secondary. He just knows how to find the ball.
Demetric Felton, RB (Rookie)
Felton burst onto the scene this weekend with his spin move touchdown against the Texans. However, on top of the nifty footwork and the milestone career touchdown, Felton showed how versatile he is. Overall, he has started out incredibly well.
---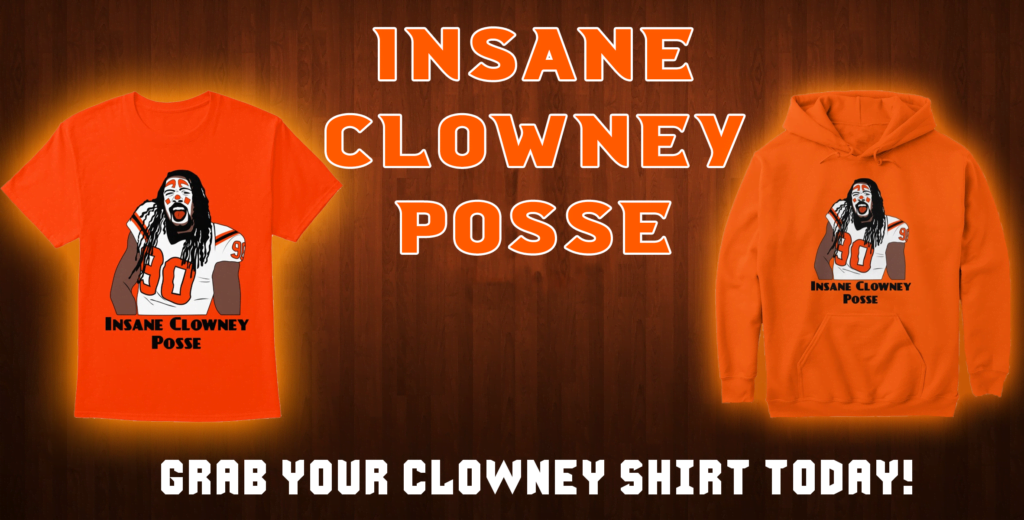 The only thing scarier than the Browns' pass rush are clowns. Get the design that shows off both today!
Available shirts in men, women and kids, along with posters and tumblers! Click here or the image above to see!
---