Every professional sport does its draft a little bit differently. When it comes to theater, however, it's hard to top the NBA Draft Lottery. While one can debate the effectiveness of the lottery in combatting tanking, it sure makes for an exciting process of determining the order of draft selections. The 2021 NBA Draft Lottery is officially in the books. The ping pong balls ensured some teams were big winners and some others were pretty hard-luck losers. Read on for some notable draft lottery results and for the finalized order of picks for next month's NBA Draft.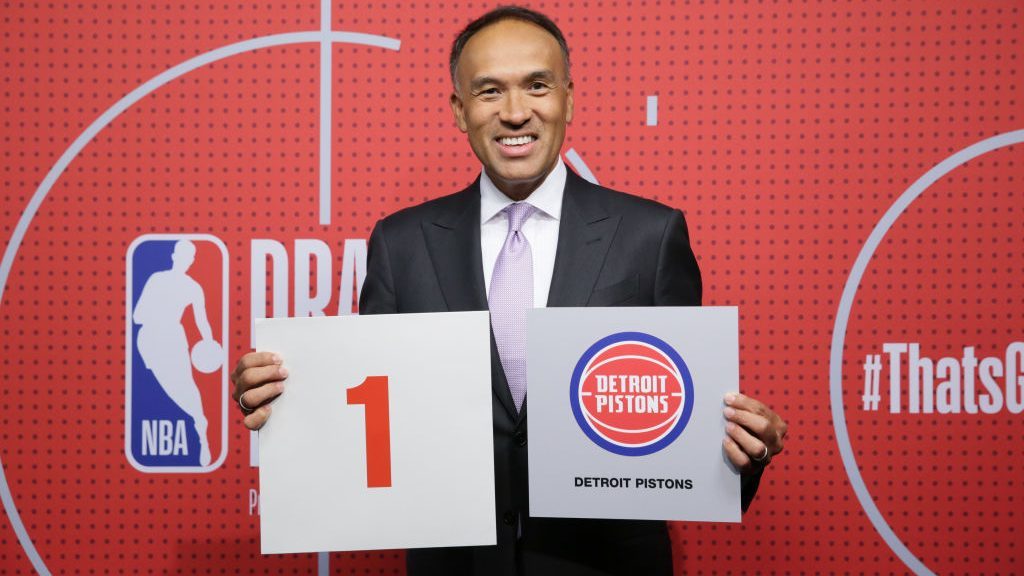 NBA Draft Lottery Winners
Detroit Pistons
Three teams went into the NBA Draft Lottery with an equal 14% chance of landing the top pick in this year's draft. Only one could ultimately lay claim to the selection and it was the Pistons ball that was drawn. All signs point to former Oklahoma State point forward Cade Cunningham landing in the Motor City. Paired with last year's draft class, including Killian Hayes, Saddiq Bey and Isaiah Stewart, Cunningham may be the face of a young, scrappy playoff team sooner than later.
The Cavaliers are quietly building an intriguing crop of young talent. They'll get to add to it after yet another successful showing at the NBA Draft Lottery. Cleveland only had the fifth-worst record this past season, but they'll pick in the top-3 next month. After owning the fifth overall selection in each of the past two drafts, the Cavs brass has to be excited about moving up a couple of rungs. Each of those last two picks, Darius Garland and Isaac Okoro, have shown promise. Perhaps Jalen Green, Evan Mobley or Jonathan Kuminga will be joining them in the near future.
Toronto Raptors
One could argue that the Raptors were the biggest winners of all in this year's NBA Draft Lottery. Just two seasons removed from winning the first NBA Championship in franchise history, Toronto jumped up from No. 7 in the lottery seeding to land the fourth overall selection. The 2020-21 campaign was doomed from the start, with the Raptors not even being allowed to play their home games in Canada. And while Kawhi Leonard continues to be missed, the Raps have a solid core still intact, led by Pascal Siakam, Fred VanVleet and OG Anunoby. If Kyle Lowry resigns and Toronto adds an elite rookie talent to the mix, this team should be right back in the Eastern Conference Playoffs next season.
NBA Draft Lottery Losers
Oklahoma City Thunder
The odds of the Thunder coming away from the 2021 NBA Draft Lottery with not one but two top-5 picks weren't as long as one might think. Instead, Oklahoma City got none. The Thunder will pick sixth in this year's draft after falling out of the top-5 altogether. Fortunately, Sam Presti has stockpiled future picks. OKC also has the No. 22 overall selection in this year's draft. Unfortunately, the Thunder are virtually guaranteed to miss out on the five prospects in this year's class who are viewed as being a cut above the rest. There will still be plenty of intriguing names on the board, but Thunder fans have to be shaking their heads at what could've been.
Minnesota Timberwolves
A late-season surge hurt the Timberwolves NBA Draft Lottery seeding substantially. The odds weren't exactly in their favor to hang onto their top-3 protected pick as the No. 6 seed. Sure enough, Minnesota failed to have the ping pong balls bounce in their favor. The seventh overall selection that they drew snow belongs to the Golden State Warriors. But at least the Wolves' current group showed some promise on the court down the stretch.
Won Some and Lost Some
Orlando Magic
Despite being one of three teams with optimal odds to land the top overall pick, the Orlando Magic failed to even grab one of the top-4 lottery spots in the upcoming draft. While the fall to No. 5 overall isn't terrible, it has to sting knowing that each of the other two top-3 lottery seeds held firm and will be the first two teams on the clock. That said, things weren't all bad for the Magic. Thanks to the Chicago Bulls failing to move up into the top-4 picks, Orlando successfully claimed the right to a second draft pick. The Magic will draft at both No. 5 and No. 8 overall next month.
Houston Rockets
Should the top NBA Draft Lottery seed falling only to the second overall pick be considered any sort of a loss? Perhaps not, considering the Rockets shared an equal 14% chance to grab the top selection with both the Pistons and Magic. Houston certainly was a lottery winner in that they avoided total lottery disaster by falling out of the top-4. How much of a loser the Rockets really boils down to how one views the top prospects in this year's class. Many believe the quintet of Cade Cunningham, Jalen Green, Evan Mobley, Jonathan Kuminga and Jalen Suggs to be a step ahead of the rest. That said, there's a reason why Cunningham is projected No. 1 in pretty much every mock draft out there. Picking second, the Rockets are now almost guaranteed to miss out on him.
Full 2021 NBA Draft Order
All picks and swaps are updated to reflect the NBA Draft Lottery results
First Round
Detroit Pistons
Houston Rockets
Cleveland Cavaliers
Toronto Raptors
Orlando Magic
Oklahoma City Thunder
Golden State Warriors (from MIN)
Orlando Magic (from CHI)
Sacramento Kings
New Orleans Pelicans
Charlotte Hornets
San Antonio Spurs
Indiana Pacers
Golden State Warriors
Washington Wizards
Boston Celtics
Memphis Grizzlies
Oklahoma City Thunder (from MIA via LAC, PHI and PHX)
New York Knicks
Atlanta Hawks
New York Knicks (from DAL)
Los Angeles Lakers
Houston Rockets (from POR)
Houston Rockets (from MIL)
Los Angeles Clippers
Denver Nuggets
Brooklyn Nets
Philadelphia 76ers
Phoenix Suns
Utah Jazz
Second Round
Milwaukee Bucks (from HOU)
New York Knicks (from DET via LAC and PHI)
Orlando Magic
Oklahoma City Thunder
New Orleans Pelicans (from CLE via ATL)
Oklahoma City Thunder (from MIN via GSW)
Detroit Pistons (from TOR via BKN)
Chicago Bulls (from NOP)
Sacramento Kings
New Orleans Pelicans (from CHI)
San Antonio Spurs
Detroit Pistons (from CHA via NYK)
New Orleans Pelicans (from WAS via MIL, CLE and UTA)
Brooklyn Nets (from IND)
Boston Celtics
Toronto Raptors (from MEM via SAC)
Toronto Raptors (from GSW via UTA and NOP)
Atlanta Hawks (from MIA via SAC and POR)
Brooklyn Nets (from ATL)
Philadelphia 76ers (from NYK)
Memphis Grizzlies (from POR via DAL, DET and CLE)
Detroit Pistons (from LAL via SAC, HOU and DET)
New Orleans Pelicans (from DAL)
Indiana Pacers (from MIL via HOU and CLE)
Oklahoma City Thunder (from DEN via GSW and PHI)
Charlotte Hornets (from LAC)
Charlotte Hornets (from BKN)
New York Knicks (from PHI)
Brooklyn Nets (from PHX)
Indiana Pacers (from UTA)
---
Follow us on all of our social channels! Check out our Twitter, Facebook and YouTube for more great FlurrySports content.