Two lower-seeded teams have the opportunity to end their NBA Playoff series on their home floor tonight. They are both projected to do exactly that! So, in two possible close-out games, the pressure rises, and we are in line for some terrific individual performances. With only two games on the schedule, it can be tough to create winning NBA DFS lineups. However, PrizePicks has a different spin on DFS, allowing us to play NBA player props and parlays.
Below, we'll explain how PrizePicks works and give you winning NBA DFS picks, predicting the over/under on various NBA player props. As an added bonus, we have another promo with a similar app that will give you a free $100! But first, let's see what PrizePicks is all about.

PrizePicks Payout Breakdown | NBA DFS Picks
At PrizePicks, users string together NBA DFS player props into a parlay up to five legs. These NBA DFS picks can be in a single stat or picking over/under fantasy basketball points. Users can even make picks across different sports taking place today! After forming a parlay, users can select to play it using Flex Play or Power Play.
Flex Play Payout
For Flex Play, users can build a parlay up to five legs and still be paid out if one or more of their picks is incorrect. Of course, less risk means less reward, so the payout is lower:
2 Leg Parlay: 2 Correct = 2x Entry, 1 Correct = 0.5x
3 Leg Parlay: 3 Correct = 2.25x, 2 Correct = 1.25x
4 Leg Parlay: 4 Correct = 5x, 3 Correct = 1.5x
5 Leg Parlay: 5 Correct = 10x, 4 Correct = 2x, 3 Correct = 0.4x
Power Play Payout
Power Play is much like a parlay at a sportsbook, where it is all or nothing. Since the risk is higher, the payout is as well.
2 Leg Parlay: 3x Entry Fee
3 Leg Parlay: 5x Entry Fee
4 Leg Parlay: 10x Entry Fee
---
PrizePicks will fully match your deposit up to $100 if you sign up here using the promo code FLURRY!
---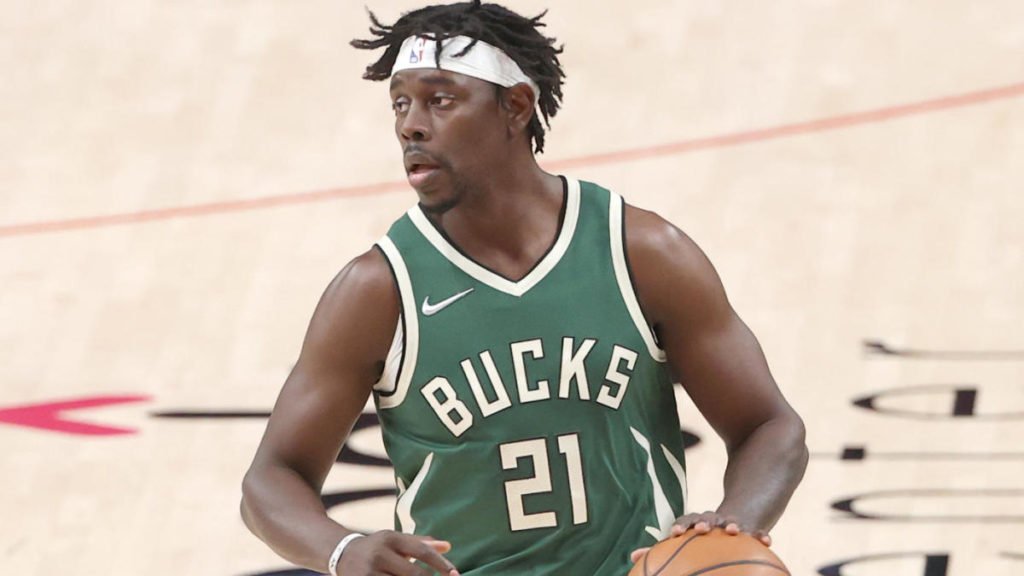 NBA DFS Picks: PrizePicks Player Props and Parlay | May 13
Jrue Holiday O/U 5.0 Rebounds
We have had success all series with NBA DFS picks and NBA player props involving the rebounding total of Jrue Holiday. We keep picking the over, and Holiday rewards us more often than not.
Holiday is often guarding either Marcus Smart or Jaylen Brown, who both like to bring the ball inside. This leads to Holiday being in a better position for rebounds than he normally is. Holiday has also played with more energy and more intent with Khris Middleton out. The result is Holiday averaging seven rebounds per game during this series.
NBA DFS Pick: Jrue Holiday OVER 5 Rebounds
---
Free $100 for Sleeper Over/Under | New NBA DFS Game
If you're looking for another fantasy app to make money on NBA DFS picks tonight, check out Sleeper! That's right. It's the same fantasy sports app where you may have your season-long fantasy football league every year!
Recently, Sleeper launched their over/under pick'em game, which operates exactly like PrizePicks. If you CLICK THIS LINK, join the FlurrySports over/under channel and follow the promo directions, you get a free $100 when you deposit any amount! That's right! Deposit $20 and you'll have $120 in your Sleeper wallet!

---
Giannis Antetokounmpo O/U 32.5 Points
The defensive-minded Boston Celtics have zero answers for stopping Giannis Antetokounmpo. That's just the reality. In the past three games, Giannis has put up scoring totals of 42, 34 and 40. Tonight, the Bucks have the opportunity to close the series out on their home floor. If recent history tells us anything, it's that Giannis Antetokounmpo comes to play in closeout games.
Giannis has averaged 41 points across the past three closeout games in the NBA Playoffs he has been active for. It's looking like another possible 40-point performance for him in this game. 
NBA DFS Pick: Giannis Antetokounmpo OVER 32.5 Points
Bobby Portis O/U 8.5 Rebounds
In Game 5, Bobby Portis was the spark off of the bench that the Bucks needed. He played on emotion and put up 14 points and 15 rebounds. We saw during the Bucks' championship run how the Milwaukee crowd got behind Bobby Portis, and he rode this energy to some big performances.
With "Bucks in six" and "Bobby" chants likely starting early in Fiserv Forum tonight, we should see another inspired performance from Portis off of the bench. While his scoring can be a bit inconsistent, his hustle should lead to another double-digit rebounding total.
NBA DFS Pick: Bobby Portis OVER 8.5 Rebounds
Tyus Jones O/U 3.5 Rebounds
Obviously, Ja Morant continues to be out for Game 6 of this series. With him out, Tyus Jones is thrust into the starting lineup and asked to play a major role. In Game 4, he played a whopping 41 minutes, finishing with 19 points and six rebounds. Last game, we saw a historic blowout, resulting in Jones only needing to play 24 minutes. Still, he grabbed three rebounds.
Tonight, we should see a more competitive game. With the score much closer, expect to see Tyus Jones play around 40 minutes. The floortime alone gives him enough opportunities to hit the over on this PrizePicks NBA player prop.
NBA DFS Pick: Tyus Jones OVER 3.5 Rebounds