We have officially reached the halfway point of the 2021 NASCAR Cup Series regular season. It has been one wild year thus far, with 10 different race winners, several wild finishes, and multiple come-from-behind efforts. Most recently, Hendrick Motorsports became the first team since 2005 to record a 1-2-3-4 finish in a Cup Series race. Alex Bowman drove to victory lane in the Drydene 400, with a little help from his pit crew who put together the fastest stop of the entire 2021 season to date. Needless to say, both Bowman and his Hendrick teammates will take center stage near the top of the first-ever FlurrySports NASCAR power rankings.
NASCAR Power Rankings Overview
Yes, you read that correctly. Welcome to our first NASCAR power rankings article of the season…and ever for that matter! To commemorate the halfway point of the 2021 season, we are releasing power rankings that include all 32 full-time NASCAR Cup Series drivers. Not that these power ratings are not reflective of season wins or point standings. Rather, they serve to weigh how drivers and teams are performing in terms of season-long consistency. Of course, added emphasis is placed on recent form to reflect improved or worsening performance.
These rankings can be used for everything from NASCAR betting and DFS projections to simply starting a debate with your coworkers. Read on to see where your favorite driver stacks up in the very first NASCAR power rankings!
NASCAR Cup Series Power Rankings | After Dover
1. Kyle Larson | Hendrick Motorsports #5
He may only have one win this season, but Kyle Larson has consistently been a dominant car over the last several races. He was robbed of a win at Kansas by NASCAR officiating. Two weeks ago, he was the class of the field at Darlington aside from Martin Truex Jr. This past week, he swept the stages and probably would've won the race too if not for a next-level performance by Alex Bowman's pit crew. For a driver in his first year with a team and organization, what Larson is doing simply cannot be overstated.
2. Martin Truex Jr. | Joe Gibbs Racing #19
Prior to the Drydene 400, only one driver had won multiple races this season. Martin Truex Jr. notched his third win of the year with a dominant run at Darlington during NASCAR Throwback Weekend. He started on the pole and led early at Dover, but some light damage prevented the No. 19 from being a factor beyond the first portion of the race. Larson edges him out for the top spot this week, but these two are neck-and-neck atop the rankings in my book.
3. William Byron | Hendrick Motorsports #24
23-year-old William Byron has now strung together 11 consecutive top-10 finishes after his fourth-place run at Dover this past weekend. If you want to talk about consistency in 2021, he's the man. A win at Homestead-Miami has been followed by nothing but strong performances. Don't sleep on Byron and the No. 24 team as a championship contender. No, that's not a stretch.
4. Denny Hamlin | Joe Gibbs Racing #11
Denny Hamlin still leads the NASCAR Cup Series points standings by a mile despite not yet winning a race. While he has continued to run well, there has been a noticeable drop-off in the last few weeks from the form this team displayed earlier in the season. There's no doubt Hamlin will get to victory lane soon enough, but the No. 11 team has been 'quiet', for lack of a better term, the past few races.
5. Kevin Harvick | Stewart-Haas Racing #4
Speaking of drivers yet to win a race, Kevin Harvick joins Hamlin on the list of surprise non-winners this season. The two combined to win over half of the regular-season races in 2020, so to see both without a victory through the halfway point in 2021 is shocking. Harvick has consistently put together solid runs each week though, even as the rest of his Stewart-Haas Racing teammates have struggled mightily. Outside of Team Hendrick, he was the top car on the track at Dover.
6. Joey Logano | Team Penske #22
Joey Logano used newer tires and a late-race adjustment to surge to a top-5 finish at Dover this past weekend. His lone win came in the Bristol Dirt Race and he has had some inconsistent performances along the way. That said, Logano has easily been the most consistent car in the Penske garage. At the same time, the gap between him and the top-5 in the NASCAR power rankings feels large.
7. Alex Bowman | Hendrick Motorsports #48
This certainly wasn't the driver we expected to see be the first to join Truex with multiple victories. Nonetheless, Alex Bowman and the entire No. 48 team delivered in a big way at Dover. No one can accuse him of "stealing" this win either as was the case after Richmond. If Bowman can show more consistency, he can move up these rankings even further.
8. Chase Elliott | Hendrick Motorsports #9
In terms of consistency, the reigning NASCAR Cup Series champion has been superior to his teammate, Bowman. But the lack of a win keeps Chase Elliott one spot below in these inaugural NASCAR power rankings. His third-place showing at Dover marked the fifth top-10 in the last seven races. The fact that he drove through the field as quickly as he did after starting at the rear is also a very positive sign. With plenty of road courses still to come, it's only a matter of time before the No. 9 reaches victory lane.
9. Ryan Blaney | Team Penske #12
The last two weeks were noteworthy for Ryan Blaney in that he finished in the top-12 at two tracks where he had very poor historical records. It's been a while since we've seen the No. 12 Mustang leading the field, but the fact that Blaney has run consistently these last few weeks is huge. It wouldn't; 't be surprising to see him add a second victory to his Atlanta triumph sooner than later.
10. Brad Keselowski | Team Penske #2
The gate swung wide open for Brad Keselowski at Talladega and he took advantage to score a win in a Crown Jewel race (sorry, the Indy Road Course just doesn't cut it so the Geico 500 gets elevated by default this year). Unfortunately, things haven't gone as well since. Darlington was a disaster and Dover wasn't much better. Still, Keselowski is too good a driver not to rebound and rise up the NASCAR power rankings in the coming weeks.
---
🏎 Check out our review of the new NASCAR Next Gen Cars that will debut next season!
---
11. Austin Dillon | Richard Childress Racing #3
Both RCR cars have been very impressive in recent weeks, but Austin Dillon has actually been running well all season. A 14th-place run at Dover was a step below where he's been for the most part. He still ranks 11th in average finish for the season.
12. Kyle Busch | Joe Gibbs Racing #18
Kyle Busch got a big assist from NASCAR to secure a birthday victory at Kansas. Then, just when it looked like Rowdy was back for real, a cylinder issue ruined Dover before it even got started. How the No. 18 team rebounds from the Drydene 400 will be fascinating to watch.
13. Tyler Reddick | Richard Childress Racing #8
At what point does young Tyler Reddick start getting the respect he deserves? His high-risk, high-reward racing style makes him a darkhorse contender at many tracks. A resurgent year for RCR would really become a talking point if Reddick can park the No. 8 in victory lane.
14. Chris Buescher | Roush Fenway Racing #17
Although the RFR resurgence hasn't been quite to the same degree as RCR's, Chris Buescher is certainly turning heads. Now, if the No. 17 car can just finish some of these races the way it starts…
15. Christopher Bell | Joe Gibbs Racing #20
After winning the second race of the season and putting together several strong runs after that, things have gone haywire for Christopher Bell and the fourth JGR team. Perhaps more road course racing this weekend will help him turn things around.
16. Matt DiBenedetto | Wood Brothers Racing #21
After stringing together three consecutive top-10 finishes, Darlington brought Matt DiBenedetto back down to earth. Then, Dover really kicked him and the No. 21 team in the rear. Expect Matty D to be hovering around the playoff cutline for the rest of the season.
17. Michael McDowell | Front Row Motorsports #34
The Daytona 500 winner has been far from impressive since the early going this season. Michael McDowell feels like a fringe top-20 driver when it comes to NASCAR power rankings. That said, one behind him has done anything to show they deserve to be ranked ahead of a guy with a win.
18. Ross Chastain | Chip Ganassi Racing #42
It's been a brutal NASCAR Cup Series season for Chip Ganassi Racing. Although Ross Chastain only has one top-10 finish to date, we have seen a little more consistency out of the No. 42 of late. Certainly more so than his teammate.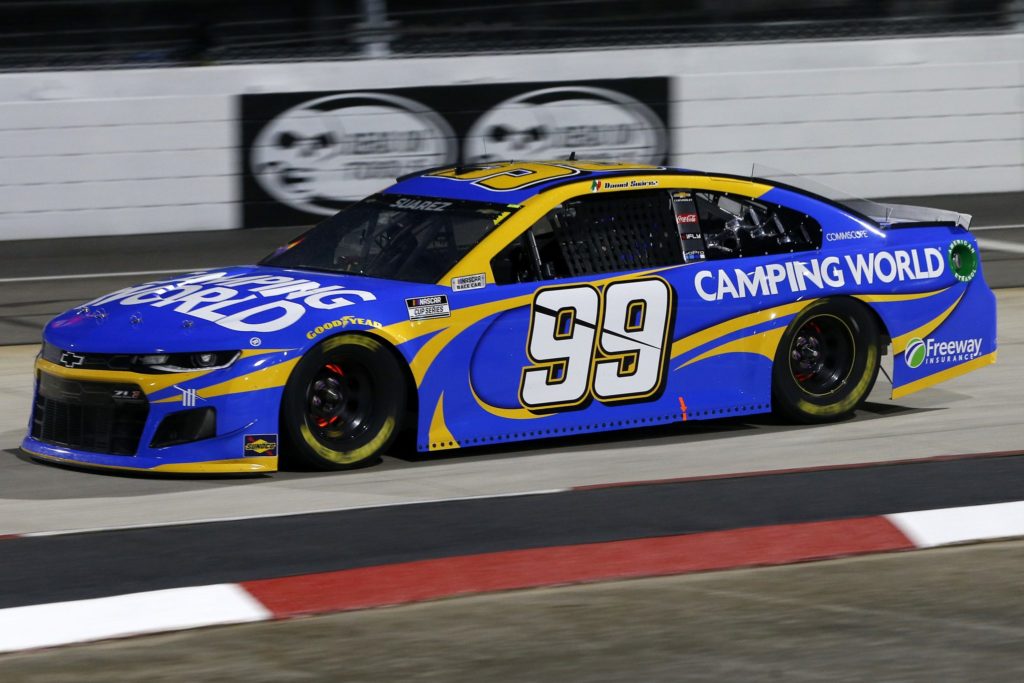 19. Daniel Suarez | Trackhouse Racing #99
Everyone wants to laud over Bubba Wallace and Michael Jordan's new race team, but Daniel Suarez and the Trackhouse Racing startup have been outperforming them by a mile this season. Sound pit strategy resulted in a top-10 finish for the No. 99 at Dover. This RCR affiliate car is worth keeping a close eye on.
20. Ryan Newman | Roush Fenway Racing #6
Ryan Newman and the No. 6 team have kind of resembled a box of chocolates this year. You really never know what you're going to get. After joining teammate Chris Buescher in the top-10 at Darlington, Newman was irrelevant at Dover.
21. Ricky Stenhouse Jr. | JTG Daugherty Racing #47
It wasn't too long ago that Ricky Stenhouse Jr. was holding onto a top-16 spot in the NASCAR Cup Series points standings. His average finish of 17.3 is actually better than several drivers slotted ahead of him in these NASCAR power rankings.
22. Kurt Busch | Chip Ganassi Racing #1
The No. 1 car running in the top-10 at Dover was an unfamiliar but very welcome site. Unfortunately, Kurt Busch had to settle for a finish of 13th.
23. Ryan Preece | JTG Daugherty Racing #37
A driver known for excelling at the superspeedways, Ryan Preece quietly has two top-10 finishes on the season. He fought hard at Dover and is perhaps underrated as a race car driver in general.
24. Bubba Wallace | 23XI Racing #23
We keep hearing that this start-up team is "so close" to putting it all together every single week. Bubba Wallace deployed the same pit strategy as Daniel Suarez down the stretch at Dover, yet he still doesn't have a single top-10 finish this season.
25. Cole Custer | Stewart-Haas Racing #41
The reigning NASCAR Cup Series rookie of the year has been mired in a major sophomore slump. After wrecking out at Darlington, he was able to notch his second top-10 run at Dover, one of his better tracks.
26. Erik Jones | Richard Petty Motorsports #43
An 18th-place run at Darlington could've been a lot better if not for a late flat. Erik Jones undoubtedly misses his old JGR equipment. Nonetheless, the No. 43 team continues to work hard.
27. Chase Briscoe | Stewart-Haas Racing #14
Just when it looked like the rookie might be finding his footing, a flat tire and mechanical issue at Dover resulted in a 35th-place showing. Chase Briscoe has been plagued by the same inconsistency as 2/3 of his SHR teammates.
28. Aric Almirola | Stewart-Haas Racing #10
What a disaster of a 2021 season for the No. 10 team. Aric Almirola in the bottom five of the NASCAR power rankings just looks so wrong. Yet, after another wreck at Dover, it's the reality.
29. Corey LaJoie | Spire Motorsports #7
You knew his top-10 run in the Daytona 500 was a mirage. Despite major equipment disadvantages, LaJoie has had some sneaky good moments this season.
30. Anthony Alfredo | Front Row Motorsports #38
Still not too sure as to why FRM went with Anthony Alfredo as their rookie of choice. But perhaps being teammates with Michael McDowell is already having an impact. Alfredo finished a season-best 12th at Talladega.
31. Quin Houff | StarCom Racing #00
Let's be honest: these bottom two are in a class all their own. Quin Houff has a 69-54 advantage in the points standings, therefore he starts out with the advantage in our NASCAR power rankings.
32. Josh Bilicki | Rick Ware Racing #52
You wouldn't even know Josh Bilicki was the full time car for Rick Ware. After all, Cody Ware certainly gets the most screen time and name recognition thanks to his weekly spins.