After a pair of races at Darlington to get NASCAR action officially restarted, the action now heads north to the other Carolina, and NASCAR's hub city of Charlotte. Sunday kicks off four straight days of racing at Charlotte Motor Speedway, with the running of the prestigious Coca-Cola 600. The race is famous for being the longest distance race on the NASCAR calendar annually and celebrates its 60th anniversary this year.
While Sunday will mark the first time since 1974 that the Coca-Cola 600 won't be joined by the open-wheel Indianapolis 500 in both being run on the Sunday of Memorial Day Weekend, at least the NASCAR portion of the annual doubleheader will provide some semblance of normalcy as we ultimately try to return to just that.
This article offers a full betting preview of the race, drivers and track, along with some best bet selections. What better way to kick off the summer season than with some winning plays!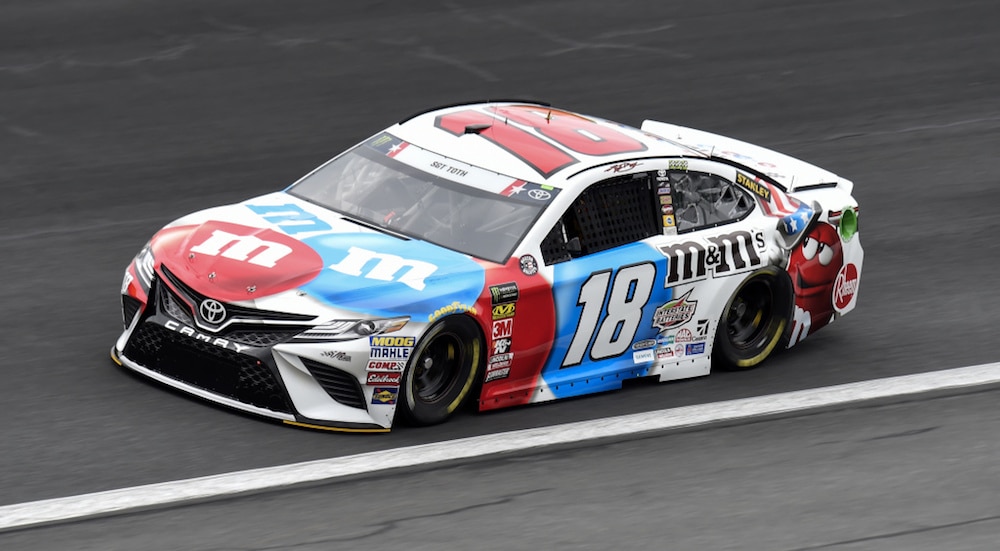 Coca-Cola 600 Betting Info
Location: Charlotte Motor Speedway, Charlotte, NC
Date: Sunday, May 24th
Start Time: 6 p.m. EST
TV: FOX
Length: 400 laps, 600 miles (970 kilometers)
Stages: Stage 1 Laps 1-100; Stage 2 Laps 100-200; Stage 3 Laps 200-300
Pole Sitter: Kurt Busch
Defending Champion: Martin Truex Jr.
Coca-Cola 600 Driver Stats
Denny Hamlin comes into NASCAR's longest race of the year with momentum on the heels of his triumph in Wednesday night's Toyota 500 at Darlington. The win was Hamlin's second of the 2020 season, pairing with his Daytona 500 victory back in February. He joins Joey Logano as the two drivers with multiple wins through the first six races of the season. Kevin Harvick and Alex Bowman each have one win this year.
Contrary to The Real Heroes 400 which was NASCAR's first race back after the COVID-19 break, Wednesday's race saw limited extended run under green, with several different drivers leading for portions of the race as a result. Clint Bowyer led the most laps with 71, but six others also led double digit laps, including Chase Elliott (28), Erik Jones (27), Logano (19), Martin Truex Jr. (16), Hamlin (12) and Harvick (10). Below is an updated list of several helpful driver statistics.
Top 5 Finishes in 2020
4-Kevin Harvick
3-Kyle Busch, Denny Hamlin
2- Alex Bowman, Kurt Busch, Chase Elliott, Brad Keselowski, Joey Logano
1-10 Drivers Tied
Laps Led in 2020
Kevin Harvick-328
Chase Elliott-214
Brad Keselowski-205
Alex Bowman-154
Joey Logano-139
Average Finishing Position in 2020
(Drivers with full time Cup Series status)
Kevin Harvick-4.7
Denny Hamlin-8.3
Joey Logano-10.7
*Kyle Larson-11.0
Matt DiBenedetto-11.7
Alex Bowman-12.0
Brad Keselowski-12.7
Ryan Newman-12.7
Aric Almirola-13.0
Kyle Busch-13.7
*Note: Kyle Larson is currently suspended indefinitely by NASCAR and will not race in the Coca-Cola 600.
Average Finishing Position at Charlotte
(Drivers with 4+ starts at the track)
Jimmie Johnson-12.2
Denny Hamlin-12.3
Joey Logano-12.5
Daniel Suarez-12.5
Matt Kenseth-13.4
Martin Truex Jr.-14.1
Kyle Busch-14.6
Brad Keselowski-14.6
Kevin Harvick-15.4
Chase Elliott-16.3
Driver Rating in 2020
*The Driver Rating formula combines Wins, Finishes, Top-15 Finishes, Average Running Position While on Lead Lap, Average Speed Under Green, Fastest Lap, Led Most Laps and Lead-Lap Finish. Maximum score per race is 150 points*
Charlotte Motor Speedway Overview
Charlotte Motor Speedway has been home to two points races (including the Coca-Cola 600) and the NASCAR Cup Series All-Star Race for several years now. The track is an oval shape with a lap length of 1.5 miles. The layout, design and banking at Charlotte are very similar to Atlanta Motor Speedway. However, Charlotte does not cause as much tire wear as Atlanta and is also noted for affording better grip. The regular occurrence of extended green flag runs makes long-run speed paramount to finding success at Charlotte.
Charlotte Motor Speedway Betting Trends
As noted above, Jimmie Johnson has the best average finish among active drivers at Charlotte Motor Speedway. He also leads all drivers with 8 wins at the track, but only one of those has come in the last five seasons (2016 Bank of America 500). Last year's Coca-Cola 600 winner, Martin Truex Jr., has found success over the past few seasons at Charlotte with two other victories to his name (2016 Coca-Cola 600, 2017 Bank of America 500). With an emphasis on strong long-run racing, it is worth noting that Truex had one of the strongest long-run cars in each of this past week's races at Darlington.

Coca-Cola 600 Best Bets
Odds courtesy of DraftKings Sportsbook
Race Winner: Kyle Busch | +600
Nothing wild and crazy here. I am rolling with veteran Kyle Busch at 6-1. The odds make him the co-favorite at DraftKings along with Martin Truex Jr. Busch has had success at Charlotte Motor Speedway before, with a 2018 Coca-Cola 600 victory to his name, along with several others across the XFINITY and Truck Series divisions. Busch had a strong long-run car at Darlington Wednesday, rising down the stretch when the race saw its longest run under green to finish second despite not leading a single lap. Sunday will be the first of four straight days of racing for both NASCAR and Busch, who has committed to run in the XFINITY race Monday and the Truck race Tuesday in addition to both Cup races. NASCAR's ultimate iron man is due for a 2020 Cup win. What better place to get it than at Charlotte.
Other Picks
Manufacturer of Winning Car: Toyota | +165
Team of Race Winner: Joe Gibbs Racing | +175
Best Finishing Position Matchup: Joey Logano (vs. Chase Elliott) | +100
Best Finish in Group: Chris Buescher (vs. Christopher Bell, Cole Custer, John H. Nemechek) | +250
Longshot Winner: Matt Kenseth | +4000
---
More Articles
Eastern Conference Playoffs Predictions, If the Season Continues
Fighting Intelligence: Growth of Justin Gaethje Ahead of UFC 249
Lakers' Loan Revelation is a Bad Look For the Proud Franchise