The former fourth overall pick in the 2011 NFL Draft, A.J. Green, is not happy. He may be 32, but he finds himself as the third option in the receiving corps of a 1-4-1 Cincinnati Bengals team. Green has been seen visibly frustrated on the sidelines, and deservedly so. He has stuck with the Bengals his entire career without even a single playoff win to show for it. Here are three possible A.J. Green trade destinations ahead of the NFL Trade Deadline.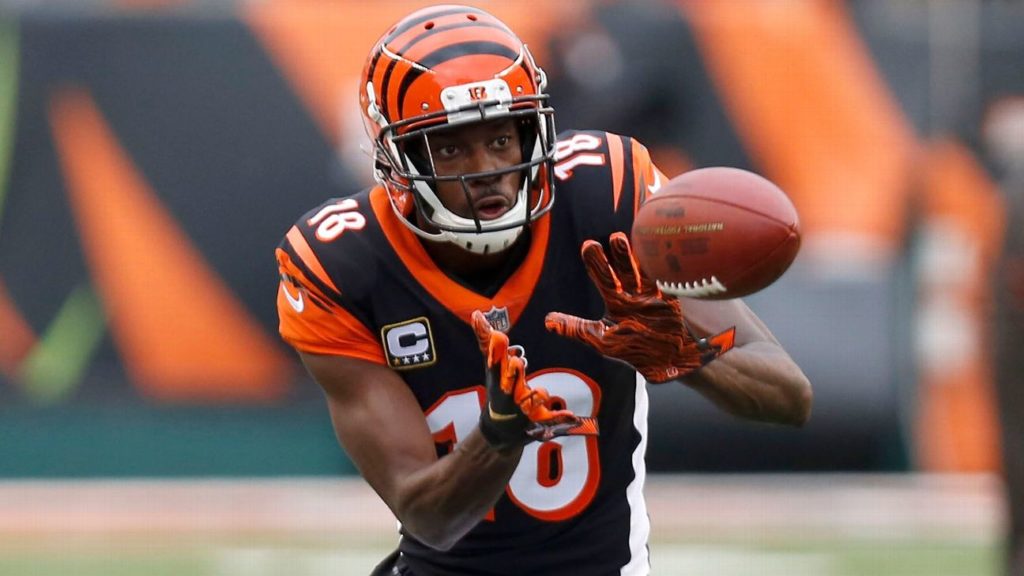 A.J. Green Trade Destinations | NFL Trade Deadline
Green Bay Packers
Hey, Green squared anybody? The Green Bay Packers were absolutely ripped to shreds by the fans and media for not drafting a single receiver in this past draft, which was widely regarded as one of the deepest in recent history at the position. With Allen Lazard out indefinitely, this Packers air attack can't afford to lose another piece. A Packers trade would not only give Green a place where win, but he'd also catch passes from the most talented quarterback of all time?
Davante Adams will draw the top corner and Aaron Rodger's pinpoint accuracy will find Green no matter how small of a window. The Packers need to give Rodgers another weapon to truly be a contender, and a Green trade seems to make too much sense.
Philadelphia Eagles
Alright, hear me out. As bad as they are, right now a 2-4-1 record has them first in the NFC East. It won't be a tough division to win by any means, but it won't get much easier with DeSean Jackson suffering a high ankle sprain and being out for the foreseeable future. The Eagles, just like last year, are running out of bodies, and they could surely give Green as much playing time as he wants.
A solid receiver such as Green could take some pressure off of the tight ends and possibly open up the running game more for Miles Sanders as well. While this certainly won't be a move that puts Philly anywhere near contender status, there is something to be said about bragging rights over their rivals and a playoff spot. That seems to be the updated goal for the Eagles, and a Green trade would likely be enough to bring home the NFC East crown.
Chicago Bears
Arguably the surprise of the NFC, the Chicago Bears are currently in first in the NFC North, with a 5-1 record. The Bears defense is, as always, one of the best. Their offense isn't, however, which is why their point differential through six games is only +12. They have question marks at quarterback for sure and, outside of receiver Allen Robinson, really have nothing outside of their tight ends.
Adding Green would not only take some of the pressure off of quarterback Nick Foles, but would also prevent the defense from keying in on Robinson. This would open up their passing game and possibly the running game, as defenses can no longer simply focus on Robinson and running back David Montgomery. The Bears have a good chance to kill two birds with one stone here with a Green trade.
---
More Articles
Packers vs Texans Predictions and NFL Picks
Week 7 Fantasy Football Rankings
Tua Tagovailoa Named Starter in Miami
Josh Allen Fantasy Struggles Won't Be a Trend
Chase Claypool Fantasy Outlook High Following Monster Performance