Wayne Rooney returns to Everton
After 13 seasons with Manchester United, Wayne Rooney returns to his boyhood club. Sir Alex Ferguson had to persuade the Board of Directors for Manchester United to pay the high price (at the time) of 25 million pounds for an eighteen year old kid from Everton. Seems like such a small fee when you consider Paul Pogba's price tag (89 million pounds). Like many of his signings, the investment paid off. Rooney went on to break the goal record at Manchester United, scoring 253 goals. He became known as the face of the historic club even with superstars like Cristiano Ronaldo, Patrice Evra, Ryan Giggs, Robin Van Persie, and many others, making their way through the club. However, towards the end of his time at Man U, his role became less and would go on very long goal droughts. Everton hopes they have just signed the record setting Wayne Rooney, and not the "878 minutes without a goal" Wayne Rooney. This move can allow Rooney to show the world he can still perform at the highest level, and help Everton return to the Champions League, which Everton has their sights set on. Rooney is only one of the other big transfers they've made this summer, more on that later…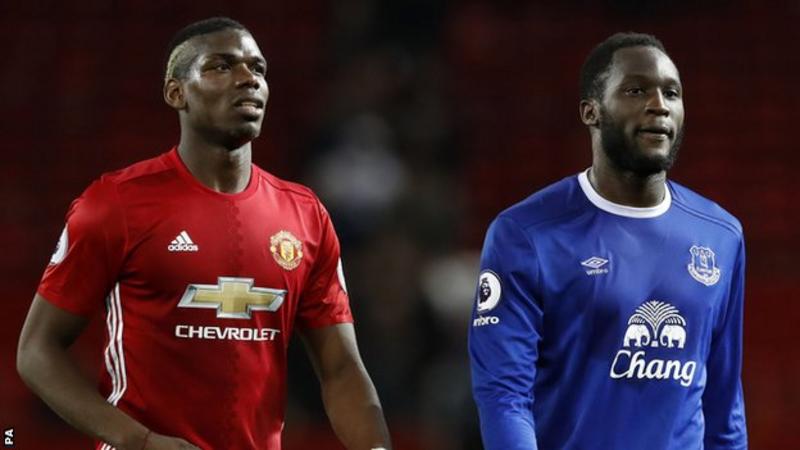 Romelu Lukaku signs with Manchester United
The photo above represents about 165 million pounds or 212 million US dollars. Manchester United pay 75 million pounds for one of the best goalscorers in the Premier League. Manchester United want to get back to their title winning ways, and this could be the signing to do so. Both being 24 years old, these two playmakers can make defenders' lives miserable, for years to come. Lukaku has scored at least 20 goals a season since signing with Everton, in 2014. He can bring in the consistent goals that Manchester United have needed. In the high likelihood that Zlatan Ibrahimovic leaves, Lukaku is a great replacement. A strong and tall forward that can bully opposing defenders, and also move well with the ball. You also have to respect the way Lukaku celebrated the signing. He received a noise citation from LAPD, after police showed up five times to quiet the party down. His friend, Paul Pogba has been in LA to "chill" (totally not there to convince him to sign with Manchester United or anything) with his newest teammate. Manchester United start their pre-season tour in the US soon, but Lukaku will not be with the team for those matches.
Everton keeps signing players
Less than two weeks into the transfer window, and Everton have came out swinging in the transfer market. The two biggest headlines, being the arrival of Wayne Rooney and departure of Romelu Lukaku. However, they made a great pair of defensive signings. Both happen to rising English international talents, goalkeeper Jordan Pickford and center-back Michael Keane. Jordan Pickford was about the only positive from Sunderland's nosedive out of the Premier League. The 21-year old became the most expensive signing of an English goalkeeper ever (no pressure). Michael Keane had a breakout year with Burnley. The ex-Manchester United youth player, made his debut for England in March against Germany. Both will strengthen Everton's defense. They also purchased former-Barcelona forward, Sandro Ramirez. The 22-year old scored 14 goals for Malaga, last year. Everton also signed Ajax midfielder, Davy Klaassen. Everton making moves for young talent, can help make their return to the Champions League. Expect to see them make another headline, before the transfer window ends.
Antonio Rüdiger signs with Chelsea
The 24-year old German international, will add strength to the already powerful Chelsea defense. He has been said to arrive for a fee around 29 million pounds. Rudiger had a good showing at the Confederation Cup, which a young Germany team won. He should be able to fit well in Conte's three center-back defense. The strong Chelsea defense led them to a title last year, so why shouldn't it again? With John Terry gone and Kurt Zouma's injury problems, there is no reason why Antonio Rudiger shouldn't see playing time next year.
Alexandre Lacazette moves to Arsenal for 60 million Euros
It seems like this has been a long time coming. Frenchman and longtime Arsenal coach, Arsene Wenger signs another French foward, Alexandre Lacazette. Olympique Lyon president tried to keep his star striker for as long as possible, but I think he knew it was inevitable he was going to move on to the Premier League. Arsene Wenger has been under fire for lackluster performances for the past year and lack of signings. Arsenal fans had mixed reactions to him being resigned to remain manager. So this should help bring fans back into his favor, and add some needed goals. The question can now be asked whether Oliver Giroud will stay and head out the door?
Bournemouth make moves to build-on last year's success
Bournemouth in 2008, were playing in the fifth-tier of English soccer and in 4 million pounds of debt. Fast forward to 2015, the club plays in the Premier League for the first time ever. The not only stay in the Premiership, but also beat powerhouse clubs Manchester United and Chelsea during that season. 2016, the club finishes in the better half of table (9th of 20) and look to continue to achieve at the top level. If there is one thing that American sports lack, it is stories like this. The promotion/regulation system is flawed, in terms the business side of sports, but it adds a completely different level of entertainment.
They recently complete the signing of Chelsea's Nathan Ake and Asmir Begovic. Ake is a young Dutch player, who can play in multiple defensive positions. Begovic is proven veteran goalkeeper and looks to become a starter, once again. They added 34-year old veteran striker, Jermain Defore, who can still score goals. Defoe scored 15 goals last year, and 18 the year before. Look for them to have another big year again.
Other noteworthy Premier League transfers:
Ederson to Manchester City
Bernardo Silva to Manchester City
Vincente Iborra to Leicester City
Mohamed Salah to Liverpool
Victor Lindelof to Manchester United
Will Hughes to Watford
Tom Cleverley to Watford 
Sead Kolasinac to Arsenal 
Pablo Zabaleta to West Brom
Willy Caballero to Chelsea
Jay Rodriguez to West Brom
Steve Mounie to Huddersfield
Roque Mesa to Swansea City
Jonathan Walters to Burnley