With the NFL Offseason underway, coveted NFL free agents, most notably quarterbacks, will be coveted on the market. As we all know, the quarterback is the most important position. Just look at the New York Jets or, for an even better example, the San Francisco 49ers in the NFC Championship.
Let's look at some landing spots for the best QB NFL free agents.
Notable 2023 NFL Free Agent QBs
For a complete list of all QB NFL free agents on the market, look no further than this link. Additionally, there have been some recent retirements following the conclusion of the season, like Tom Brady and Chad Henne.
However, there's one major problem that these quarterbacks will have to face — the select amount of teams with starting spots. But for major names like Lamar Jackson, Daniel Jones, Baker Mayfield and Jimmy Garoppolo, the teams available will shrink as players ink their contracts, leaving some players to warm the bench, wait until someone gets injured to get signed, or see their options in other football leagues.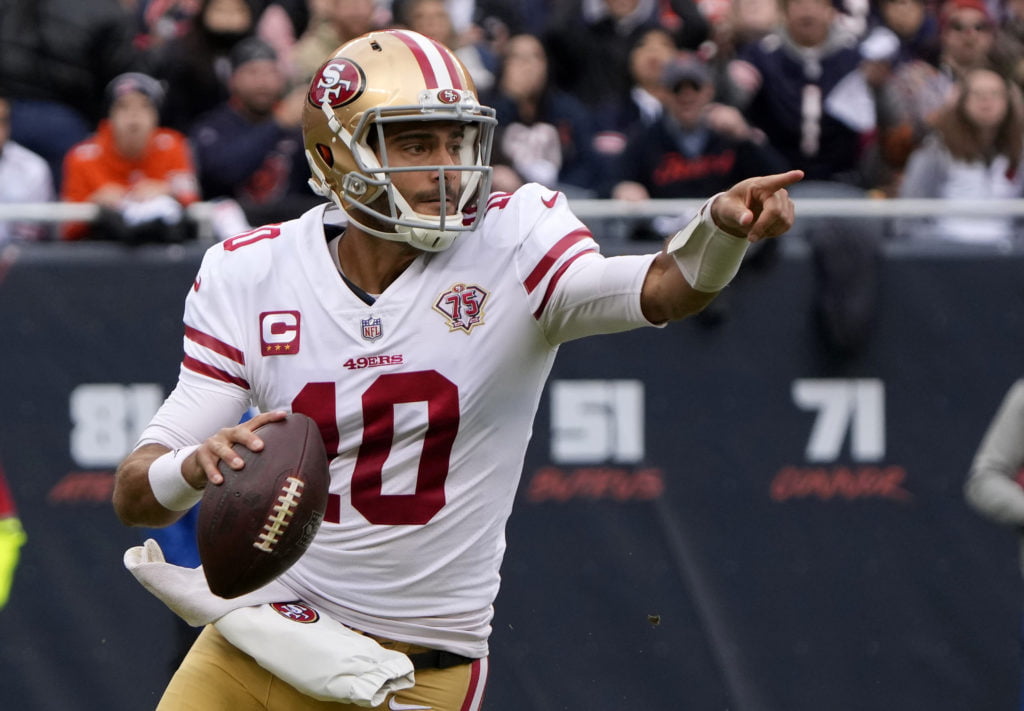 Landing Spots For Best QB NFL Free Agents 2023
Jimmy Garoppolo — Jets, Colts, Panthers
Listen, a Robert Saleh and Jimmy Garoppolo reunion might just turn them into the AFC East's 49ers. The New York Jets were a quarterback away from being a playoff team last season. We know it, and they know it.
The history there, in addition to the proven track record of Garoppolo, makes them a perfect fit. Outside of this, the Colts will probably try to squeeze another veteran QB to limited returns.
Baker Mayfield — Buccaneers, Jets, Falcons
With the recent retirement of Tom Brady, the Tampa Bay Buccaneers are hot for a new playmaker. Additionally, picking at 19th in the 2023 NFL Draft might leave them out of the running for a top prospect. Enter Baker Mayfield, looking to revive his career. The former first-overall pick makes sense for the playoff contenders. Outside of injuries that plagued the offensive line and defense, the team is largely built to repeat another deep playoff run.
While Brady was able to keep the ship afloat last season, if the injury bug doesn't bite them next season, this team could do a lot of damage with the right quarterback, and there are a couple of NFL free agents that could work.
Lamar Jackson — Ravens
Sure, the Baltimore Ravens have already offered him a contract, which he promptly turned down. However, Baltimore will likely franchise tag the star QB. The Ravens are built around him and, given his skills are mostly in the running game, I can't imagine him fitting in a different offense.
Additionally, with the Ravens having so much invested in Lamar Jackson based on overall team build, it'll be a hard fit for anyone else who tries to step in.
Derek Carr — Panthers, Texans, Titans
Let's be real, how much longer can Ryan Tannehill last in Tennessee? I think if the Titans can get Derek Carr at an affordable rate, they'd be more than happy to dump the A&M product. Additionally, I think Carr likes the established nature of Mike Vrabel and the Titans.
Admittingly, I think they would need some more offensive firepower if they wanted to entice him, or other NFL free agents for that matter.
Daniel Jones — Giants
After leading the New York Giants to NFL Playoffs for the first time since 2016, the Giants will most likely resign their veteran signal-caller. Should they not be able to ink to his desired amount, the team will likely franchise tag Daniel Jones in order to keep their success afloat. Unless the Giants can pull a clear upgrade, they will likely stick with the success they got out of him previously.