Is it disrespect to the flag or social awareness?
By now we all know the name Colin Kaepernick, the man who took a knee during the National Anthem. The media quickly made note of it, and this protest quickly rolled out like an avalanche.
Initially everyone questioned why Kaepernick took a knee, "I am not going to stand up to show pride in a flag for a country that oppresses black people and people of color," Kaepernick told NFL Media in an exclusive interview after the game. "To me, this is bigger than football and it would be selfish on my part to look the other way. There are bodies in the street and people getting paid leave and getting away with murder." Kaepernick used his platform as a NFL quarterback to raise awareness regarding these social issues.
We have seen the numerous incidents were innocent individuals have been wrongfully murdered by police in our media. We all have a choice to read about these incidents or attempt to do something to change it. Kaepernick decided to make everyone aware in a form of protest during the National Anthem. This does not mean Kaepernick is protesting the flag, but instead his protest during the anthem is to gain publicity in turn raising awareness. This is all back log information how this all began.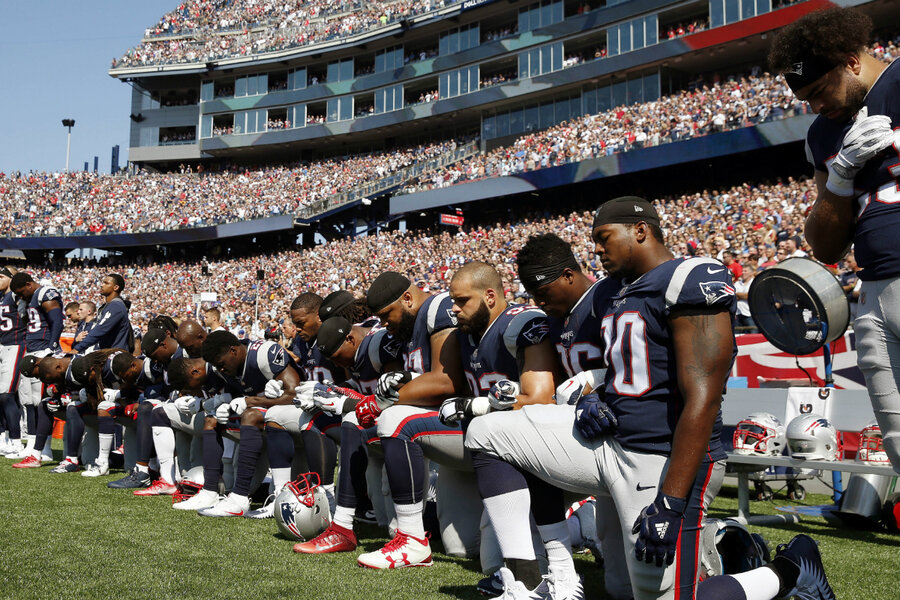 What does this mean for the former all star quarterback?
Since Kaepernick's protest began, many players have joined the cause by taking a knee, sitting, and/or locking arms in support. Others took to social media to support this movement. By now, this has completely blown up and everyone is well aware. Athletes, musicians, politicians, and fans in general have been in dialogue for quite some time regarding Kaepernick. Our U.S. President Donald Trump took to social media to bash Kaepernick, the NFL coaches, and the league in general for what he called unacceptable behavior and disrespect to our flag.
Today, Kaepernick is unemployed, as he opted out of his contract with the San Francisco 49ers, and as of now, no other team seems to be interested in his services. Is this the price we must pay to raise awareness and go against what we believe is wrong? Kaepernick has filed a collusion grievance against the NFL owners, stating they are responsible from him not playing in the NFL. Kaepernick has hired attorney Mark Geragos to prove his case among NFL owners.
As explained by Sports Illustrated's Michael McCann in March, "Collusion occurs when two or more teams, or the league and at least one team, join to deprive a player of a contractually earned right. Such a right is normally found in the collective bargaining agreement signed by a league and its players' association. For example, the right of a free-agent player to negotiate a contract with a team cannot be impaired by a conspiracy of teams to deny that a player a chance to sign."
This may be hard to prove; however, the investigation is currently open. As of now, Mike McCarthy, Green Bay's head coach, and Houston's head coach Bill O'Brien have been asked to turn in their phones and email information. Mike McCarthy is included in this investigation due to comments made after losing his star quarterback Aaron Rodgers and sticking with his back up, while attempting to sign Brian Hoyer. Bill O'Brien loses Deshaun Watson and the Texans sign Josh Johnson over Kaepernick.
This is a very controversial matter in sports and it will continue to make news as this investigation develops. As of now, the NFL has reached out to Kaepernick in an attempt to have a meeting with the NFL's commissioner Roger Goodell; however, Kaepernick's attorney declined the meeting. Overall, we all know Kaepernick can play, but I do not see him taking the field anytime soon.
In related news, Kaepernick was announced as GQ's Citizen of the Year and he is featured on their cover for the month of December. There is definitely support around the world for Kaepernick; however, with all of this going on I am curious to know your take on these issues and on Kaepernick's NFL career. Also, do you agree with him winning Citizen of the Year?