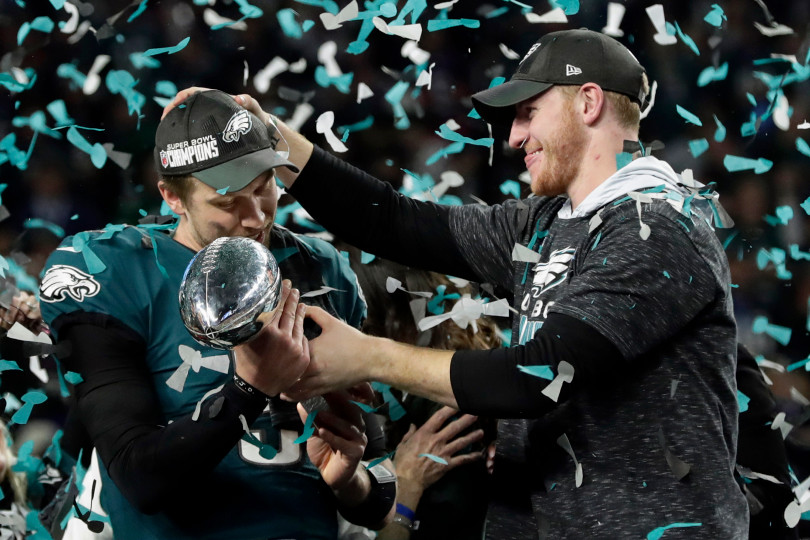 The 2017 Philadelphia Eagles have completed one of the best seasons in franchise history, and capped it off with a thrilling victory over the New England Patriots in Super Bowl LII.
But do the Eagles have a quarterback controversy on their hands heading into the 2018 NFL season?
Their current quarterback, Nick Foles, looked lost when he took over for Carson Wentz in the final three games of the season. Philadelphia looked like they were poised to be one-and-done despite having the No. 1 seed in the NFC. However, a saying like "any given Sunday" has a funny way of making its impact in the NFL, and it showed once the postseason began.
Foles looked as great as his 2013 counterpart in beating the Atlanta Falcons, obliterating the Minnesota Vikings, and out playing Tom Brady in the game's biggest stage.
Most people would've believed the same thing would happen if Wentz never went down with his season-ending injury. Wentz, 25, threw 33 touchdowns and 3,296 passing yards for the Eagles, a noticeable improvement from his rookie season with 16 touchdowns and 14 interceptions.
When it comes down right to it, the question is a simple one, but comes with a complicated answer: what do you do with the franchise quarterback, and the quarterback who just won the Super Bowl?
Foles, who was once the stater for the Eagles in 2013, came back to Philadelphia after failed ventures with the Rams and Chiefs on a five-year contract, with a potential out after two years. Wentz is signed with the Eagles for four years, and is viewed to be the quarterback of the future.
The knock on Wentz now is his ACL injury. Will he be ready for the season opener? If Foles starts and gets hot, should Doug Pederson stick with his Super Bowl winning quarterback, or go back to the franchises' future?
According to a number of reports, Wentz's injury is believed to be far more serious than normal. Orthopedic surgeon Dr. John Kelly said that Wentz's injury may require him to wear a brace for the rest of his professional career.
"This kid, God bless him, is probably going to be brace dependent – like Brady, like RG3 was – the rest of his career," said Dr. Kelly. "This may be a blessing in disguise, maybe become more of a drop back quarterback that we all want him to be."
Wentz said his goal is to return for Week 1, which will begin on a Thursday as per protocol for the Super Bowl winning to host the first game of the season.
"[Week 1] is definitely my goal," Wentz told Angelo Cataldi and the 94WIP Morning Show last week. "Timetables and all those things are always such a fluid thing. Obviously can't come out and make a declaration on anything, but my goal is to be playing in Week 1."
As for Foles, he could play a number of cards, noticeably asking to be traded to another team and start. Given that Wentz is iffy with a serious injury, it makes sense that Foles would stay for the Eagles. He could also demand a trade mid-season if Pederson gives Wentz the green light.
For now, the Eagles should play the waiting game as they enjoy their Super Bowl during the Summer. Things could get chaotic for the birds once training camp starts.
Related Articles and Links:
5 Quarterbacks Projected to Earn Big Paydays in 2018
Free Agent QB Kirk Cousins Targeted by New York Jets
FlurrySports Podcast–Ep. 9: Winter Olympics and Crazy Florida Stories
2017 NFL Season Team Recaps