For the first time in 50 years, the Milwaukee Bucks are NBA Champions. Bucks fans will certainly be riding this high for a long time to come. However, in the current sports landscape, the future is all that anyone is talking about, especially when two small market teams are in the NBA Finals.
Giannis Antetokoumpo has already been talking about finding a way to win it all again next year and most sportsbooks have already released the betting odds for the 2022 NBA Champions. The Bucks have a lot of important decisions to make this offseason, so what do they need to do to repeat as NBA Champions?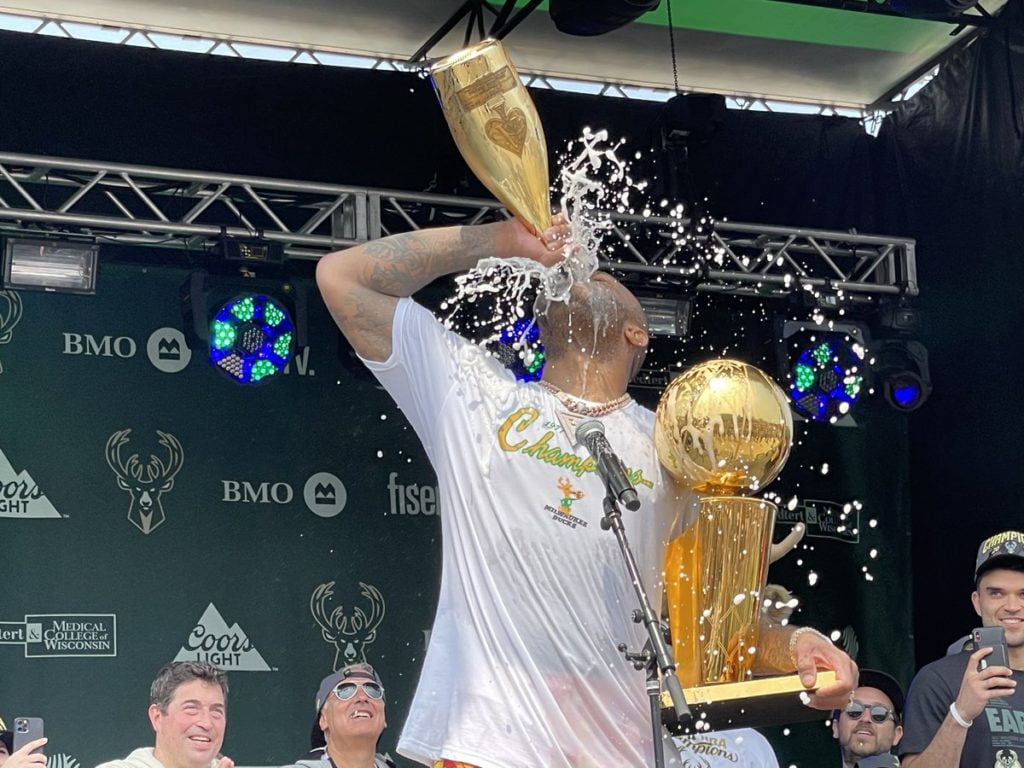 How Can the Milwaukee Bucks Repeat as Champions?
Bucks Free Agents
With the big three of Giannis, Khris Middleton and Jrue Holiday locked up, the Bucks don't have to worry too much about losing a massive piece in NBA Free Agency this summer. With that being said, there are some big pieces that are necessary to bring back.
PJ Tucker
The first piece for Milwaukee is P.J. Tucker. While Tucker wasn't much of a scorer this season, his defense, experience and role as a leader were crucial in the playoffs. His defense on Kevin Durant was nothing short of phenomenal and he's a guy who is worth much more than the box score will indicate.
Game 6 of the NBA Finals was the perfect example. Tucker had no points on one shot attempt, but he ended the game with the highest plus/minus, with the Bucks outscoring the Suns by 13 when he was on the floor. He is an unrestricted free agent, but at the age of 36 and with his adoration for the city and the team, he shouldn't need too much money to sign, if he doesn't retire on top.
Bobby Portis
Another key piece that shares a similar underdog mentality to Tucker is Bobby Portis, and he needs to come back as well for Milwaukee. The tricky part is Portis had an outstanding postseason and is on a player-option worth just under $4 million next season. Not only is he physical down low on both sides of the ball, but he can also hit the three ball. For as good as his play is, his tenacity and heart is what makes him special.
There is no doubt that someone will offer him more. However, the question becomes how much does he love Milwaukee, and how much is being here worth to him? Seeing how he's talked about the fans, the city and the organization, I'd expect him to stay. He did it this year by spurning the Knicks and more money for Milwaukee, so don't be surprised if he does it again.
Cutting Ties
One player the Bucks can cut ties with immediately is Jeff Teague. The veteran guard had no business even being on the court from the second round on, if we're being honest. When Donte DiVincenzo returns from his foot injury, there is no point in having Teague just to sit on the bench. He is unrestricted and should be easy to cut ties with. Someone will likely pay him this offseason, but it shouldn't be the Bucks.
The second player that needs to be off the team next season is Bryn Forbes. The shooter does have a player-option for next season, but at just under $2.5 million. He'll be offered more. He did have a good series against Miami in round one, but outside of that, he was absolutely horrendous. His one job is to shoot the three, as his defense and other offensive skills are lackluster at best. After Miami, Forbes was just 17-72 (23.6%) from deep. When you are a consistent liability, you become a cap casualty for a team that needs to cut money somewhere.
Milwaukee Bucks Draft Targets
If Milwaukee expects Portis and Tucker to return, the front office may find another playmaking guard to put around Giannis would be a good decision. In that case, I can see a guy like Ayo Dosunmu out of Illinois going to Milwaukee at No. 31. He's a big guard that is a solid midrange and okay three-point shooter who can do a bit of everything. He isn't great in halfcourt sets and isn't good as the primary ballhandler. With the big three running the show however, these "weaknesses" don't hurt the Bucks at all. As the winner of the Bob Cousy Award (nation's top point guard) this past season, there is little doubt that he has what it takes.
If the Bucks feel that Tucker, Portis or both decide to leave, Milwaukee will need to get another big man to strengthen their frontcourt. In this scenario, I can see Day'Ron Sharpe as a good fit in the Cream City. He brings plenty of size at 6'11" and isn't exactly skinny, at 265 pounds. While his outside scoring is all but nonexistent, his interior scoring, rebounding and shot blocking makes him a tantalizing prospect, especially with Brook Lopez not getting any younger. He does have some issues when switched onto guards. However, so does Lopez, and the Bucks were still able to find a way to make it work more often than not.
Offseason Plan
The blueprint for a repeat isn't a fun one, but it's a necessary one: stand pat. Bobby Portis and PJ Tucker need to come back. Outside of that, nothing else is really necessary. The other free agents (outside of Thanasis who will almost certainly be back as Giannis' brother) are expendable. With DiVincenzo returning from injury, the Bucks get a starter back and have a full season under their belts with this new starting lineup. They don't need to bring in anyone crazy in free agency, and there is no reason to move up or out of the draft.
Every year, it seems the title "wasn't real" or "doesn't mean anything." Whether you subscribe to the notion or not, one thing is for sure: the Bucks are going to go far again next year too. As the deepest team in the East, and likely the entire NBA, Milwaukee is one of the safest bets in the NBA. Repeating isn't easy, and the Bucks will have a target on their backs, but with Giannis at the helm and not much needed this offseason, another late July parade in Milwaukee is certainly attainable.