NFL DFS picks and props are a great way to make money off of fantasy football for the NFL Playoffs despite your season-long fantasy league already crowned a champion. Having some money on the line will make these games more interesting as well. Get in on the NFL DFS action by playing this Geno Smith NFL player prop, which hits if he completes at least 21 passes. Play this NFL DFS prop on PrizePicks today.
If you are unfamiliar with PrizePicks, we will explain how it works, then break down this Geno Smith fantasy prop.
PrizePicks Payout Breakdown
At PrizePicks, users string together NFL DFS player props into a parlay up to five legs. These picks can be in a single stat or picking over/under fantasy football points using PPR scoring. After forming a parlay, users can select to play it using Flex Play or Power Play.
Flex Play Payout
For Flex Play, users can build a parlay up to five legs and still be paid out if one or more of their picks is incorrect. Of course, less risk means less reward, so the payout is lower:
3 Leg Parlay:

3 Correct = 2.25x, 2 Correct = 1.25x

4 Leg Parlay: 4 Correct = 5x, 3 Correct = 1.5x
5 Leg Parlay: 5 Correct = 10x, 4 Correct = 2x, 3 Correct = 0.4x
Power Play Payout
Power Play is much like a parlay at a sportsbook, where it is all or nothing. Since the risk is higher, the payout is as well.
2 Leg Parlay: 3x Entry Fee
3 Leg Parlay: 5x Entry Fee
4 Leg Parlay: 10x Entry Fee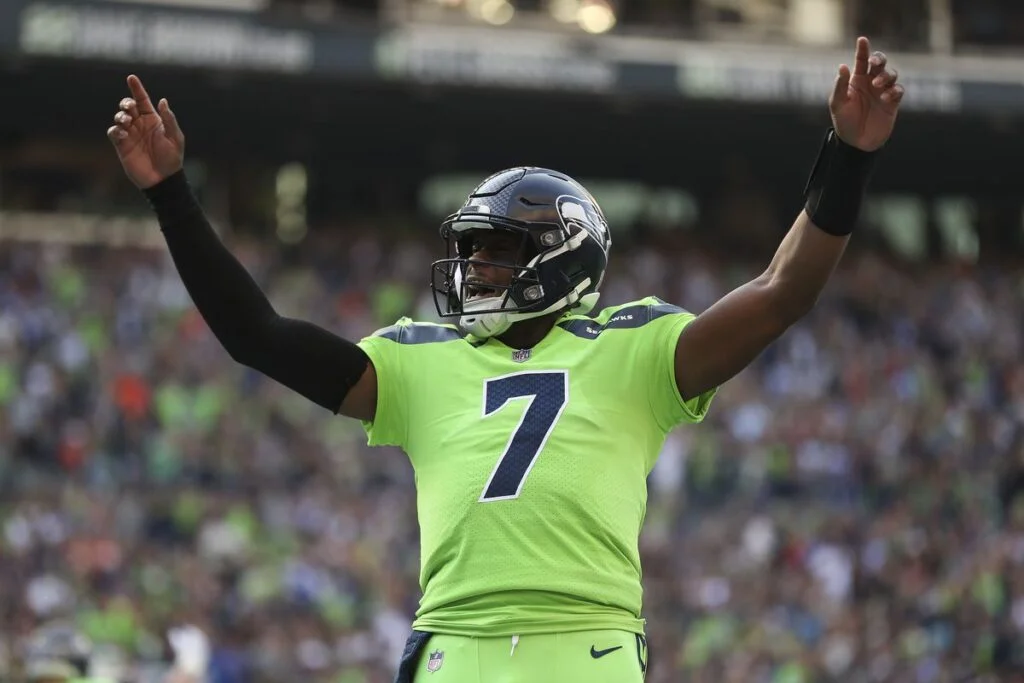 The San Francisco 49ers have an extremely strong front seven, which will make it tough for Seattle to run the ball with success. San Francisco is also the heavy home favorite, so the Seahawks will likely playing from behind in a win-or-go-home matchup. This will lead to plenty of passing attempts for Geno Smith.
Because Geno hasn't been able to force the ball downfield against the 49ers, we actually have seen him complete a lot of passes in the two matchups this season. Back in Week 2, he was 24-of-30 for the game. In Week 15, he was asked to throw the football more, completing 31-of-44 passes.
Look for this game to have a similar result to the first two games. Geno Smith completes a lot of short passes and the 49ers win.
Other NFL DFS Picks For Wild Card Weekend Playoffs
We have other NFL DFS picks for Wild Card Weekend during the NFL Playoffs for you to pair with this Geno Smith fantasy football prop. String all of these picks together to win up to 10x your wager!
Get Your Fantasy Football Awards At TrophySmack!
As the 2022 fantasy football season comes to a close, make sure your league has its fantasy football awards for the winners and losers as well, or get next year's now, from TrophySmack!
If you have never heard of TrophySmack, where have you been? After getting a deal on Shark Tank, TrophySmack has been the preferred destination for the most customizable trophies, championship belts, rings, champ chains, metal wall art and more!
Click our link and use the promo code FLURRY at checkout to get a free ring ($59 value) with a trophy purchase!