This Sunday is a big one in the world of racing as the NASCAR Cup Series descends on Talladega Superspeedway. After three straight weeks of short track racing, Sunday's Geico 500 will be anything but. With high banking and the fastest average race speed on record, 'Dega is truly a superspeedway. While the NASCAR betting odds may favor the most recent winner at the track, literally anyone could find their way to victory lane, so long as they avoid the inevitable "Big One". It's all part of what makes tapered spacer racing so fun to watch.
Read on for a breakdown of the NASCAR odds and best NASCAR betting plays for Sunday's race at Talladega.
Geico 500 Race Info
51st Geico 500
Date: Sunday, April 25, 2021
Start Time: 2 p.m. EST
Track: Talladega Superspeedway — Lincoln, AL
Coverage: FOX
Distance: 500.08 miles
Stages: Three (Laps 1-60; Laps 61-120; Laps 121-188)
Pole Sitter: Denny Hamlin
Defending Champion: Ryan Blaney
Check out the complete Geico 500 starting lineup and race stats!
Geico 500 NASCAR Betting Odds
Sunday's race at Talladega Superspeedway will be the second tapered spacer race of the season. Only two tracks on the entire series circuit utilize this setup with the other being Daytona International Speedway. The pack racing and drafting that the setup produces has a way of keeping the entire field bunched up together for the duration of the race. As long as you are around at the end, you have got a shot to win. Because of this, even the NASCAR betting odds for those drivers considered to be the favorites to win are longer this week than for most other races.
With that being said, one could make an argument that this week's NASCAR betting favorite is shorter than we see for most superspeedway races. Denny Hamlin (+650) has dominated the 2021 Cup Series season so far. His 434 points lead second-place Martin Truex Jr. (+2200) by over 80 in the standings. Hamlin has eight top-5 finishes in the nine races run so far this season. He has done literally everything best except when it comes to winning a race. The No. 11 was victorious in last fall's race at 'Dega and Hamlin also has bagged several wins at Daytona. He knows how to run at the superspeedways, but it is unusual to see NASCAR odds lower than 7-1 for a Talladega race.
Penske Power
Dig into some lists of recent winners and driver stats at Talladega Superspeedway and the Team Penske trio aren't hard to find. In fact, all three Penske Fords have managed to win twice in the last ten races at the Alabama track. It should come as no surprise that all three don't lag far behind Hamlin in the Geico 500 NASCAR betting odds.
Joey Logano (+900) won this race in 2018 as well as the 2016 fall race. He tops all Cup Series drivers in average rating over the last six 'Dega races by over 12 points. Ryan Blaney (+1000) won this race last year as well as the fall race in 2019. Finally, Brad Keselowski (+1100) has five career wins at Talladega to lead all current NASCAR Cup Series drivers.
Superspeedway Long Shots With Bark
Why are the odds on favorites always longer at superspeedways? Because any driver could steal a victory. Just ask this year's Daytona 500 winner Michael McDowell (+5000), who was priced at 66-1. The No. 34 Front Row Motorsports team is once again a NASCAR betting longshot to win the Geico 500, but McDowell has proven on more than one occasion that he knows how to hang tough in these races.
McDowell is far from the only intriguing longshot on the board though for this weekend. Matt DiBenedetto (+3000) will be working in tandem with the three Team Penske drivers throughout the race. Driving for the Penske affiliate Wood Brothers Racing, DiBenedetto has good power under the hood and also is coming off a strong run at Richmond.
---
🔊 Listen to Burnt Rubber Racing wherever you get your podcasts!
---
Two other longshots worth mentioning are Ross Chastain (+6600) and Daniel Suarez (+6600). Chastain posted a 7th place finish in the Daytona 500 and has a good teammate in Kurt Busch (+2200) who typically runs well at 'Dega. In a similar light, Suarez drives for the Roush Fenway Racing affiliate Trackhouse Racing Team. With Chevy power, superspeedway skill and a helpful "teammate" in past Daytona 500 winner Austin Dillon (+3000), the No. 99 car could be one to watch.
Read our Talladega Superspeedway overview article for a thorough history and analysis of the longest oval track on the circuit!
Geico 500 NASCAR Betting Picks
Geico 500 Race Winner: Matt DiBenedetto (+3000)
I've bounced around on who to include in this column as my pick to win. At 30-1 odds, Matt DiBenedetto is far from the Geico 500 favorite. Yet, I believe he has the right combination to pull off a victory. While DiBenedetto's statistics at Talladega Superspeedway aren't particularly inspiring, it's important to remember that the vast majority of his races came with lower-level equipment. Driving the No. 21 for Wood Brothers Racing not only ensures him of sound equipment but it also helps from a gameplan standpoint. A driver who once struggled to find willing draft partners now gets to work in tandem with his pseudo teammates from the Team Penske garage. That trio has combined to win six of the last ten Talladega races. Don't sleep on Matty D this Sunday when making your NASCAR betting picks.
Other Geico 500 NASCAR Betting Picks
Top 10 Finish: Aric Almirola (+105)
Aric Almirola owns the best average finish in the last ten races at Talladega of any driver. He very nearly won this race a year ago and did win the fall run here back in 2018. Prior to wrecking out of the 2020 fall race, Almirola had strung together a streak of eight straight top-10 finishes at 'Dega. Look for him to be strong again on Sunday.
Top 10 Finish: Kurt Busch (+145)
Kurt Busch owns the second-best average driver rating over the last six Talladega races. Over a larger sample size of the last ten races, he has finished top-10 on six occasions including a runner-up showing back in 2018. I am fully confident the Chip Ganassi No. 1 can have a strong run once again this weekend.
Top Toyota Car: Denny Hamlin (+100)
I just can't get excited about +650 outright odds at a superspeedway, even when it is Denny Hamlin. That being said, Hamlin figures to easily be the class of the seven Toyotas on track this weekend. With this play, we whittle a 40-man race down to seven and still are getting even-money odds.
Best Finish in Group C: Ricky Stenhouse Jr. (+250)
This might be the highest we see Ricky Stenhouse Jr.'s name appear in groups all season. When it comes to stats, he is by far the class of this four-man pod. Yet, he is not considered the NASCAR betting favorite. I have a hard time getting excited about either Kevin Harvick or Martin Truex Jr. at a superspeedway. I'll take a shot that Stenhouse can run better than last week's winner Alex Bowman.
---
Follow us on all of our social channels! Check out our Twitter, Facebook and YouTube for more great FlurrySports content.
---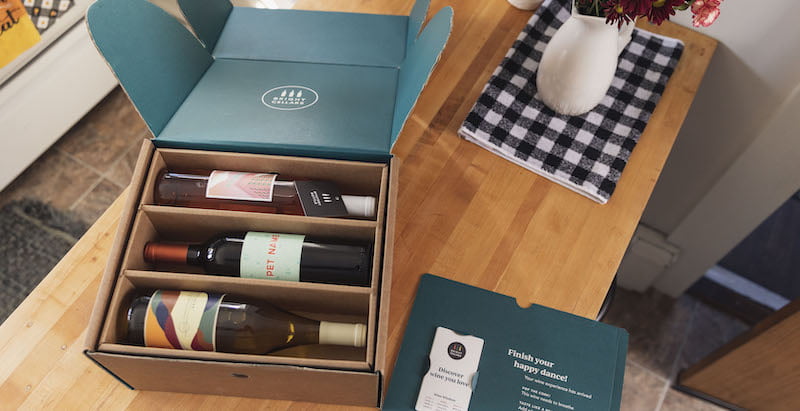 Get 50% off your first curated six-bottle case of wine at brightcellars.com/flurrysports!