After three hectic, drama-filled days, the 2021 NFL Draft has concluded and teams rosters becoming clearer for this NFL season. The Green Bay Packers completed the weekend with nine draft picks.
Let's take a look at the Green Bay Packers draft picks in the 2021 NFL Draft.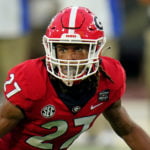 Packers Draft Picks 2021
Round 1, Pick 29 | Packers Draft
Packers fans may not be happy with the pick, since it doesn't immediately look to make Aaron Rodgers happy. It also fully contradicts everything the front office has said about Kevin King, and the now-apparent idea to move Jaire Alexander to the star role is a questionable one. However, Eric Stokes is a physically-gifted cornerback that fills a need. Offensive line looks like it would have been a better pick here, but it's possible Green Bay makes moves in the second round to fill that need.
For now, we'll just say Stokes is a quality pick, Kevin King's re-signing was mind-numbingly bad and Brian Gutekunst is the voice box for a God awful Packers front office. I feel like that analysis covers all bases here.
Grade: B
---
Round 2, Pick 30 (62)
IOL Josh Myers, Ohio State
---
Round 3, Pick 22 (85)
---
Round 4, Pick 37 (142)
OL Royce Newman, Mississippi
---
---
Round 5, Pick 29 (173)
DT Tedarrell Slaton, Florida
---
Round 5, Pick 34 (178)
CB Shemar Jean-Charles, Appalachian State
---
Round 6, Pick 30 (214)
OL Cole Van Lanen, Wisconsin
---
Round 6, Pick 36 (220)
LB Isaiah McDuffie, Boston College
---
Round 7, Pick 29 (256)