The NFL's first 18-week season has come and gone. In one week's time, the winners of this year's NFL awards will be announced at the 10th annual NFL Honors ceremony. You can watch the presentation next Thursday, February 10th at 9 p.m. EST on ABC, the NFL Network and ESPN+. This will take us nicely into the Super Bowl weekend.
After covering the league all season long and doing their best to give you some winning NFL picks along the way, the FlurrySports team has submitted their final selections for who they think should win each award. For those interested, you can also revisit each analyst's respective midseason NFL awards picks by CLICKING HERE.
FlurrySports NFL Awards Picks
Making picks for the NFL awards are Zach McAdoo, Luke Reimer, Hunter Skoczylas, Henry John, and Trevor Land.
MVP | NFL Awards
Aaron Rodgers
McAdoo: Rodgers is the sole reason why the Packers earned the 1-seed in the NFC. He has carried the team this season. You can and should make a case for Cooper Kupp, but ultimately, it is not his award. Rodgers deserves to win the NFL MVP once again.
Reimer: After an offseason of confusion and uncertainty, Rodgers has put together one of the best seasons of his career. Leading the Packers to the 1-seed in NFC while throwing for 4115 yards and 37 touchdowns is no easy feat.
Skoczylas: Many likely believe this is a toss-up between Aaron Rodgers and Tom Brady but I think Rodgers deserves to win it back-to-back. He is fourth in passing touchdowns and has only thrown four interceptions, which is significantly lower than any other starting quarterback. Surrounding a dramatic and tense offseason, Rodgers came out and showed how deadly he can be.
John: They may call Tom Brady the G.O.A.T. and Patrick Mahomes the future, but Aaron Rodgers is by far the best quarterback in the NFL today. Not only did he have a better statistical season than any other player at the game's most important position, but he did so at 38 years of age. Shame on every MVP voter who casts a ballot for someone other than Rodgers because it isn't even close.
Land: There's no other option really. Not only is the award given to the best player on the best team consistently, but Rodgers also has the stats to back it up. Rodgers is better than Tom Brady in completion percentage, touchdown percentage, interception percentage, passer rating, QBR, EPA/play, and many other efficiency stats. Simply put, Rodgers is better than Brady by a long shot and no one else is even close.
Offensive Player of the Year | NFL Awards
Cooper Kupp
McAdoo: Kupp absolutely made DBs look silly this season on his way to 1,947 yards and 16 touchdowns. Kupp earned the triple crown as he led the league in those categories along with receptions. Give Kupp the recognition he deserves.
Reimer: Kupp put together one of the best receiving seasons in NFL history. Over 1,900 yards and 16 touchdowns prove that Kupp has been the most effective non-quarterback this season. He also won the receiving triple crown.
Skoczylas: Jonathan Taylor will certainly receive some nods for OPOY, but it's clear that Cooper Kupp will win. He leads the league in nearly every receiving category including receptions, receiving yards, touchdowns and catches of more than 20 yards. He's been unstoppable all season and developed a very unique and deadly chemistry with Matt Stafford.
John: I'm as much a fan of the hard-hitting, old-fashioned style of NFL football as anyone. However, Cooper Kupp has to receive recognition for what was one of the best seasons by a receiver in league history. He won the receiving triple crown and shattered fantasy football records along the way. Kupp was so good that the Rams lost fellow wideout Robert Woods to a season-ending injury and kept right on rolling offensively. Since Jonathan Taylor ultimately fell short of 2,000 yards rushing, Kupp is the choice.
Jonathan Taylor
Land: What Jonathan Taylor has done is nothing short of incredible. The only hurdle for him this season was his own coach refusing to give him the ball at times. Taylor has over 1,800 rushing yards and 20 total touchdowns. While Cooper Kupp has also been phenomenal, we haven't seen a performance like this out of a running back other than Derrick Henry in quite some time.
Densive Player of the Year | NFL Awards
T.J. Watt
McAdoo: How can you not give it to the guy who tied the record in sacks with 22.5? T.J. Watt dominated opposing offensive lines this year and helped the Steelers get to the playoffs. He is the DPOY hands down.
Reimer: Watt tied the record for the most sacks in a season with 22.5. He did so despite playing only 13 games. Watt was huge reason why the Steelers were able to get back to the playoffs again.
Skoczylas: At the midway point of the season, this award was between Myles Garrett and T.J. Watt, with Garrett having the edge. Fast-forward to the end of the year and it's clear that Watt will secure the award now. He finished with 22.5 sacks on the season despite missing two games. He also forced five fumbles, recovering three of them. He was an unstoppable force and will be for years to come.
Land: With all due respect to everyone else in the race, it was over before Week 18. In two fewer games than Micah Parsons, Aaron Donald, and Myles Garrett, T.J. Watt finished with the most sacks, tackles for loss, forced fumbles, fumble recoveries, pass deflections, and quarterback hits. He also did it with over 150 snaps less than the next guy out of those four. Nobody even touches Watt this season.
John: Records are meant to be tied and broken. Then again, some records certainly have greater longevity than others. Coming into this NFL season, many analysts expected several records to fall thanks to the league adding a game. Well, T.J. Watt tied Michael Strahan's single-season sacks record of 22.5 despite missing two games. Oh, and Strahan played all 16 games the year he set that record. Give Watt his recognition.
Comeback Player of the Year | NFL Awards
Joe Burrow
McAdoo: Joe Burrow must've read the midseason awards predictions and decided he did not like what he saw. The guy absolutely turned it on in the second half and torched the Ravens and the Chiefs down the stretch to lead the Bengals to the division title. Meanwhile, Dak Prescott looked like garbage down the stretch and it cost him.
Skoczylas: I sense some backlash coming my way for not choosing Dak Prescott, but Burrow's closing games were unbelievable. He ended the season with 34 passing touchdowns and the second-highest passer rating among starting quarterbacks. Burrow led the Bengals to the division crown at least a year ahead of schedule.
John: There was a time when it didn't even look like Joe Burrow would be ready for the start of the season. To not only be ready but play at a higher level than he did before having his knee completely severed is truly remarkable. There was also a time when the Bengals were the only team people thought had no shot at winning the AFC North Division. Well, here we are. And trust me, it was no thanks to the offensive line "protecting" Burrow either.
Land: He played better than Dak Prescott with no offensive line in a tougher division. This alone gives Burrow the nod in my book.
Nick Bosa
Reimer: Nick Bosa came back from a torn ACL and was a better player than before. To record 15.5 sacks, force four fumbles and lead one of the best defensive lines in the NFL is incredible just one year removed from a severe knee injury.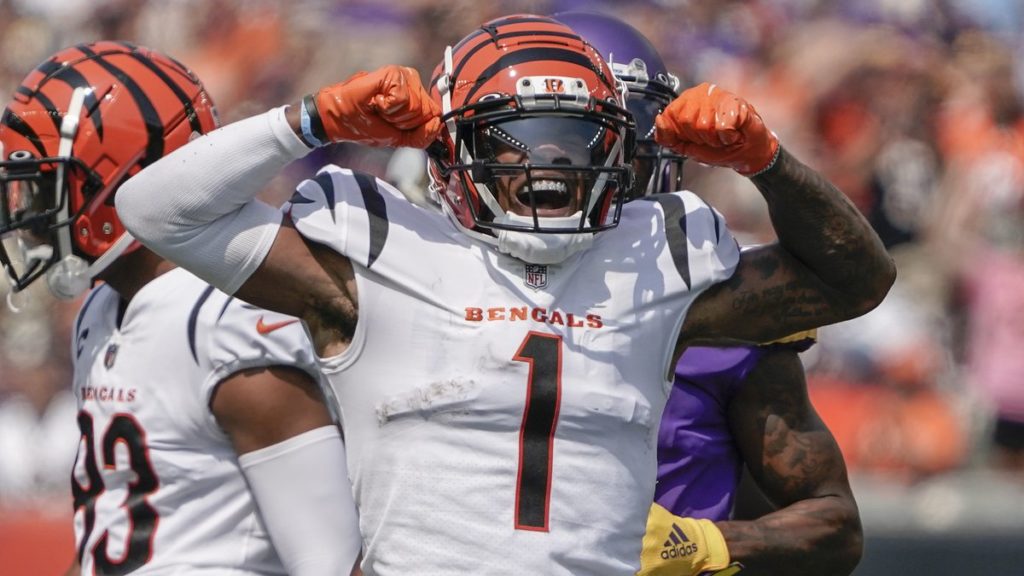 Offensive Rookie of the Year | NFL Awards
Ja'Marr Chase
McAdoo: Ja'Marr Chase went off down the stretch right along with his teammate, Joe Burrow. Chase took over the OROY award when he had a career game against the Chiefs. Mac Jones faltered from then on and it is now Chase's award to lose.
Reimer: Although I don't know that anyone of the rookies on offense totally stood out to me this season, Chase has to be the pick. To break Chad Johnson's franchise record in your first season is definitely worth noting. I also liked how Chase was able to silence some of the takes that believed Cincinnati should have taken an offensive lineman in last year's draft instead of him.
Skoczylas: This is an absolute no-brainer. Ja'Marr Chase ranks fourth in receiving yards and second in touchdowns. He broke Chad Johnson's franchise record for receiving yards last week and is Burrow's clear No. 1 target. No other rookie even comes close to Chase and he'll be breaking a ton of records throughout his career.
Land: For a long time I had this award going to Mac Jones. With the recent explosion to end the season it has to go to Ja'Marr Chase. I don't think he's that great of a receiver overall but his stats speak for themselves. With over 1,450 yards and 13 touchdowns this season, it's hard to believe the vote will even be close anymore.
Mac Jones
John: Sure, the latter part of Mac Jones' season wasn't nearly as impressive as the first three quarters. The same can be said for the entire New England Patriots team. The fact that Jones played the most important position on a team that fell just one game short of winning its division is top-notch stuff for a rookie. He threw for over 3,800 yards (13th most of any QB), had 22 touchdowns compared to only 13 interceptions and completed over 67% of his passes. Jones was more consistent over the full season than Ja'Marr Chase who will likely win the award on the back of a late-season high. As for me, I prefer receivers who don't push off on every other route they run.
Defensive Rookie of the Year | NFL Awards
Micah Parsons
McAdoo: Is this really up for debate? Micah Parsons is clearly going to win the award that they took DROY betting off the sportsbooks. Parsons is the clear and away DROY.
Reimer: This is maybe the easiest pick for me. It felt like there were not a lot of standouts on either side of the ball from the rookie class this year. That is taking nothing away from Parsons. He did a little bit of everything for Dallas' defense, lining up at linebacker, end, safety and even corner.
Skoczylas: This is another no-brainer. Micah Parsons came in and made an immediate impact on the Cowboys' defense, specifically their pass rush. He ended with 13 sacks, three forced fumbles and 79 combined tackles. He is extremely versatile and will be a force to be reckoned with for years to come.
John: Dan Quinn didn't fix the Cowboys' defense. Trevon Diggs didn't have a ton of interceptions because of great coverage. Dallas' defense was only improved this season thanks to Micah Parsons. How often does a rookie creep into the conversation for outright NFL Defensive Player of the Year? Parsons literally closed as the second DPOY choice according to consensus Las Vegas betting odds. This award was over at the midway point of the season.
Land: This may be the biggest blowout of all the awards. For a rookie to be firmly entrenched in the DPOY debate is all you need to give him the award. Micah Parsons completely turned around this Cowboys defense. Parsons has made an impact that we see once in a blue moon among rookies.
Coach of the Year | NFL Awards
Mike Vrabel
Skoczylas: Mike Vrabel was my choice at the midseason mark as well and my choice still stands. Many believed the Titans defense was going to be a dumpster fire entering the season and it wasn't great but the Titans ended as the No. 1 seed in the AFC. Not to mention overcoming adversity with their star running back, Derrick Henry, going down with an injury midway. The Titans faced many injuries, COVID-19 related issues and still came out on top. He deserves recognition for that.
John: In Mike Vrabel, we are literally looking at the second coming of Bill Belichick. This season, the former player outperformed his old coach on the sidelines. While the Patriots faded as a team down the stretch, the Titans kept it together. Winning a division title is never easy, and Tennessee did so despite playing without their best player for half of the year. In addition to Derrick Henry, the Titans also played several games without top receivers A.J. Brown and Julio Jones. Vrabel also deserves a ton of credit for turning around what was one of the worst defenses in the NFL a year ago. Clinching the 1-seed in the AFC put this award pick on ice for me personally.
Matt LaFleur
Reimer: I am in the mindset that the team with the best record should almost always have the coach of the year. In some cases, the coach is the hindrance. Not in this case though. When LaFleur was signed by the Packers, the questions about his and Rodgers' relationship came. Those questions were answered this year as it all came together for the Packers, including sweeping the NFC West and AFC North, two of the best divisions in football.
Land: I don't think Matt LaFleur is a great coach but the award has to go to him. Based on precedent, it has to be LaFleur. He led the best team and has won 13 games for the third time in a row, the first team to ever do it. Although he has Rodgers, McCarthy went 23-24-1 in his last three seasons with Green Bay. LaFleur is 39-10. It isn't just Rodgers, it's LaFleur too.
Rich Bisaccia
McAdoo: I do not think that Rich Bisaccia is going to win, but he should. The number and type of distractions that the Las Vegas Raiders endured throughout the season were unprecedented. The fact that they capped the wild season off by making the playoffs was truly incredible. Bisaccia ended the year going 7-5 as the interim head coach after a 3-2 start. The team did not quit and won each of their last four games to make the postseason. Bisaccia has a legitimate case to be in the COTY discussion.