The college football season is officially beginning in Gainesville! The Florida Gators will open their 2021 season at home against the FAU Owls on Saturday night in a 7:30 pm Kickoff. The Gators will have a bunch of fresh faces on their roster for this Florida Atlantic vs Florida matchup, after losing eight starters to the 2021 NFL Draft.
FAU finished last season with a 5-4 record, including a loss to the Memphis Tigers in the Montgomery Bowl. The Gators are 3-0 in their history playing against the Owls and will look to make it 4-0 after Saturday night's game.
Let's take a closer look at this Florida Atlantic vs Florida college football matchup, as well as give our picks and predictions for the Week 1 game.
Florida Atlantic vs Florida College Football Preview and Predictions
FAU Football Preview
The Owls will be led by head coach Willie Taggart, who's in his second season as the Florida Atlantic football head coach.
Owls Offense
The FAU offense will be led by N'Kosi Perry, their graduate transfer quarterback out of Miami. Perry was part of the Cane offense for the last three years. However, he isn't all that accurate, and that's a problem – FAU quarterbacks combined to hit just 53% of their passes last season. However, getting WR John Dunmore, a former Penn State recruit, should help. Dunmore needs to stretch the field for a passing attack that averaged fewer than 11 yards per catch last season. FAU also gets back 6-4 wideout John Mitchell after he missed all of last season with an injury.
The Owls return senior running back James Charles who led the Owls in rushing last season in nine games played. He had 92 carries for 429 rushing yards and four touchdowns.
Owls Defense
FAU returns 13 of their top 14 tacklers from last season. This is good news, considering they allowed just 342 yards and 17 points per game. The defense was great against the pass, solid against the run and the best in Conference USA at getting to the quarterback.
The one key lost part is top pass rusher Leighton McCarthy, but all-star end Jaylen Joyner came up with six sacks in a big sophomore season on the front three. The line is also anchored by 6-3, 355-pound Evan Anderson at nose.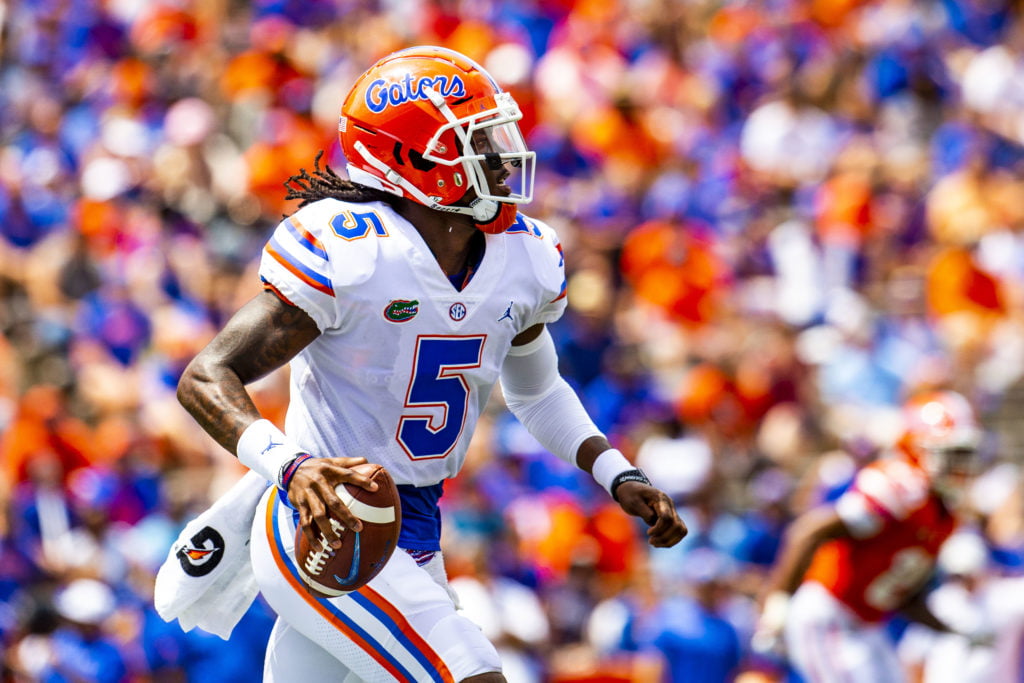 Florida Football Preview
Gators Offense
The Florida Gators will look to open their 2021 season with a hot start, especially on offense. This year's offense will look much different than last year's. While Kyle Trask threw all over the field last season, he didn't have much running ability. That will chance with Emory Jones, the redshirt junior. While it's unlikely Jones approaches Trask's prolific passing numbers in year one as a starter, he can be a threat on the ground as well as the air.
In his three seasons at Florida, Jones has completed 55-of-86 passes for 613 yards, seven touchdowns and an interception. On the ground, Jones has 92 carries for 514 yards, averaging 5.6 yards per carry, and six touchdowns.
The Gators will return a very deep backfield that added an extremely talented running back from the transfer portal. Former five-star recruit and Clemson Tiger Demarkus Bowman will play at Florida this year. Bowman should get some touches this season, but the two starters listed on Florida's depth chart are Dameon Pierce and Malik Davis, so a better rushing attack from the Gators this season seems likely. Bowman could end up being the best out of this group when it's all said and done, as he was a five-star recruit for a reason.
The Gators lost a lot of receiving talent, with the departures of Kyle Pitts and Kadarius Toney. This year, Florida is expecting junior wide receiver Jacob Copeland to Florida's top receiver. Two other wide receivers to watch on Florida's roster are Trent Whittemore and Xzavier Henderson. This group has a chance to shine in their first game versus the Owls, who have some questions to be answered on defense.
Gators Defense
The Florida defense is coming off a historically awful 2020 season, as they gave up over 30 points per game. The Gators have made some coaching changes and added some transfers to fix their issues.
Florida's defense is still very talented, but they must to communicate better and make sure they are not out of position like they were last season. Linebacker Ventrell Miller led the Gators in total tackles, with 88. He also had 52 solo tackles, 7.5 tackles for loss, 3.5 sacks, three pass breakups and a fumble recovery.
The main man on Florida's defense is cornerback Kaiir Elam. The junior out of The Benjamin School was voted as a Second Team Preseason All-American and is projected to be a first round pick in the 2022 NFL Draft. Elam had two interceptions last season, which was tied for team-best, but also had 11 pass breakups, which was tied for team-best. He is going to be the leader of this secondary, with plenty of other talent backing him up.
Florida Atlantic vs Florida College Football Players to Watch
FAU Football Players to Watch
WR TJ Chase
LB Chase Lasater
QB N'Kosi Perry
DE Jaylen Joyner
RB James Charles
Florida Football Players to Watch
QB Emory Jones
LB Ventrell Miller
WR Jacob Copeland
DE Zachary Carter
RB Dameon Pierce
Florida Atlantic vs Florida College Football Predictions
This game should be a fun one, but the Gators should be in control throughout. Here are four bold predictions for this Week 1 college football game.
Emory Jones has over 400 yards of total offense and three touchdowns.
Florida's defense gets at least four sacks.
Chase Lasater leads both teams in tackles.
Gators win, 48-13.
---
Follow us on all of our social channels! Check out our Twitter, Facebook and YouTube for more great FlurrySports content.