Another week of the season has wrapped up, and yes, the injury total has increased yet again. Tarik Cohen tore his ACL and will be out for the remainder of the season, along with small, uncertain, injuries to players like Diontae Johnson (concussion), John Brown (calf) and Dallas Goedert (ankle). This makes the Week 4 fantasy football waiver wire pickups that much more important.
Here are my top Week 4 fantasy football waiver wire pickups that are worth adding, if you've been hit with any of these injuries thus far.
And of course, some players that are worth dropping, but by no means are must drops.
Players must be owned in less than 60 percent of ESPN leagues to be included in the fantasy football Week 4 pickups column. All ownerships for waiver wire players will be provided and will reflect that of Monday evening.
Quarterback Waiver Wire Pickups
Nick Foles, Chicago Bears (0.9%)
In the Week 3 pickups article, I suggested picking up Mitchell Trubisky, who had a great matchup against Atlanta, a defense that allowed 35+ points in their first two matchups. But after his third quarter interception, HC Matt Nagy pulled him out of the game and put in Nick Foles, who then threw three touchdowns in the fourth quarter alone and overcame a 20-point deficit to win the game, 30-26. With that being said, Foles looks to be a solid fantasy option moving forward. His next four games are against IND, TB, CAR and LAR. Foles will increase the fantasy value of those around him, and if the Bears are playing from behind, he'll likely get the job done. He's rostered in less than 1% of ESPN leagues, so it isn't much of a risk to grab him in deeper leagues.
Joe Burrow, Cincinnati Bengals (53.0%)
Through three games, Burrow is second in the league in pass attempts with 141 behind only to Dak Prescott's 144. The Bengals offense has plenty of talent, but not enough protection for them to be consistent. If they continue the trend, Burrow is a solid fantasy option to roster simply because of his volume. He plays the Jaguars in Week 4, a defense that allowed Ryan Fitzpatrick to complete 90 percent of his passes and put up 25 fantasy points. With weapons around him like A.J Green, Tyler Boyd, Tee Higgins, and Joe Mixon, Burrow is going to put up good numbers fantasy-wise regardless of who they play. If he keeps this trend of throwing 35+ times per game, the stats will be there.
Justin Herbert, Los Angeles Chargers (15.5%)
In Herbert's unexpected first start in the NFL, he almost took down the reigning Super Bowl champions, but fell short. In Week 3, he struggled with protecting the ball, resulting in one interception and one fumble, but still threw for over 300 yards, completing 71 percent of his passes. He's got some talent, but like all rookies, has some of his game to clean up. With Tyrod Taylor's complications with his punctured lung, Herbert's starting job is safe until at least Taylor's healthy. He plays TB, NO, NYJ and MIA in his next four games. If Herbert can clean up his turnovers and decision-making, he'll be a great fantasy option, especially since he can pick up points on the ground.
Running Back Waiver Wire Pickups
Myles Gaskin, Miami Dolphins (45.8%)
If you're going to own any member of the Dolphins backfield this season, it has to be Myles Gaskin. Despite signing both Jordan Howard and Matt Breida in the offseason, Gaskin has led the backfield in total snaps, carries and rushing yards thus far. He has also proved useful in the pass game, as he's caught 15 balls for 91 yards through three games, deeming him as a solid PPR fantasy threat. Miami has some tough matchups coming up with SEA, SF, DEN, but the Dolphins are well-coached, so they'll likely keep up with their opponents for the most part, and Gaskin will be a part of that. He is Fitzpatrick's security blanket and has shown that he can be a contributor to their success. If he's available in your league, grab him as the Dolphins have favorable matchups after their rough next few games.
Rex Burkhead, New England Patriots (21.0%)
It's always risky to estimate who will be the lead back in New England, as Cam Newton leads the team in carries through the first three games, but a consistent and dependable option is Rex Burkhead. He hasn't been given many carries thus far, but he makes the most of his opportunities when they're given to him. However, in Week 3, he exploded for 34.8 fantasy points in standard ESPN leagues, rushing six times for 49 yards and two touchdowns while reeling in seven catches for 49 yards with a touchdown as well. The Raider's run game is weak but this is definitely a standout performance for HC Bill Belichick to consider moving forward. Burkhead seems to mesh well with Cam Newton's style of play, so taking a gamble on stashing Burkhead could pay off if he ends up leading the backfield.
Brian Hill, Atlanta Falcons (1.7%)
Being the backup option has obviously dampened Hill's fantasy performances thus far, but like Burkhead, he makes the most of his opportunities averaging 5 yards per carry through the first three games. Although he's only carried the ball 15 times and caught only five receptions this season, he's a solid stash option moving forward. Todd Gurley doesn't look nearly as explosive as he used to, and it's possible that Hill gets a little more involved. The Falcons are struggling to seal games, so if the trend of losing continues, they could give Hill some extra reps. He's by no means a starter on a fantasy team, but if Gurley were to go down with an injury, he'd be the main back in their offense.
Wide Receiver Waiver Wire Pickups
Allen Lazard, Green Bay Packers (39.0%)
Aaron Rodgers has this superpower to make any wide receiver in the world look amazing, and that's the case with Allen Lazard. With Davante Adams sitting out against the Saints, Lazard stepped up in a big way reeling in six catches on eight targets for 146 yards and a touchdown. If Adams' injury is worse than expected and he misses more time, Lazard will be the WR1 for Green Bay. Not to mention, Green Bay plays Atlanta in Week 4 who have allowed an average of 36 points through the first three games of the season. Rodgers is playing like he's got something to prove, and Lazard will be a big part of that, even with Adams active. 
Curtis Samuel, Carolina Panthers (40.0%)
Curtis Samuel is one of those guys that should be labeled as a WR/RB in fantasy football because he's used in the run game quite a bit more than many other wide receivers in the league. With Christian McCaffrey out with injury, the Panthers will have to look for more efficient ways to run the ball outside of Mike Davis, who is used primarily in the passing game. His next few matchups include ARI, ATL, and CHI, teams that could surrender more rushing yards than his previous two matchups. He is still used in the pass game with 11 catches on 14 targets through three games, and it's likely to keep increasing the further we get into the season. Stash him and see how his usage pans out in the next few games.
Justin Jefferson, Minnesota Vikings (33.5%)
Finally, the Vikings first round pick broke out with a seven catch, 175 yard, and one touchdown performance in Week 3 against Tennessee. His first two games were lackluster but that's mainly at fault of Kirk Cousins' performances. If he stays consistent, Jefferson will be a huge part of that. Adam Thielen still exists, but he hasn't looked great, while Jefferson is more of a big-play guy. Jefferson will likely pan out to be very similar to Diggs' playstyle, so hopefully Cousins looks his way more often. If presented with the opportunities, he'll get it done and will be a solid fantasy option moving forward. He's worth the look to start in deeper leagues as a WR3/flex option.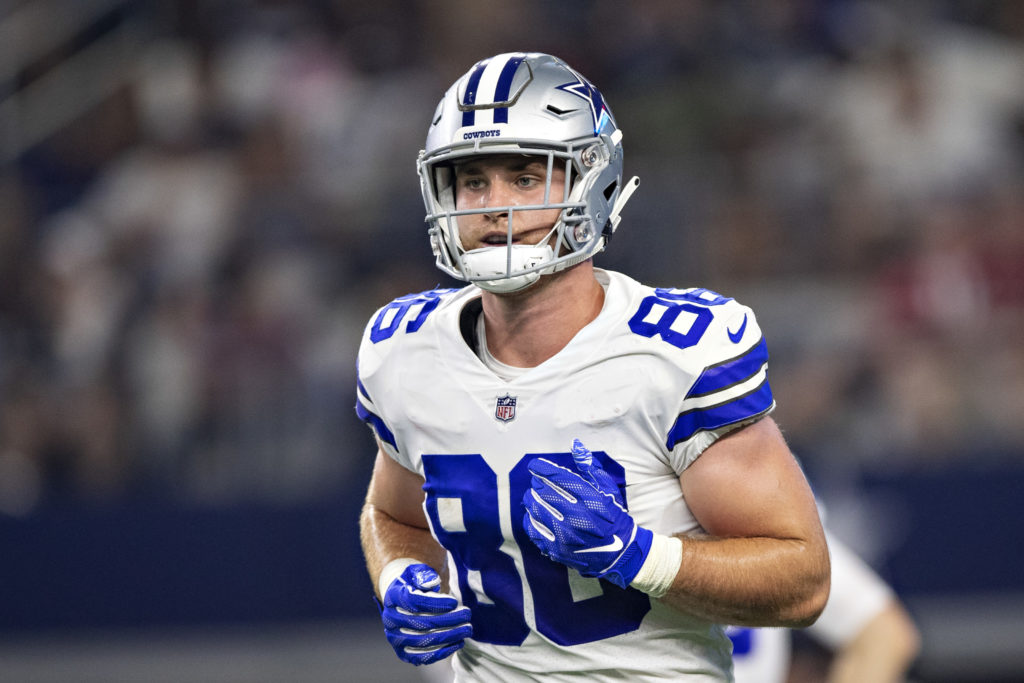 Tight End Waiver Wire Pickups
Dalton Schultz, Dallas Cowboys (24.1%)
In his two games as a starter, he's grabbed 13 catches on 16 targets for 136 yards and a touchdown. In the way-too-overpowered Cowboys' offense, Schultz seems to be a big part of it. Dak Prescott seems to value the tight end position, and with Blake Jarwin out for the year, Schultz could end up being a top 10 fantasy tight end this season. The Cowboys have had back to back high-scoring games but that looks to slow down a bit with their next two matchups being against CLE and NYG. Prescott's 2020 season has been impressive to say the least and there are no signs of him slowing down. Schultz is certainly worth the add in all leagues because he's been targeted regularly the last two games, so the usage is there.
Mo Alie-Cox, Indianapolis Colts (8.6%)
The Colts didn't need to pass much in Week 3 because of their solid defensive play but Alie-Cox still had a good fantasy day. He caught all three of his targets for 50 yards and a touchdown, while coming off a 5 catch 111 yard performance last week. With Jack Doyle's injury seems to be lingering, Alie-Cox could earn the starting job if he keeps making the most of his opportunities. The Colts are led by Philip Rivers, who loved his tight end position throughout his career with Antonio Gates and Hunter Henry, so it seems quite likely that Alie-Cox will become one of his, if not his favorite target for the season. He's worth the stash to see how things pan out with Doyle.
Week 4 Drop Candidates
QB: Mitchell Trubisky, Carson Wentz, Dwayne Haskins Jr.
RB: Tarik Cohen (out for the season), Kerryon Johnson, Nyheim Hines
WR: Sterling Shepard, Emmanuel Sanders, Christian Kirk
TE: Austin Hooper, Jack Doyle, Jordan Reed
---
More Articles
Do the Eagles Trust Carson Wentz?
Fantasy Football Week 3 Start/Sit
Week 3 Fantasy Football Rankings
Devonta Freeman Signs With Giants