The start of the 2021 NFL season is rapidly approaching, and right along with it comes the return of fantasy football. Drafts will be happening around the clock over the next several days in preparation for the season ahead. While it is vital to treat fantasy football drafts as a living organism of sorts and make appropriate adjustments in the moment, owners can set themselves up for success by formulating a plan of attack beforehand. The following pits two wide receivers head-to-head in a fantasy football ADP value battle. Read on to see whether Stefon Diggs or Allen Robinson is the preferred WR1 target in fantasy drafts at their current ADP values.
Stefon Diggs vs Allen Robinson Fantasy Football ADP Value Battle
Note: All ADPs and ranks reflect a 12-team, PPR draft format
Stefon Diggs Fantasy ADP: 2.02
ADP Position Rank: 3
Overall Rank: 14
There were high hopes throughout the Western New York region when the Buffalo Bills traded for star wideout Stefon Diggs last offseason. Many believed the Bills to be a game-changing receiver away from being serious contenders in the AFC. That sentiment was proven right last season. Diggs' presence in the offense made all the difference for young QB Josh Allen. Not only did Buffalo find great success as a team, but Diggs turned in his most productive NFL season to date. After undoubtedly winning many leagues, it's no surprise to see Diggs' fantasy football ADP hovering right outside of the first round this year.
It took no time at all for Diggs and Allen to develop a sturdy rapport. Diggs' sixth NFL season was his best yet, as he finished with a career-high 1,535 receiving yards on 127 receptions, also a career mark. The Bills' offense was as pass-happy as any in the league last year. Even with optimism that the offensive line will be better equipped to run block this season, all signs point to the aerial attack being key again in 2021. Even with the addition of Emmanuel Sanders into the wide receiver room, Diggs projects to once again be the go-to target in Buffalo.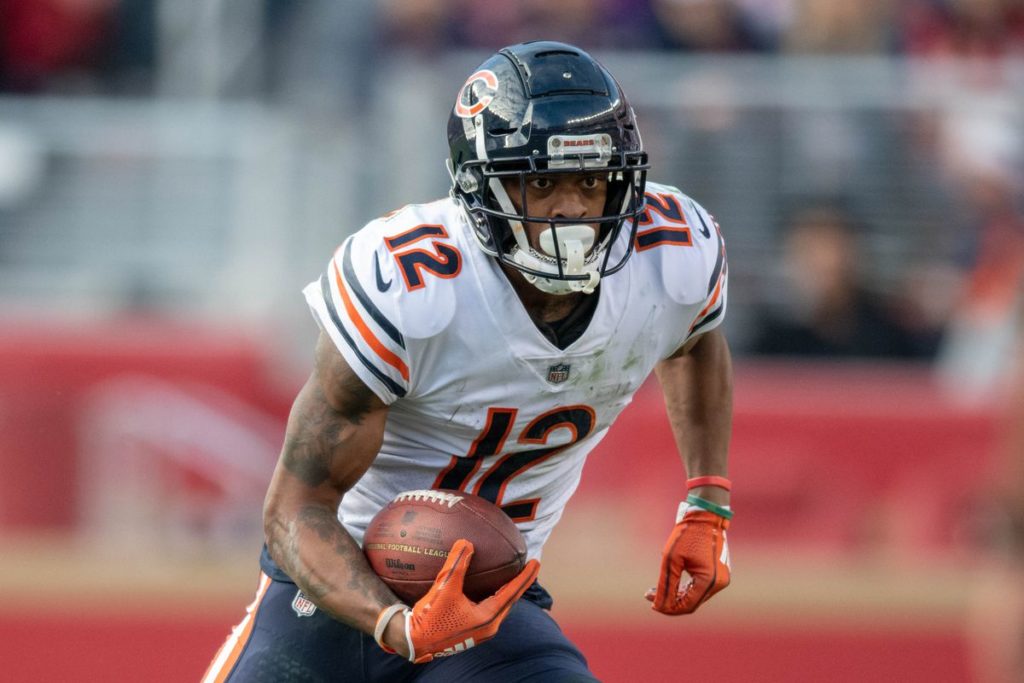 Allen Robinson Fantasy ADP: 3.09
ADP Position Rank: 12
Overall Rank: 33
When it comes to wide receivers who have proven to be immune to poor quarterback play, Allen Robsinson more than fits the bill. Despite having a revolving door of mediocrity under center during his time with the Chicago Bears, Robinson has maintained steady production. He remains a fantasy football star entering the new season. In many respects, his current fantasy football ADP undervalues him compared to his talent as a player. Unfortunately, there are still major question marks at QB for Chicago again this season. Owners who draft A-Rob to be their WR1 are banking on him to once again produce in a suspect offense.
For as anemic as the Bears' offense was at times last season, Robinson still turned in a rock-solid season. The 28-year-old finished with over 100 receptions on the year. He had 1,250 receiving yards exactly and scored six touchdowns. The Bears have made it clear that veteran Andy Dalton will open the season as the starting quarterback. Of course, rookie first-round pick Justin Fields could very well see the field sooner than later should Dalton struggle. Either way, a consistent passing attack could be a pipedream in Chicago this season. Robinson will face an uphill battle in trying to be an elite fantasy football WR1 this year.
Final Verdict
When it comes down to it in this fantasy football ADP value battle, owners have to draft according to their WR1 expectations. Those who are looking for near-guaranteed weekly production from their team's top wideout should pay up and draft Stefon Diggs. For those who are willing to inherit a bit more risk at the WR1 position, waiting and taking Allen Robinson is a solid option. While there is no doubt Robinson has the talent to outperform his current fantasy football ADP, it's extremely difficult to make a case for him in this head-to-head battle.
The Bills passing offense is a sure thing this season. In fact, it could be even better than a season ago. Given that Diggs is coming off of a career year, it's hard not to be excited about his fantasy outlook in 2021. For as stable as Buffalo's offense appears to be, the Bears' is the exact opposite. A midseason quarterback change is almost guaranteed. Either way, Robinson will be catching passes from a middling veteran or a rookie. That's a scary proposition, especially when you add in the fact that Chicago's offensive line is expected to be well below average. This multitude of concerns tilts the scales in favor of Diggs.
---
Follow us on all of our social channels! Check out our Twitter, Facebook and YouTube for more great FlurrySports content.