As the NFL season quickly approaches, fantasy football drafts are well underway. You can be as prepared as you want for drafts, but there will still be tough decisions that arise. This season, one of those could be which wide receiver you would rather have in fantasy: A.J. Brown or Robert Woods?
All ADP info comes from the PPR ADP on Fantasy Football Calculator
A.J. Brown Fantasy Outlook
ADP: WR17 | 45th Overall
Brown, a 23-year-old second-year breakout, shot his way up draft boards after his 2019 rookie campaign. He showed instant chemistry with newly-extended quarterback Ryan Tannehill.
When Tannehill became the starter, Brown's target share increased to 21.7 percent, or 5.9 targets a game. Not only did his workload increase, but his Average Depth of Target (aDOT) increased from 10.5 to 15.2 for the second half of the season.
Brown became a valuable WR2 with Tannehill leading the offense. He averaged 15.7 fantasy points per game from Week 7 to 16, which ranked 16th among WR averages in PPR formats.
Brown was a high-risk, high-reward variance WR. Although he averaged 72.7 yards per game, his floor could be as low as 17 yards in Week 10 or as high as 153 yards in Week 14.
Brown's talent is undeniable, the biggest question surrounding his fantasy ADP is…
Can Tannehill and the Titans keep up the same efficiency they had last year?
Tannehill had the second-highest QBR in the league last season, behind only Drew Brees. No one expects Tannehill to continue a quarterback efficiency comparable to a future first-ballot Hall of Famer. If Tannehill's efficiency comes down, the Titans' lack of passing volume will hurt Brown. Tannehill threw 27.8 passing attempts per game during the fantasy season, which ranked 40th among all NFL QBs last season.
This offense runs through Derrick Henry first, then the rest is trickled down to Tannehill and Brown second.
Brown's 2020 Schedule
The last thing hurting Brown is his 2020 schedule. The Titans face the Denver Broncos, Pittsburgh Steelers, Buffalo Bills, Chicago Bears and Cleveland Browns during the fantasy regular season, then the Green Bay Packers for the fantasy championship in Week 16.
Because the Titans passing game is not well-diversified, upper echelon defenses can focus their attention on Brown when the Titans do decide to air it out.
A belief in Brown is a belief in the Titans repeating last year's success. I think this team is bound for regression and Brown's numbers will follow.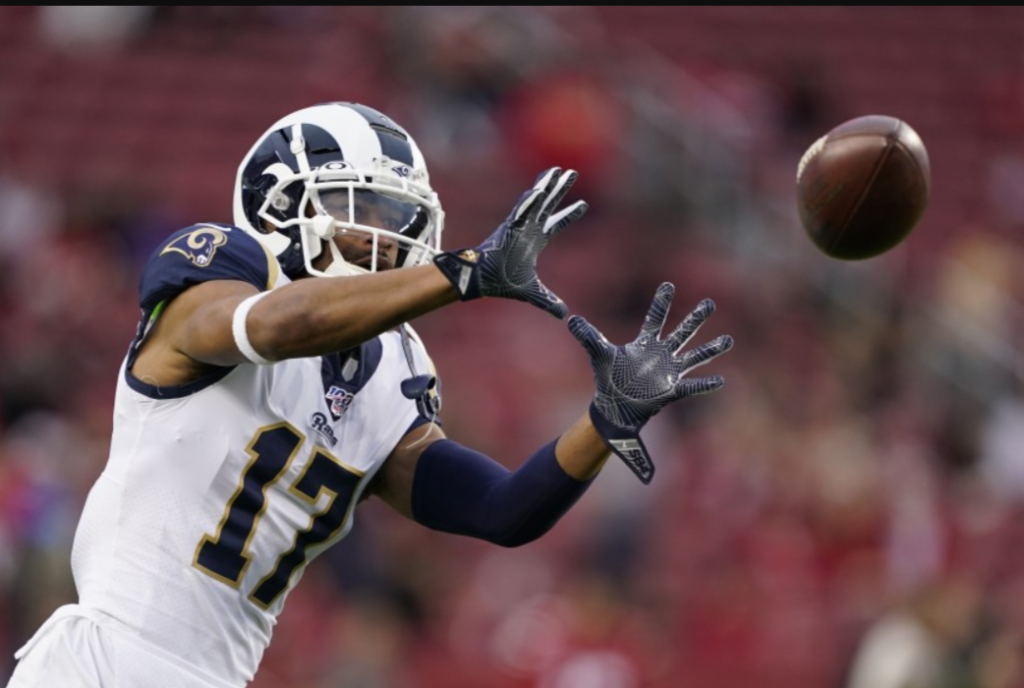 Robert Woods Fantasy Outlook
ADP: WR18 | 44th Overall
Woods, consistently undervalued 28-year-old WR on the Rams, will likely take the reins of this high-volume passing attack this season. The Rams finished the season with the third-highest passing attempts in the NFL, 39.12 attempts per game.
Woods struggled at first last season, as the Rams floundered to find their footing as a consistent offense with a weak O-line. The Rams adjusted midseason after their Week 9 bye. The team increased their tendencies from 11 personnel to 12, meaning they took a WR off the field and replaced him with a tight end to help block.
After the change, Woods went from 12.3 fantasy points per game to 19 per game, the third-highest average among all WRs during that span. The top four WR averages were Michael Thomas, Davante Adams, Woods and Julio Jones. Woods became an elite fantasy option after the switch, but his ADP doesn't cost nearly the same price.
There's little reason to think the Rams would switch back their philosophies, after making minimal changes to their O-line this offseason. They spent their draft capital replacing Todd Gurley and Brandin Cooks instead and will now have to rely on the same porous O-line as last season.
But what about top-6 WR Cooper Kupp, isn't he the number one option?
My main focus remains on what the Rams did after the bye to end the season. The switch from the primary WR was drastic.
Cooper Kupp went from having a 28.3 percent target share to 15.2 percent instead. That's 10.9 targets a game, down to 5.3; This caused Kupp to fall from a top-2 WR all the way down to WR 35 to end the season. While Kupp's usage declined, Woods' value rose.
Woods saw a 10.4 percent increase in targets, jumping all the way to 28.5 percent target share or 11.2 targets a game. He turned those targets into 99.3 yards a game.
Even if the Rams somehow went back to their 11 personnel usage, Woods' floor was always higher than Kupp's, as Woods maintained 7.5 targets per game at his worse, while Kupp dropped to 5.3 targets a game during his decline.
Woods' yardage was also higher at their floors. He averaged 58.9 yards per game the first eight weeks, while Kupp averaged 38.6 yards his last six weeks.
Woods' 2020 Schedule
Woods' 2020 schedule would normally be an easy one, but I skew the difficulty closer to the middle of the pack because of shadow coverage from guys like Darius Slay and Tre'Davious White, who will likely focus on Woods as the primary outside receiver.
But Weeks 15 and 16, championship matchups, should yield high fantasy points against the New York Jets and Seattle Seahawks.
Fantasy Verdict: Robert Woods
Don't overthink this. Trust the proven veteran over the potential of a second-year breakout. The Rams offense is known for its high passing volume, while the Titans are established as a run-first team. It's the third-most passing attempts compared to the 28th-fewest.
As well as Brown did to end the year, the cheaper-priced Woods was just better down the stretch. Brown averaged 18 points over his last six games, while Woods averaged 19, pulling five WR ranks ahead of Brown.
Woods is a perfect WR 1/2 to take in this year's early running back draft strategy. I trust his floor much more than I do the high variance Brown. Sometimes the easiest answer is the right one, stick with Woods over Brown this fantasy season.
---
More Articles
Alvin Kamara vs Dalvin Cook Fantasy ADP Battle
Allen Robinson Fantasy Breakdown
Patrick Mahomes vs Lamar Jackson Fantasy ADP Battle