The NASCAR Cup Series continues its playoffs this weekend at Texas Motor Speedway. The Autotrader EchoPark Automotive 500 is set for this Sunday afternoon at 2 PM ET. After a drama-filled thriller at the Charlotte ROVAL last week, the eight playoff drivers are now just one round away from racing at Phoenix for the championship. Meanwhile, those who have been eliminated from championship contention are still looking to prove themselves down the stretch. With only four races to go, there is not a lot of time left to make some money from FanDuel NASCAR DFS. Let us help you earn that money and close out the 2021 season with a bang!
FanDuel NASCAR DFS Overview
In this NASCAR Cup Series DFS column, we will be using FanDuel prices and scoring. Their scoring includes the following:
.1 points for leading a lap
.1 points for completing a lap
Add/subtract 0.5 points based on the difference in a driver's finishing position relative to their starting position
Points based on where the driver finishes
FanDuel NASCAR DFS | Race 33
Autotrader EchoPark Automotive 500 Drivers to Consider
Kyle Larson ($14,500)
At this point, how could you not include Kyle Larason in your lineup? The guy just won last week and he was strong in the NASCAR All-Star Race at Texas back in June, winning that as well. Larson comes into the race with a comfortable points lead again, so he can take some liberties in trying to get the win to advance himself to the Championship 4. The No. 5 car should be in your FanDuel NASCAR DFS lineups.
Kevin Harvick ($10,000)
Kevin Harvick is ticked off after his mistake last week and will be out for redemption this Sunday. Why not do it at a track that he has dominated since the reconfiguration. Harvick has an average finish of 5.5 and two wins in the last six races at Texas. That near top-5 average includes a finish where he had damage due to NASCAR not throwing a caution for rain. Barring any rain, he will be fine for NASCAR DFS this week.
Tyler Reddick ($8,200)
Tyler Reddick surprised the field and finished second last week, continuing a strong stretch for the No. 8 team. He has also been great at Texas Motor Speedway, posting an average finish of 8.5 in his two NASCAR Cup Series starts at the track. This includes a second-place finish last year in the first Texas points race. Reddick has been strong after he was eliminated from the playoffs and should continue that this weekend.
Ross Chastain ($7,700)
The value play for this week is Ross Chastain. The No. 42 team is trying to get one last win for team owner, Chip Ganassi, who is leaving NASCAR at the end of the year. Chastain has been on a roller coaster in the playoffs that should hit an upswing starting this week. He has the opportunity to gain several positions given that he starts just 25th in the Autotrader EchoPark Automotive 500 starting lineup. Chastain should be a solid pick for FanDuel NASCAR DFS.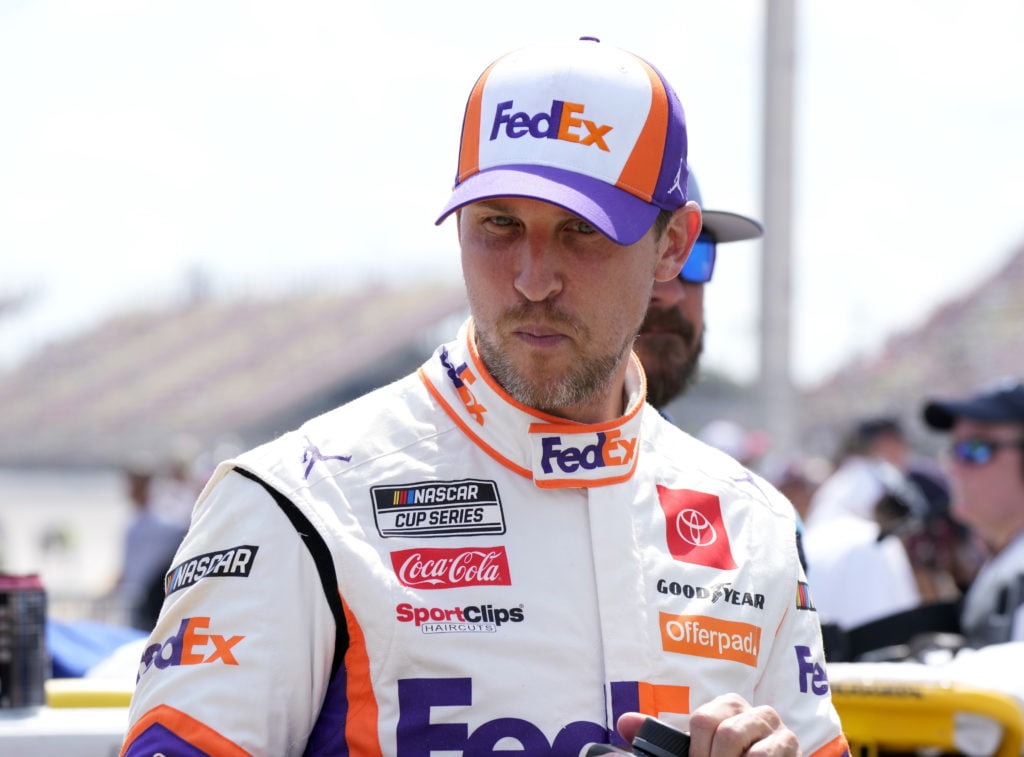 Autotrader EchoPark Automotive 500 Drivers to Avoid
Denny Hamlin ($13,500)
James Dennis Alan Hamlin is on the avoid side of this list. Bet you didn't know that was his full name did you? While Denny Hamlin has won every opening race in each round of the NASCAR Playoffs so far, his numbers at Texas Motor Speedway suggest that trend ends this week. Hamlin has an average finish of just 20.3 in the six races since the repave. He does have a win in one of those starts but is not a driver to take a chance on at such a high price.
Chase Elliott ($12,500)
Chase Elliott might have made it out of the Round of 12, but his stats are not that greatat Texas. Since the reconfiguration, Elliott has had an average finish of 15.8. In addition, he has only finished on the lead lap three times and has just one top-10. That's not great for a guy carrying a top-tier price tag into Sunday's race. Avoid Elliott in your NASCAR DFS lineups.
Brad Keselowski ($9,500)
Brad Keselowski has not exactly figured out the Texas Motor Speedway reconfiguration either. He has an average finish of just 22.5 in the six races since the renovations were made to the track. Keselowski alsoprobably isn't getting the best equipment since he is leaving Penske Racing at the end of the season. While he did finish second in the All-Star Race earlier this year, he is one to avoid in DFS this Sunday.
Cole Custer ($6,200)
Cole Custer has not had a great season by any stretch and is just looking for it to end. The No. 41 team has had various troubles that will probably continue this weekend in the Autotrader EchoPark Automotive 500. In his two previous NASCAR Cup Series starts here, Custer has an average finish of 26.5 and only one finish on the lead lap. Custer is a guy to steer clear of for FanDuel NASCAR DFS purposes this week.
---
Follow us on all of our social channels! Check out our Twitter, Facebook and YouTube for more great FlurrySports content.