Ever since Dallas Goedert was drafted in the second round of the 2018 NFL Draft, the writing has been on the wall for the Zach Ertz. The 2020 season solidified that, as Ertz was not extended, and his play suffered while Goedert broke out. Injuries did affect both of them, but the younger Goedert showed enough to confirm that it's time for the Philadelphia Eagles to move on from the veteran tight end.
What Does Zach Ertz Bring to the Table?
Despite a shaky 2020 season, 2019 was a great year for Ertz, totaling 88 catches, 916 yards and six touchdowns. He was top-five in every receiving category amongst tight ends that year, and he was no doubt a top-five tight end between 2016-19. If you care about awards, he also made the Pro Bowl every year in that span. Ertz clearly has the ability, and one could easily see his 2020 as a bit of a blip from many factors besides decline. Ertz was injured, concerned about a potential new deal and was dealing with some of the worst QB play in the league, not to mention he was competing with the aforementioned Dallas Goedert for targets.
None of these problems will apply for his next team, and that means it's more than reasonable to expect Ertz to be closer to his 2019 form than 2020, if traded. Ertz is on the older side, going into his age 31 season, but it's not like he's ancient, and tight ends often age quite gracefully. Guys like Tony Gonzalez and Antonio Gates had long and effective careers past thirty, and one of Ertz's contemporaries, Travis Kelce, is one year older than Ertz and just had an incredible season. Ertz's game isn't really predicated on him being an athletic freak either, so age shouldn't affect him quite as much as it could. 
That means Ertz has top-five TE (maybe even top-three) potential, and probably has a few more years left in the tank. That is quite valuable to many teams looking to bolster their passing game right now, as they make a run for a championship. Having a good tight end is immensely helpful for contending teams, and it's no coincidence that many of the playoff teams had a top tight end, including the two teams in last year's Super Bowl.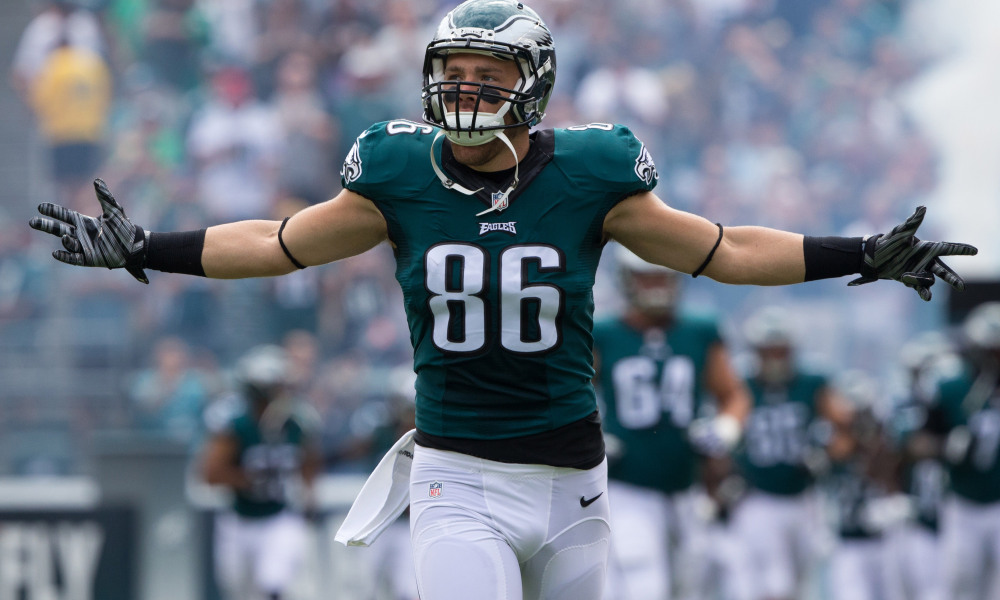 Possible Zach Ertz Trade Destinations
For potential Zach Ertz trade partners, we are looking for teams that are in the running for the playoffs and could use an elite receiving threat. They would also need a decent amount of cap space available, as Ertz is looking for a new deal. Teams with space and a young quarterback could also be interested in Ertz as a stopgap measure that will provide a reliable blanket for a developing passer.
Contenders That Need a Tight End
Buffalo Bills
The Buffalo Bills immediately spring to mind, and reports have come out recently that a deal is close. The Bills are definitely championship contenders, and Josh Allen took a massive step as a passer when they added Stefon Diggs. Ertz would be yet another weapon in the passing game, one that profiles differently from the other receiving threats they currently have. He is a big target in the middle of the field, and can hit the seams as well. The current top Bills TE is Dawson Knox, who caught just 24 balls and had 288 yards receiving, far from irreplaceable. The Bills don't have a ton of space, but the nine million or so they have should be enough. 
Indianapolis Colts
A reunion with Carson Wentz could be in the cards. The Colts do have a large amount of money already tied up into the position already eighth-most) but Ertz would be a clear upgrade over the numerous guys they currently have. Wentz trusts Ertz and they work well together. The Colts are contenders, and they have the ninth-most cap space overall, meaning if they drop a few of their current TEs, they have a ton of room.
Tennessee Titans
The Titans are very similar to the Bills. They also have a good offense, especially in the wide receiver department, but could use an upgrade at tight end to take them to the next level. The Titans had Jonnu Smith last year, but let him go to the New England Patriots in the offseason, leaving them with Anthony Firkser, who caught just 39 passes for 387 yards and one touchdown. The Titans are right behind the Bills in terms of cap space, so they should also have enough room. An offense consisting of A.J. Brown, Julio Jones, Zach Ertz and Derrick Henry would be easily one of the best in the NFL.
Teams That Could Use a Tight End to Get Over the Hump
Minnesota Vikings
These Vikings are questionably contending, as they have a powerhouse in their division that makes things very tough for them and just went 7-9. Their window should be right now, as they aren't a particularly young team, especially with Kirk Cousins, and adding another weapon in the passing game might be what they need to take the next step. Justin Jefferson, Adam Thielen, Zach Ertz and Dalvin Cook are an imposing offensive force, and the Vikings have enough room to make it happen. 
Arizona Cardinals
Another team that is on the ascendancy and could use a reliable target for a burgeoning star QB. Their current option is Maxx Williams, who caught eight passes last year. The Cardinals want to get into the playoffs in a stacked division and have the cap space to make a move for a guy like Ertz, who could easily help them get there.  
New Orleans Saints
The Saints let Jared Cook go and could use a proper replacement. They have around 11 million in cap space and are spending the second-least amount of money on tight ends, currently, just above the Bills. Similar to the Vikings, they aren't in a great position to truly contend, but they aren't young either, with multiple key guys that are in their prime right now.
Young Teams With Money
New York Jets and Jacksonville Jaguars
Both teams have rookie QBs and the most cap space in the league, so they could easily afford Ertz. He would make their lives much easier, and hopefully make the transition to the NFL smoother, as a reliable veteran target for them in the middle of the field. The Jets do have a decent amount tied up into tight ends already (nine million) but none of the current guys really compare to Ertz. 
Zach Ertz Trade Market
The eight teams listed here have the need and the capability to go for Zach Ertz. There are a few more teams that could also use a man of his talents, but it's not quite as clear cut. Despite that, there seemingly hasn't been that much public interest for Ertz, and there are rumors that the Eagles may be forced to cut him due to lack of real suitors. Much of that could be posturing and planned leaks, but it's impossible to be certain.
Ertz has real value to many teams, and should still be able to produce with the best tight ends in the game. A mid-round pick seems appropriate for someone like Ertz, and that's not a terrible price to pay to improve your offense the way Zach Ertz, at his best, can.
---
Follow us on all of our social channels! Check out our Twitter, Facebook and YouTube for more great FlurrySports content.
---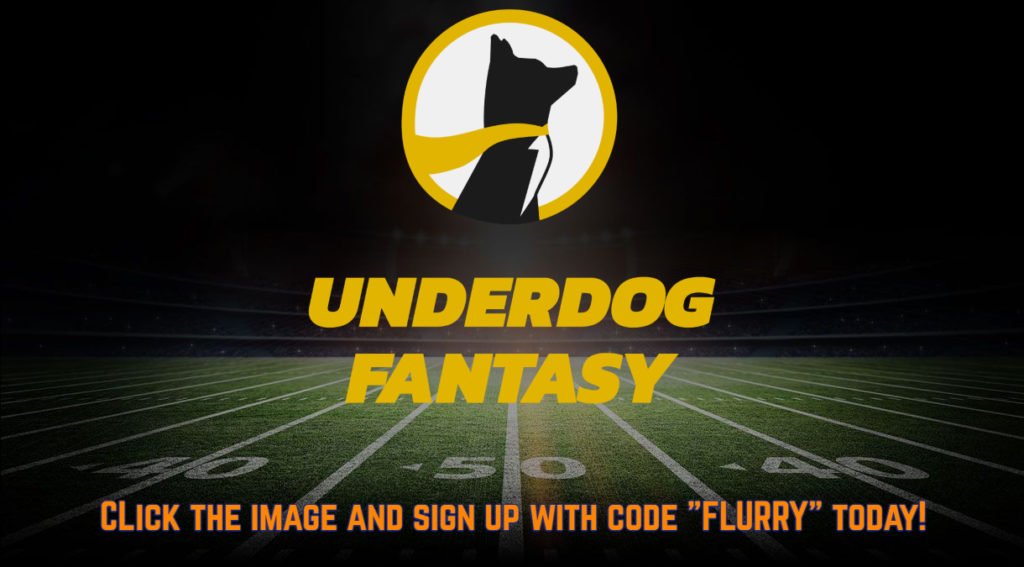 Underdog Fantasy is a new type of DFS that combines the fun of season-long drafts with daily fantasy sports. Aside from their fun, addictive draft mode, Underdog Fantasy also has pick'em player props for many different sports and athletes!
Click the image or RIGHT HERE to get signed up today, and don't forget to use the promo code FLURRY for a FREE $10 bonus on your first deposit!
---