It's possible to win your fantasy league with less-than-average receivers, tight ends, quarterbacks, kickers and defenses. It's incredibly hard to win a league with poor running backs. As the most important position in normal fantasy leagues, it's critical to get your picks right. That's why we're here to help you make the right decision on what running backs to take a deeper look at, and that starts with the RB fantasy football strength of schedule rankings.
With that in mind, let's dive into the five easiest RB fantasy football strengths of schedule, including Derrick Henry, Jahmyr Gibbs, Javonte Williams, Najee Harris and Isiah Pacheco.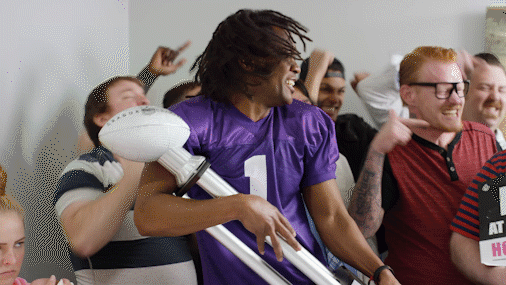 Check out TrophySmack today to get the best fantasy football trophies, belts, rings and draft boards in the industry! Use the TrophySmack Promo Code FLURRY to get a free ring with a trophy purchase today!
5 Easiest RB Fantasy Football Strength of Schedule
Derrick Henry Fantasy Outlook (Tennessee Titans)
Ever since he exploded onto the fantasy scene at the end of the 2018 season, Derrick Henry has been an absolute wrecking ball. He hasn't finished lower than RB5 since then in seasons where he played more than eight games. Although he isn't getting any younger, he doesn't show any signs of slowing down.
This year, Henry has the easiest RB fantasy football strength of schedule. Even though Tennessee's offensive line isn't as good as it has been in the past, the addition of wide receiver DeAndre Hopkins should go a long way in stopping defenses from keying in on the run. When you take into account that he also gets to play in a weak AFC South and faces the NFC South, it's easy to see why Henry should have an easy time racking up yards yet again in 2023.
Jahmyr Gibbs Fantasy Outlook (Detroit Lions)
Not many expected the Detroit Lions to take Jahmyr Gibbs with the 12th overall pick in this year's draft, but the Lions saw something in him and have a plan for him in this offense. Gibbs is a shifty running back that excels in the passing game as well.
Detroit's offense has made strides under offensive coordinator Ben Johnson and will look to take another leap forward this year as the favorites in the NFC North. As if his role wasn't solid enough, Gibbs also faces the second-easiest fantasy football strength of schedule among running backs. In this high-powered offense with a solid offensive line, Gibbs should be able to hit the ground running in Detroit.
Subscribe to Fantasy Football by Committee!
We have a new fantasy football podcast called Fantasy Football by Committee! Please subscribe to the podcast on Spotify and rate us five stars. If you'd rather listen on Apple Podcasts, click here! Additionally, you can join the Fantasy Football by Committee Facebook group to ask questions and answer others' all season long, helping to build a great, new fantasy community!
Javonte Williams Fantasy Outlook (Denver Broncos)
Many fantasy players want to avoid running backs coming off of severe knee injuries and it's hard to blame them. Javonte Williams is coming off of a torn ACL suffered in Week 4 last year. He has an ADP of 71 and is the 28th running back taken off of the board right now. It's clear many are being cautious due to his injury, but he could be primed for a sensational 2024 campaign.
Not only does Williams have a new offense under new head coach Sean Payton, but he has one of the easiest schedules in the NFL. The Denver Broncos were an absolute trainwreck last season, yet Williams still finished as RB22 or better in both games in which he played more than half of the snaps. It's clear that he is a weapon that will Payton will use, and with an easy schedule, finishing ahead of his ADP shouldn't be an issue.
Najee Harris Fantasy Outlook (Pittsburgh Steelers)
Many labeled Najee Harris as a bust last year and felt he greatly underachieved yet he still finished as RB14. His running numbers were nearly identical with just over 150 fewer yards but the same amount of touchdowns. The main reason for his downgrade from his RB3 finish the year prior was that his work in the passing game was nearly halved.
This year, even if Harris isn't utilized in the passing game as much as he should, he should still see some improvement from 2022. Najee Harris has had trouble picking up yards on the ground in the past, but facing softer run defenses should help him pick up more yards and hopefully more touchdowns as well. If he can do that, even with the same usage in the receiving game, he could easily finish in mid-RB1 territory.
Isiah Pacheco Fantasy Outlook (Kansas City Chiefs)
Every year, like clockwork, the fantasy community gravitates to a few players who had some solid games at the tail end of the previous season and sends their ADP and expectations, skyrocketing. One of the main players being hyped up this year is Kansas City Chiefs running back Isiah Pacheco. He finished as RB26 or higher in six of the last eight weeks in fantasy last year. On the surface, Pacheco is worthy of the hype as he also faces one of the easiest fantasy football strength of schedules in fantasy this season.
Unfortunately, it's important to keep in mind that the Chiefs' running back room is loaded. Clyde Edwards-Helaire will be coming back from injury, and he finished as RB10 or better in two of the first four weeks. Jerick McKinnon was arguably better than Pacheco down the stretch last season and undrafted rookie Deneric Prince is seeing starting reps with Pacheco currently coming back from multiple offseason surgeries. Kansas City's running backs will be in great positions to make plays but keep in mind that the benefactor may not always be Pacheco.