It's hard to believe we've already had five full weekends of college football. However, other than Alabama and Georgia, no one team has separated itself from the rest of the pack. With crazy college football betting upsets happening every weekend, it can be tough to figure out where your money should be placed.
This weekend, we have a lot of great games. Of course, we have the annual rivalry between Texas and Oklahoma taking place in Dallas. Last year's quadruple overtime game was a classic, so hopefully, we can get another game like that. Down in the SEC, we have the "Rebound Bowl." Ole Miss and Arkansas, both coming off losses, will battle it out down in Oxford. Finally, the cherry on top is the top-five matchup between Penn State and Iowa.
Let's take a look at some of the best college football betting picks for this weekend.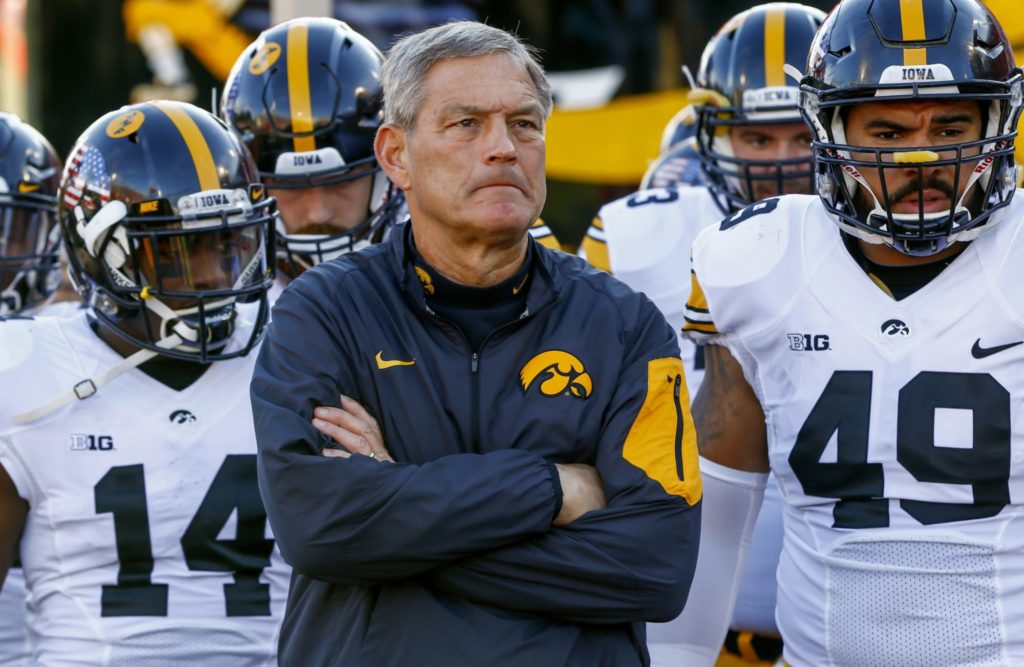 Best Bets for Week 6 | College Football Betting
Penn State at Iowa
Penn State vs Iowa Prediction: Iowa 20, Penn State 17 (Iowa -1.5, Under 40.5)
CLICK HERE for the full Penn State vs Iowa breakdown.
Texas vs Oklahoma
Oklahoma vs Texas Prediction: Texas 31, Oklahoma 27 (Texas +3.5, Over 63.5)
CLICK HERE for the full Texas vs Oklahoma breakdown.
---
College football betting odds are taken from BetMGM Sportsbook.
---
Georgia at Auburn
Spread: UGA -15 (-110) | AUB +15 (-110)
Moneyline: UGA (-700) | AUB (+475)
Total: 46.5 — Over (-110) | Under (-110)
I think this one is as easy as it looks. Georgia is number one in the nation in total defense, giving up only 177.8 yards per game. They also give up less than five points per game. Their defense is one of the best we've seen in the last decade. Auburn is coming off a big win over LSU last weekend. However, Georgia is at another level. Auburn is 17th in the nation in total offense, so they could give Georgia a scare if they come out sloppy. I think Georgia wins, but I really love the under of 46.5. As I said Georgia is giving up only five points per game, and they use their rushing attack to control the clock. Remember, Georgia beat Clemson 10-3 in week one, so they know how to win low-scoring affairs. Take the under here.
College Football Betting Picks: Total Under 46.5 (-110)
Maryland vs Ohio State
Spread: OSU -21.5 (-110) | MD +21.5 (-110)
Moneyline: OSU (-1600) | MD (+800)
Total: 71 — Over (-115) | Under (-105)
People have been sleeping on Ohio State recently. After their early loss to Oregon, many people wrote them off. However, Ohio State is finding its groove at just the right time. Last weekend, they beat a Rutgers team that lost by seven to Michigan the week before.
Ohio State is the top-ranked offense in all of college football. They put up nearly 560 total yards per game. Maryland's offense is good as well, led by Taulia Tagovailoa. The Terps are 22nd in the nation in total offense. I like Ohio State to win the game, but the over is the better bet. As I said, both offenses are among the top 25 in total offense. However, on defense, these teams struggle. The Buckeyes defense is ranked 84th in the nation, giving up nearly 400 yards per game. Maryland's defense isn't much better, giving up 345 yards per game. There will be points flying in this game. Take the over.
College Football Betting Picks: Over 71
Michigan State vs Rutgers
Spread: MSU -4.5 (-110) | RU +4.5 (-110)
Moneyline: MSU (-195) | RU (+165)
Total: 49.5 — Over (-110) | Under (-110)
Currently, there are five Big Ten teams that are ranked inside the top-12. Michigan State is quietly going unnoticed, but they are a very good team. The Spartans average over 200 yards rushing per game. Kenneth Walker III has been great for the Michigan State offense. He's a physical back, who's scored eight touchdowns already this year. Rutgers got their first real test last weekend and they failed miserably, losing by 39 to Ohio State. Also of note is the Spartan head coach Mel Tucker brought in 20 transfers this season to try and change the culture around the program. It's worked well so far, not going to bet against him at this point. Look for Walker to have over 150 yards rushing.
College Football Betting Picks: Michigan State -4.5
---
Signup for BetMGM Sportsbook today for a risk-free bet up to $1,000!
---
Arkansas vs Ole Miss
Spread: ARK +5 (-110) | MISS -5 (-110)
Moneyline: ARK (+165) | MISS (-195)
Total: 66.5 — Over (-110) | Under (-110)
Both teams are coming off losses and disappointing performances. Arkansas was dominated from the kickoff, losing to Georgia, 37-0. Ole Miss looked okay versus Alabama, but okay is not good enough against Saban. They lost 42-21. However, I love this spot for the Rebels.
Ole Miss can score points against anybody, which was proven by putting up even 21 versus Alabama. Arkansas is better in the trenches than Ole Miss, but in this game that won't matter as much as it usually does. I'm expecting Lane Kiffin to have a bounce-back game after the game he called last weekend. Matt Corral is still trying to prove he belongs in the Heisman race. Arkansas is good, but still a year or two away from being real contenders. Ole Miss will use its speed and dominate on the edges. Take the Rebels.
College Football Betting Picks: Ole Miss -5
Akron at Bowling Green
Spread: AKR +14 (-115) | BGSU -14 (-105)
Moneyline: AKR (+395) | BGSU (-555)
Total: 46 — Over (-110) | Under (-110)
Let's just start out with the obvious. Akron is a very bad football team, possibly one of the worst five in all of the FBS. However, quarterback DJ Irons has been a lone bright spot for the Zips. He leads the team in passing and rushing, all while throwing for eight touchdowns on the year. With that being said, Bowling Green is probably 21-24 points better than them, so I love the line as it is.
Another reason I love the Falcons is they are 5-0 this year ATS. The only team in all of the FBS to cover in all five games. On top of that, they beat a good Minnesota team two weeks ago, in Minneapolis. The Falcons are also coming off a road loss to a good Kent State team so they should come out ready to play.
College Football Betting Picks: Bowling Green -14
LSU vs Kentucky
Spread: LSU +2.5 (-110) | UK -2.5 (-110)
Moneyline: LSU (+115) | UK (-135)
Total: 50 — Over (-110) | Under (-110)
As I mentioned earlier, LSU is coming off a heartbreaking loss to Auburn last weekend. However, that might be the least of the Tigers' problems. Derek Stingley Jr., a likely top-five pick in the 2021 NFL Draft, is out indefinitely with a foot injury. On top of that, the culture around LSU football right now is very bad. Head coach Ed Orgeron made things even worse during his radio stint this week.
On top of all of that, KeShaun Boutte is one of the best receivers in college football, and they just don't have a quarterback that can get him the ball enough.
For Kentucky, they are riding the wave. Last weekend, they upset Florida in the Swamp, which is no easy feat. Quarterback Will Levis has played very well to start the year, and their defense is very good. With all the things going on off the field in Louisiana, along with the Stingley injury, I just don't see how LSU wins this game or covers.
College Football Betting Picks: UK -3
---
Follow us on all of our social channels! Check out our Twitter, Facebook and YouTube for more great FlurrySports content.