Once again, Aaron Rodgers did what he said he was going to do. He helped the team out in the process and made reporters everywhere angry for being wrong. However, this new Aaron Rodgers contract is a complicated one. Let's take a look at what we know so far, make it easier to understand and dispute the false reports.
Breaking Down the New Aaron Rodgers Contract
Surprise, the reports of the Aaron Rodgers contract being $200M over four years was false. Of course, we told you this was the case. After this current news, I tweeted that incorrect reporters would advertise this new contract is being $150M over three years, so they could be "correct" about the $50M/year thing. Without missing a beat, Adam Schefter made our dreams come true.
Now, let's get into this contract.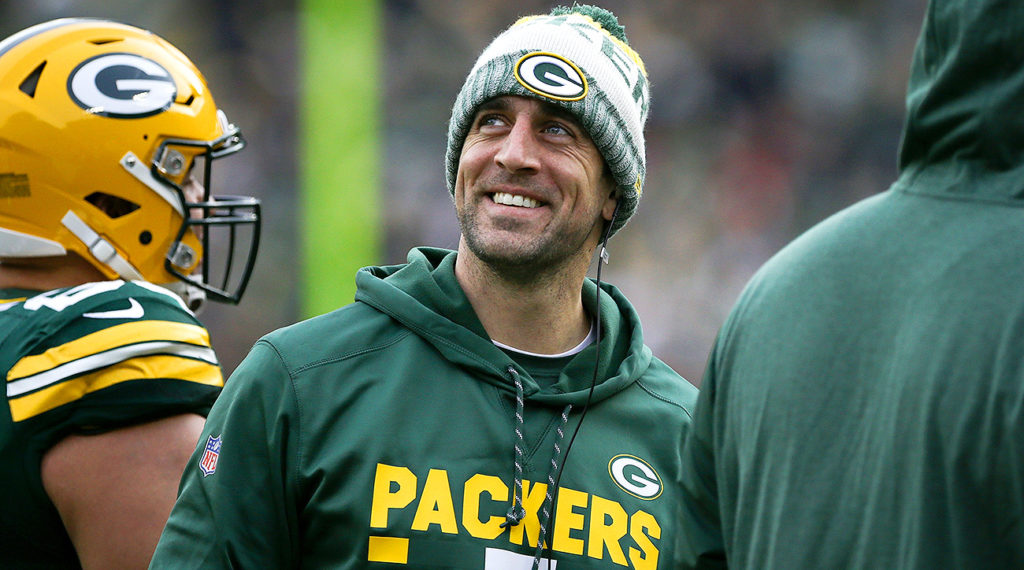 Explaining the Aaron Rodgers Contract
First off, there is a lot of guaranteed money due tomorrow, when the deal becomes official. Rodgers gets $150M guaranteed. Who cares, that number is irrelevant.
What Green Bay Packers fans want to know is the cap hit of this Aaron Rodgers contract, since free agents need to be signed and a championship team needs to be built.
I said on Lombardi Sweep last week that Rodgers will have a cap hit between $25-30M this year. Bingo. With a $1.1M base salary and a signing bonus, Aaron Rodgers will have a cap hit of about $28.5M, which gives the Packers $18M of cap space this season. You really should be listening to our show if you're not already.
He will have a cap hit of over $31M next year, which is relatively the same hit due to the salary cap increasing. While there is essentially an option in his contract to renegotiate next season if need be, there are explicit double option bonuses as well.
Double Option Bonuses
Aaron Rodgers' guaranteed money runs out after 2023, but there is a double option bonus in this contract (2023 and 2024) that can be spread out over the life of the deal.
If Rodgers were to be gone after the 2023 season, then the Packers have a $68M dead cap, which is hefty. However, if Rodgers is able to keep playing, this is irrelevant. Not only would the money be spread out more over a higher salary cap, but he could also renegotiate his contract to make everything after this year irrelevant. By this time, the team will actually need to make a decision on Jordan Love, and Rodgers' decision/contract will be included in this decision.
Year
Base Salary
Prorated Bonus
Other Bonus
Guaranteed Salary
Cap
Number
Dead $ Pre 6/1
Dead $ Post 6/1
2022
$1,150,000
$27,333,568
$0
$1,150,000
$28,483,568
$128,262,138
-$99,778,570
2023
$1,165,000
$30,408,570
$0
$1,165,000
$31,573,570
$99,778,570
-$68,205,000
2024
$2,250,000
$22,735,000
$15,666,666
$0
$40,651,666
$68,205,000
-$27,553,334
2025
$15,850,000
$22,735,000
$18,166,666
$0
$56,751,666
$45,470,000
$11,281,666
2026
$10,000,000
$22,735,000
$23,166,668
$0
$55,901,668
$22,735,000
$33,166,668
Remember, the four-year, $200M contract is completely incorrect, but you already know that.